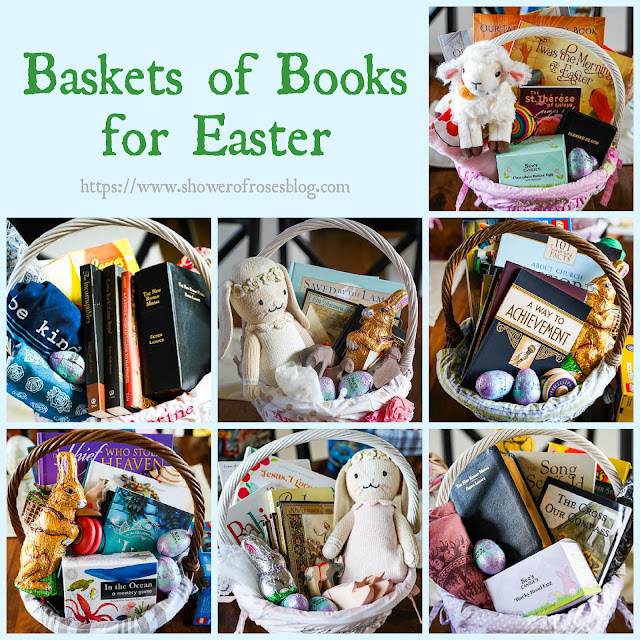 I didn't plan on disappearing for lent, but I fell down the stairs in our garage (actually it was my third fall due to dizziness over an eight day period in early March) and tore the cartilage in my wrist… My right hand has been in a cast like brace since and wasn't exactly something I had been planning on giving up for lent! 😉 Thankfully I am slowly learning how to do more and more with just my left hand as I heal.
Anyway, I can't believe that it's already the middle of April and Easter Sunday is this weekend! Our college kids won't be home for Easter (in fact they are dealing with a three day blizzard right now and Tues-Thurs in-person classes leading up to their Easter break were cancelled) but they'll be home by the end of the month! I am definitely ready for the Easter season and our summer break. How about you?!?
Once again our children's Easter baskets will be overflowing with books for them to enjoy. I always plan ahead and shop local bookstore and publisher sales year round and I am also frequently gifted with review copies of new releases from authors and publishers to consider as well. When that happens I ask for extra copies to gift to some of you too. Be sure to scroll to the bottom of this post to enter for a chance to win a lovely collection of books!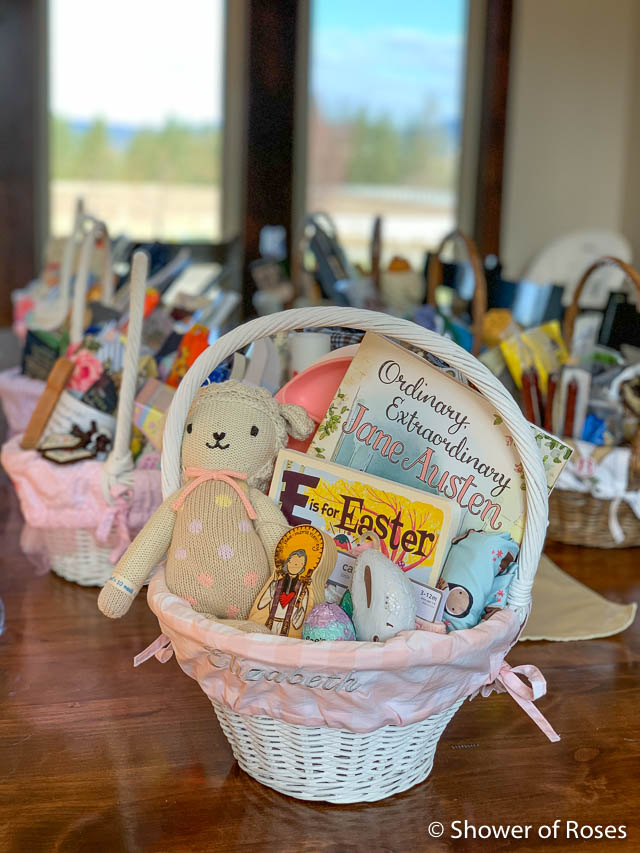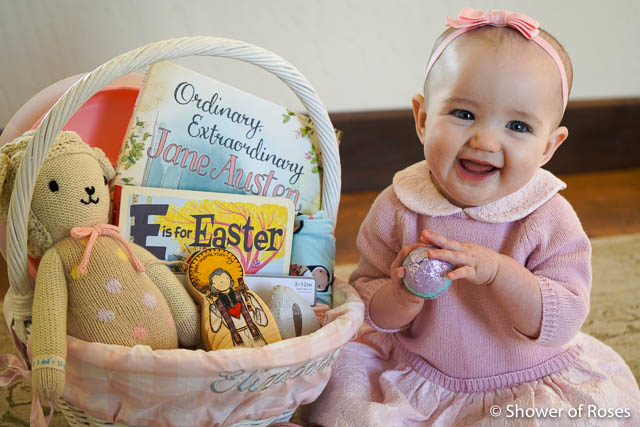 Note: Before I share this year's book list, I do want to mention that I haven't read all of these books yet. I made my decisions based on recommendations, reviews, publishers, and the past work of some of the authors/illustrators. P.S. Please purchase directly from publishers when possible!
Note: Links to Amazon are affiliate links. As an Amazon Associate I earn from qualifying purchases.
.: Twinkle Toes – Age 18 :.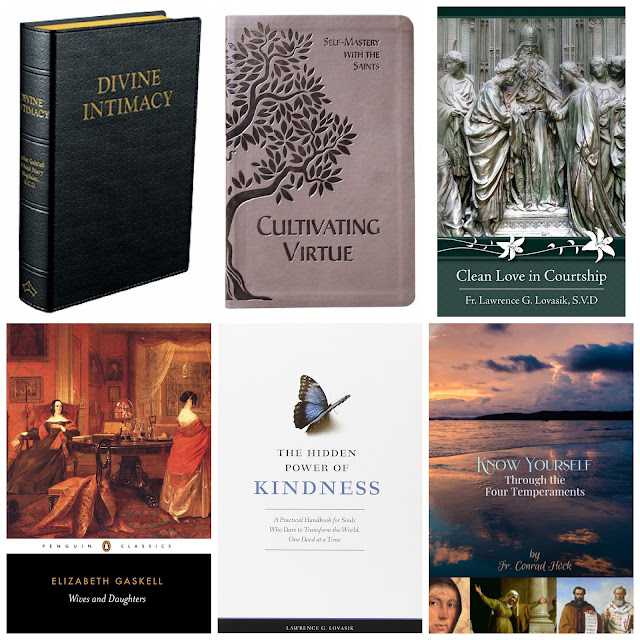 Meditations on the interior life for every day of the Liturgical year… This book of meditations is a classic and is seeped in Carmelite spirituality. It offers two daily meditations in liturgical arrangement which enable the soul to enter the conscious presence of God and to reflect on the theme of the day. These are followed by a "Colloquy" to assist the reader in starting a friendly conversation with God where acts of praise and love, petition and thanksgiving are made, together with good resolutions for the future. Here we are at the very heart of prayer, which is a heart-to-heart encounter in faith with the living God. Also available from the FSSP bookstore.
How to Master 12 Essential Virtues in 12 Months – On every page Cultivating Virtue imparts the true spirit of the Catholic Faith. This book takes 12 Christian virtues—one for each month, with a reading for each day of the year—and shows you how to master each one. Featuring episodes and sayings from the lives of the Saints, it covers Perfection, Humility, Mortification, Patience, Meekness, Confidence, Charity, among others.
I've owned the former version/title of this excellent book – A Year with the Saints: A Virtue for Every Month of the Year – for many years and love the updates! "The original text has been re-typeset as an attractive daily meditation. The new trim size is 5"x7". It is bound in a Premium UltraSoft cover, with a ribbon marker and gold edges."
Clean Love in Courtship
This booklet contains practical advice on the subjects of dating and choosing a spouse from the Catholic theological viewpoint. Father Lovasik points out clearly what one's moral obligations are in this area, providing an invaluable aid to youthful readers. Additionally, he demonstrates that Catholic marriage is different from secular marriage and why it is important to choose a partner who is of the Catholic Faith if one would insure his or her personal happiness in marriage. With the rampant dangers to impurity today, with the lax moral standards of a large segment of our society, with divorce at epidemic levels, Clean Love in Courtship will be a welcome source of light and guidance to Catholics serious about their faith.
When seventeen-year-old Molly Gibson's widowed father remarries, her life is turned upside down by the arrival of her vain, manipulative stepfather. She also acquires an intriguing new stepsister, Cynthia, glamorous, sophisticated and irresistible to every man she meets. The two girls begin to confide in one another and Molly soon finds herself a go-between in Cynthia's love affairs – but in doing so risks losing both her own reputation and the man she secretly loves. Set in English society before the 1832 Reform Bill, Elizabeth Gaskell's last novel – considered to be her finest – demonstrates an intelligent and compassionate understanding of human relationships, and offers a witty, ironic critique of mid-Victorian society.
Kindness counts. If you have trouble acting with the consistent kindness our Lord expects, your relationships with God and those you love may be suffering. Probably you just can't find the time and can't ever seem to develop the patience that you need in order to be consistently kind amid the irritations that afflict you daily. That's why this book is such a godsend. There's nothing complicated or magical about learning to be kinder; it just takes greater attention to the things that you do and how you do them. The Hidden Power of Kindness shows you how to become more aware of even your most offhand daily actions. You'll find simple, step-by-step, and spiritually crucial directions for how to overcome the habitual unkindnesses that creep undetected into the behavior of even the most careful souls. If you want to make progress in the spiritual life, you can't afford to miss the bracing insights in this handbook for souls who yearn to be kinder. They'll give you years of solid help in overcoming sin so that you'll live more fully with others and truly transform your corner of the world!
Know Yourself
Why do we do the things we do?Much of it depends on our temperament or blend of temperaments.Fr. Hock helps you to know yourself, and tells you what you can do to make yourself a better person.Includes a 50-question quiz in the back of the book to learn which temperament you or others are.
Meditations on the interior life for every day of the Liturgical year… This book of meditations is a classic and is seeped in Carmelite spirituality. It offers two daily meditations in liturgical arrangement which enable the soul to enter the conscious presence of God and to reflect on the theme of the day. These are followed by a "Colloquy" to assist the reader in starting a friendly conversation with God where acts of praise and love, petition and thanksgiving are made, together with good resolutions for the future. Here we are at the very heart of prayer, which is a heart-to-heart encounter in faith with the living God. Also available from the FSSP bookstore.
The Woman in the Trees
Set within the expanses of the American frontier, this story follows Slainie, an inquisitive pioneer girl, whose life is forever transformed when a mysterious seer shows up at her door. Amidst the backdrop of the Civil War, family tragedy, and the nation's most destructive wildfire, Slainie must navigate her rugged pioneer life as she encounters love and loss, and comes face to face with the story of America's first approved Marian apparition.
All Creatures Great and Small
For over forty years, generations of readers have thrilled to Herriot's marvelous tales, deep love of life, and extraordinary storytelling abilities. For decades, Herriot roamed the remote, beautiful Yorkshire Dales, treating every patient that came his way from smallest to largest, and observing animals and humans alike with his keen, loving eye.
Till We Have Faces
C. S. Lewis—the great British writer, scholar, lay theologian, broadcaster, Christian apologist, and bestselling author of Mere Christianity, The Screwtape Letters, The Great Divorce, The Chronicles of Narnia, and many other beloved classics—brilliantly reimagines the story of Cupid and Psyche. Told from the viewpoint of Psyche's sister, Orual, Till We Have Faces is a brilliant examination of envy, betrayal, loss, blame, grief, guilt, and conversion. In this, his final—and most mature and masterful—novel, Lewis reminds us of our own fallibility and the role of a higher power in our lives.
Lamp & Lily: The Letters & Writing of Venerable Antonietta Meo
Antonietta was diagnosed with bone cancer in her leg at the age of five, which resulted in the leg's amputation. The evidence of her holiness began shortly after the surgery when her father asked her if she was in pain and she told him, "Pain is like cloth: The stronger it is, the more it is worth." When she returned home, she began writing letters to Jesus, Mary, God the Father, and many others, all dictated to her mother, since Antonietta was still learning to write. Her letters describe her enthusiasm for the sacraments, her love for the Church and her family, and her hope for the salvation of souls. Her letters have been a source of inspiration for many.
My mom actually sent her this book for her upcoming birthday! Sounds excellent.
A monthly booklet for daily use, Benedictus includes: Daily Mass Companion (1962 Missale Romanum), Morning and Evening Devotions, Daily Meditations, Informative Commentary, Classic Prayer Collection, Beautiful Artwork, and Catholic Culture.
She has been getting Benedictus monthly since Epiphany and loves it!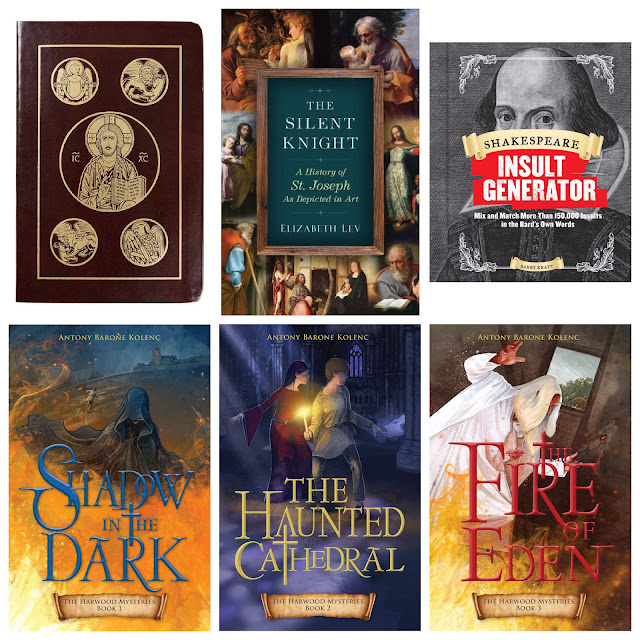 A completely new typeset and designed edition of the popular Ignatius Revised Standard Version Bible, with minor revisions to some of the archaic language used int he first edition. This revised version is a contemporary English translation without dumbing-down the text. This second edition of the RSV doesn't put the biblical text through a filter to make it acceptable to current tastes and prejudices, and it retains the beauty of the RSV language that has made it such a joy to read and reflect on the Word of God. Now the only Catholic Bible in standard English is even more beautiful in world and design!
This richly illustrated book will guide readers through a spectacular gallery of images by Raphael, Michelangelo, Murillo, Giotto, Caravaggio, El Greco, and more, illustrating how each one of these creative geniuses chose to highlight the increasing number of attributes ascribed to this silent saint. Written to celebrate the Year of St Joseph declared by Pope Francis, Saint Joseph in Art aims to deepen the faithful's knowledge, appreciation, and devotion to this eminent Patron of the Universal Church through the extraordinary beauty that he has inspired.
Put dullards and miscreants in their place with more than 150,000 handy mix-and-match insults in the bard's own words. This entertaining insult generator and flip book collects hundreds of words from Shakespeare's most pointed barbs and allows readers to combine them in creative and hilariously stinging ways. Featuring an informative introduction on Shakespearean wit, and notes on which terms were coined or only used once by the author in his work, this delightful book will sharpen the tongue of Shakespeare fans and insult aficionados without much further ado..
He's been taking a Shakespeare Literature course this year so I thought this might be fun!
An attack by bandits in the middle of the night leaves a young boy with no memory of who he is or where he is from. Nursed back to health by the devoted monks in a Benedictine abbey, he takes the name Alexander, or Xan for short. Aided by the kindly Brother Andrew, Xan commits himself to finding out who he really is. Does he have a family? Are they still alive? And who–or what–is the shadowy figure creeping around the abbey in the dead of night?
An ill-fated journey, a long-lost uncle, and a mysterious cathedral mark the next chapter in the life of Xan, an orphan in search of his destiny. For a year, he has lived in the care of Benedictine monks at Harwood Abbey. Now he learns that he has an uncle, said to live in the far-off city of Lincoln. Will Xan survive the trip alongside the prisoner Carlo and his cruel guards? Will he find Uncle William? And why is Xan drawn to the spirit that haunts Lincoln Cathedral–could a ghost reconnect Xan with his dead parents?
The Fire of Eden (Volume 3) (The Harwood Mysteries)

Xan and John are orphans at Harwood Abbey. They are also enemies, but now John, blinded by an accident, struggles with bitterness. In his latest adventure, Xan of Harwood Abbey joins forces with this most unlikely of allies to uncover the mystery of the loss of the Fire of Eden, a priceless ruby coveted by many . . . Who took the ruby—a dishonest monk, a traitorous member of Her Lady's guard, or the frightening magician who dwells in the woods? Will Xan and John permanently mend their ways? Or will the quest for the ruby destroy any hopes of lasting friendship?
Our older boys had the original version of this series on their bookshelf and enjoyed reading them. When the publisher offered to send me the new editions they mentioned that:
"Originally these books were self-published, but they have been redesigned, reedited and in much of the story, rewritten."
I think both of our younger boys – who have been working their way through their older brother's Ranger's Apprentice series at the moment – will love them!
In this New Vision Book, the dramatic history of Maria von Trapp and her musical family comes to life for young readers. Based on her best-selling autobiographies and a memoir by one of her daughters, this novel is part epic adventure and part spiritual testimony to God's faithfulness. Beginning with her birth on a train and the loss of her parents, and ending with her vital role at the family-run lodge in Vermont, this story shows how Maria learned to trust God at every difficult step in her life and to see his guiding and protecting presence at every turn.
I'm excited to see this brand new addition to the Vision Books series!
A fresh, funny and accessible retelling of Jane Austen's classic story, with witty black and white illustrations throughout. When she was just nineteen, Anne Elliot followed the wishes of her father and turned down the proposal of the man she loved – a naval officer called Frederick Wentworth. Years later, Captain Wentworth returns from his time at sea, and Anne dares to hope that their paths might cross once more. But the course of true love is bumpy at best – will Anne and Frederick ever be reunited?
Jane Austen's Mansfield Park (Awesomely Austen)
Fanny Price is one of nine children, and her family are very poor. So when a distant relative offers to take her in – giving her the opportunity to grow up wealthy and comfortable – her parents jump at the chance. But money doesn't always bring happiness, and Fanny struggles to settle into her new home, where the family are very cold towards her. Her only friend amongst them is Edmund, who tries his best to help her be happy. As she grows up, Fanny realises that Edmund is the most important person in her life. But will he ever see her as more than the timid little girl who arrived at his home so many years before?
A Place to Hang the Moon
A heartwarming story about three siblings, evacuated from London to live in the countryside, looking for a permanent home–and a new meaning for family.
The Watcher
After Wendy is kidnapped, the only way she can survive World War II Germany is with the help of a special dog and the family she never knew she had in this historically accurate, standalone companion to Shadows on the Sea that Kirkus Reviews calls "a stimulating blend of suspense and history."
Thérèse of Lisieux: Loving Is Giving Everything Away
In this colorful and vibrant graphic novel, St. Thérèse of Lisieux reveals to children the story of her soul and her secret to holiness: "To love is to give everything and to give yourself." Children will come to understand that the "Little Way" of St. Thérèse consists of trust, love, and generosity, and they will learn how to abandon themselves in the arms of Jesus like the Little Flower. Never before has the life and spirituality of St. Thérèse of Lisieux been presented in such a beautiful and engaging way for young readers. With this book, children will come to know St. Thérèse, her goodness, her peace in times of trial, her devotion to Our Lady, and her intense love for the Holy Eucharist.
The Mysterious Goblet
Book three of the In the Shadows of Rome series Being a Christian in ancient Rome was very dangerous. To spread the faith and stay alive, you had to live in the shadows… Once back in the safety of the shady wood where he had earlier kept a lookout, Delitilis breathed a sigh of relief and satisfaction. All he had to do now was destroy the box, and it would be mission accomplished. Delitilis sat the small wooden box on a flat rock and raised his heavy club. He was about to smash it to smithereens when he recalled the words his clients had whispered to one another as they were taking leave of him: "Have you ever seen what's inside the box?" Almost despite himself, Delitilis stopped, club in mid-air. It lasted only a few seconds, but, for the first time in his life, he felt a whole new sensation: curiosity…. Read more over at Amazon.
Four children have been chosen to compete in a national competition to find the tastiest confection in the country. Who will invent a candy more delicious than the Oozing Crunchorama or the Neon Lightning Chew? Logan, the Candymaker's son, who can detect the color of chocolate by touch alone? Miles, the boy who is allergic to merry-go-rounds and the color pink? Daisy, the cheerful girl who can lift a fifty-pound lump of taffy like it's a feather? Or Philip, the suit-and-tie wearing boy who's always scribbling in a secret notebook? This sweet, charming, and cleverly crafted story, told from each contestant's perspective, is filled with mystery, friendship, and juicy revelations.
Discover the shocking and true story of the ill-fated Donner Party expedition with the New York Times bestselling graphic novel series! In the spring of 1846, a group of families left Illinois and began the long journey to California. To save time, they took an ill-advised shortcut—with disastrous consequences. Bad weather, bad choices, and just plain bad luck forced the pioneers to spend a long, cold winter in the mountains, slowly starving. What they did to stay alive and the lengths that others went to in order to rescue them make this one of the most tragic and infamous stories of the American frontier.
In the exciting days of chivalrous knights and wandering troubadours, a young orphaned poet and musician named Loupio travels throughout Italy experiencing many daring adventures. Befriended by Francis of Assisi and accompanied by the wolf tamed by this saintly guide, Loupio's often dangerous encounters help him and young readers learn lessons of faith, hope, and charity. In The Quest, volume 6 of this best-selling series, Loupio goes in search of a bell for his friend Saint Francis. Along the way, he is put to the test by dishonesty, hunger, cold, and discouragement. Trusting in God's providence, Loupio discovers his own resourcefulness and the kindness of strangers.
Written for children five to eight years old – but a delight for all readers – A Storybook of Saints tells about the world s greatest heroes: the saints. Focusing not so much on historical details about the saints but on a few memorable events in the lives of each, it is not so much a collection of biographies as a storybook. As such, the 40+ brief tales in it are not written to catechize children or inform them of the many details we know about the saints; rather, they are intended to awaken in children a deep admiration for those good souls – the kind of admiration children have for King Peter of Narnia or Frodo or Robin Hood; the kind of admiration that sends young children off in a flurry to find a costume; the kind that begins a relationship today that extends into tomorrow, the next day, the day after that, and ever on into heaven, with the saints in eternity. Here are delightful stories that will spark the imagination of children, move their hearts, and inspire their souls – in a word, lead them to fall in love with the saints.
Here is a Christian allegorical story that treats of superlatives. The richest man in the world, with the most varied and treasured art collection in existence, begets the most wonderful son who, like himself, loves and appreciates every creation they possess. They relish entering the very worlds of their seascapes, landscapes, cityscapes and even abstract forms, but, most of al, they cherish their portraits, sharing in the very lives of their subjects. Under the father's solicitous eye, and with their motherly estate keeper's assistance, the exceptional son grows in wisdom and stature, extending his wealth to whomever wants it. What becomes of this son? And what later becomes of the treasures when the father decides to offer his immensely vast collection at auction? What superlative will be the most superlative of all? The man who wins the auction for the Portrait of the Son is in for the surprise of his life, and the would-be bidders witness a miracle of conversion. This is the long-awaited third volume in a trilogy of The Theological Virtues–faith, hope, and love–which began with THE WEIGHT OF A MASS, A Tale of Faith, and TAKE IT TO THE QUEEN, A Tale of Hope. Printed on the front and back underflaps are theological insights into the text and art of this story for all ages, for the true protagonists are the Persons of the Holy Trinity, the seen and unseen world of Creation, and the Blessed Virgin Mary.
Robin Hood the Just
Few fairy tales mention faith, let alone religion. But kids need to see characters who are grounded in faith. Robin Hood the Just is based on a song from the Middle Ages that tells how Robin Hood went to Mass and prayed the rosary. Inspired by Pope John Paul II's call to the New Evangelization, this story is designed to entertain children while teaching them important basics of the Catholic faith.
Matching classic works of sacred art with the Apostles' Creed, I Believe impresses the beauty of the faith upon the hearts, minds, and souls of children. If you loved A is for Angel, this is a perfect pairing! Through beautiful Sacred Art, this picture book will help Catholic children learn the Creed while seeing magnificent artwork. On each page, there is a phrase of the Creed with a short explanation of what it means at the bottom. Children can lean about the meaning of the words paired with incredible sacred art images!
The Easter Chick
Back in print, this off-beat Easter story is bound to bring a smile. Hilda the Hen's beautiful egg doesn't hatch. Instead the talking egg asks: "Mother when is Easter?" Hilda can't believe her ears. But when is Easter? Sometimes it's in March, sometimes it's in April. The date changes every year. Why? Hilda needs to find out because her baby chick is determined to be born on Easter Sunday. So she sets out to discover the secret and—with some advice from a wise owl—create an Easter dream come true in this delightful holiday story. Adding to the fun is a bunny seek-and-find, with rabbits hidden in many of the pictures for youngsters to find.
The Adventures of Sophie Mouse
Join Sophie Mouse in Silverlake Forest as she makes a new friend, looks for special emerald berries, learns to swim at Forget-Me-Not Lake, builds a fort at Butterfly Brook with her forest friends, and more!
The Seed Who Was Afraid To Be Planted
This children's rhyming book tells the story of a seed who lives in fear of being removed from the drawer where he lives happily with other seeds. One fateful day his worst fears come true and he is buried in the ground outside. To his amazement he soon realizes that he is destined to grow into a magnificent tree overlooking a beautiful sunlit shore. This inspiring story is one that any child can relate to, since it deals with being afraid of new experiences and change. This book will help young readers to cultivate the courage to face all their fears and to understand that good can come of any frightening situation " as long as they have faith. Most importantly, these pages also contain a profoundly biblical message about the transformative power of God's grace. Christ told several famous parables involving seeds and grains that have to "fall to the ground and die" in order to "bear fruit."
Saint Joseph: Watch Over My Family
With this delightful, inspiring and beautifully illustrated book, children will learn about and grow closer to Saint Joseph. They will also learn to ask for the powerful intercession and protection of this discreet and humble man, who always put Jesus and Mary first while placing himself at their service.
A swan must waddle before a swan can fly! Manhattan's Central Park seems an unlikely place for a family of swans to raise their baby cygnet, but family life is full of surprises, happy mistakes, and mysterious joys. Join Father and Mother Swan and their Handsome Little Cygnet as they paddle through four beautifully illustrated seasons in Central Park. Smile a lot—and cry just a little—as you follow the journey of a baby swan who grows up to learn what and who he really is.
Learn all about the forest with Hidden World! Readers learn about a variety of plants, animals, insects, and other creatures that call the forest their home. Lift-the-flap features on each page engage young readers as they explore different habitats, such as burrows, nests, webs, and more.
A rabbit dad decides to count his children, but they won't keep still, and despite his many attempts he always gets confused. Children in a silly mood will laugh. With the many active bunnies and the distraught father, the watercolor illustrations fun.
Suggested by a friend! I think our little girls will love it.
A Tale of Tails
Long tails, fluffy tails, swishy tails, stubby tails—this witty poem about all the types of tails in the animal kingdom is perfect for curious preschoolers. With gorgeous paintings of friendly critters by Garth Williams, this book is a perfect blend of whimsy and fact.
Explore SPRING in the forest with this lively, interactive Lift-a-Flap Surprise board book! Little ones will love learning all about springtime fun in the forest while following a mama deer and her sweet little fawn as they trek around the woods soaking in all the sights and sounds and meeting new woodland friends. The birds are singing, wildflowers are blooming, raindrops plip-plop in puddles, and the rainbow is bright in the sky. What a wonderful day to be a little fawn in the forest! A perfect way to celebrate the season with your toddler!
Saint Francis and the Animals (Board Book)
This St. Francis and the Animals Children's Board Book is for toddlers and young children. Saint Francis is renowned for his fervent love of God and His creatures, and they loved Francis too! Children will learn to praise God in nature, just as Saint Francis did 800 years ago. It is hardcover and 12 pages and measures 6 inches wide by 7 inches tall. It is illustrated by Randy Wollenmann.

An expanded edition of one of the most popular and best-selling Catholic books in recent years, this premium hardcover edition of Consecration to St. Joseph includes a new foreword from Fr. Calloway, 3 ribbons for marking pages, papal additions to the Litany of St. Joseph, more quotes from saints and blesseds about St. Joseph, Fr. Calloway's letter to the pope requesting a Year of St. Joseph, full-color artwork, and lots of other special new material. This will definitely be a keepsake to treasure!
This is a Catholic devotional prayer book in reparation for the sufferings and death of Our Lord Jesus Christ. The prayers contained in this devotion cover each day of the week, from Sunday through Saturday. This devotion is drawn from the realization that our Lord Jesus Christ stills suffers from the effects of the sins we commit repeatedly against Himself, His Church, the Sacrament of the Most Holy Eucharist and against our own selves. Thus, the spirituality of the devotion is based on the theology of the Mystical Body of Christ, whereby He is the Head of His Church and we are the body. Therefore, any sin committed by or against any member of the Church renews His Sufferings which are indicated in His Sorrowful mysteries. So, the proper disposition for this devotion is that of penance and reparation.
Thérèse of Lisieux is one of the most popular modern saints in the world, but the details of her life and spirituality are still not widely known and are somewhat of a mystery even to her devoted followers.
With over 150 stunning photographs, in-depth text, and plentiful sidebars on history, geography, and themes, this gorgeous work helps us enter into the universe of "the greatest saint of modern times" to discover the simplicity, yet depth of her daily life and of her relationships, both human and spiritual.
The Summa Domestica: Order and Wonder in Family Life
The Summa Domestica comprises three volumes: Home Culture, which delves into establishing a home and a vision for raising children; Education, which offers a philosophy for the primary vocation of parents to form their children and give them the means to learn on their own; and Housekeeping, which offers practical details for meals, laundry, and a reasonably clean and organized busy and thriving household.

* * * * * * * * * * * * * * * * * * * * * * * * * * * * * * * * *
Please enter the giveaway using the Rafflecopter box below:
(The winner will be announced on 4/24/22!)
* * * * * * * * * * * * * * * * * * * * * * * * * * * * * * * * *
One of these years I'll make an updated gift guide… In the meantime: