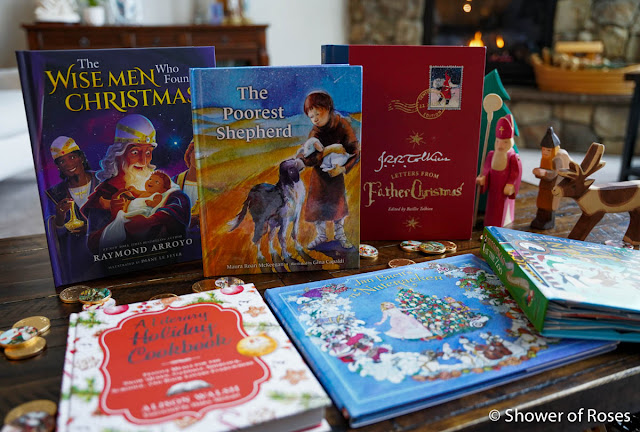 "The giver of every good and perfect gift has called upon us to mimic God's giving, by g
race, through faith, and this is not of ourselves." 
– St. Nicholas of Myra
The feast of St. Nicholas is coming up so fast! Now that All Saints Day and Martinmas are behind us it's time for me to take a little break from my Thanksgiving preparations to plan for Advent and the feast of St. Nicholas which quickly follow. I sure love sharing my little plans here on the blog with all of you!
On December 6th
 our children always wake up to find that the letters they wrote to the Holy Child or St. Nicholas have been taken and their
(sometimes new/replaced)
slippers have been filled with little treats, oranges, 
chocolate gold coins
, 
candy canes
, and often times a note from St. Nicholas.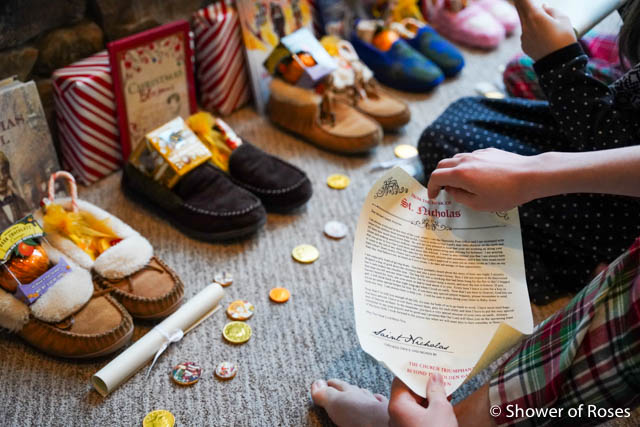 Our children (and teens!) have also always received a new Christmas book as well, which has helped us build 
an amazing collection
 over the last 20+ years. It will be so great to pass each of their collections down to them when they eventually start families of their own. I am still looking for a few that are fitting for young adults so please send any suggestions my way!
Here is the list of books we have picked out for this year: 
.: For Chiquita – Age 17 :.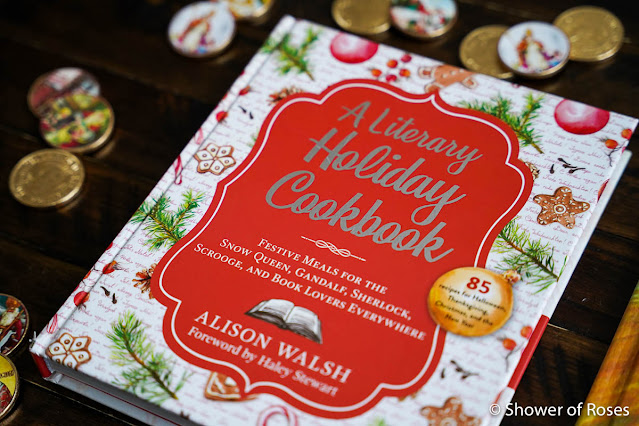 Not exactly a picture book, but it does have pictures and she is going to love it!
"For fans of Little Women, The Chronicles of Narnia, A Christmas Carol, Alice's Adventures in Wonderland, and more, a literature-inspired cookbook for voracious readers during the festive holiday season. Some of the most famous instances of fictional fare have become synonymous with the holidays. Who can forget the plentiful food surrounding the Ghost of Christmas Present in A Christmas Carol? The simple but generous and joy-filled Christmas gatherings at the Marchs' in Little Women? Or the Van Tassel's autumnal feast in The Legend of Sleepy Hollow? Finally, these literary meals can become a reality on your table with A Literary Holiday Feast."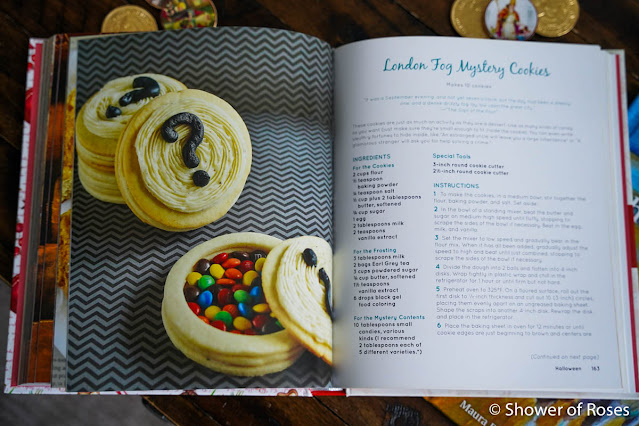 So many great recipes… for the mystery lover in her!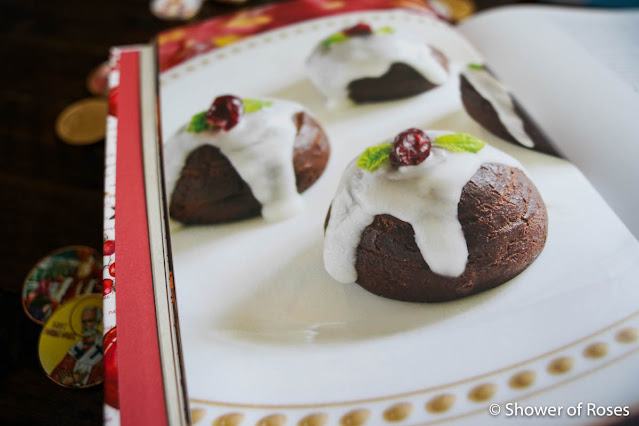 … for the Dickens lover in her!
She wrote if for me Christmas and I forgot to share…)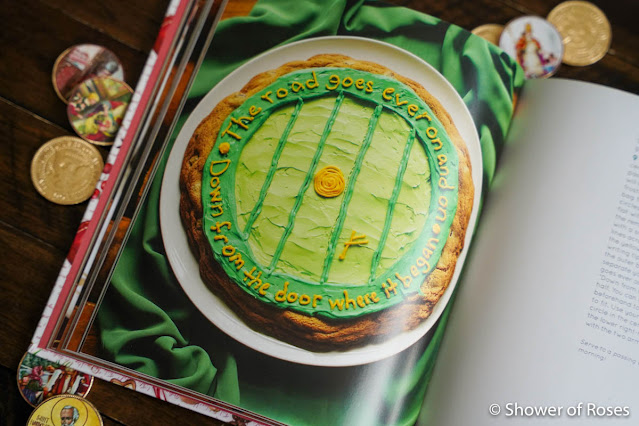 ..for the Tolkien lover in her!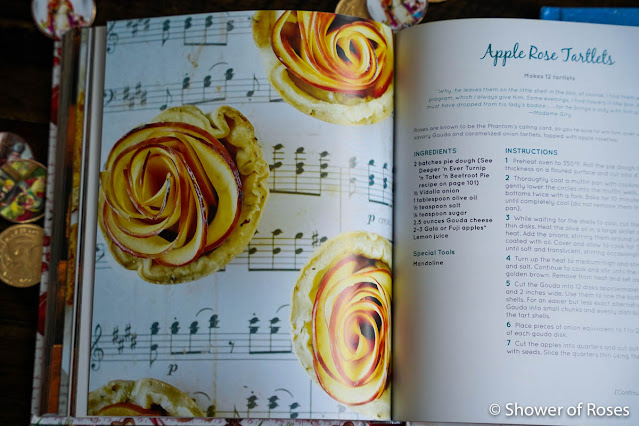 … and for the all things roses lover… in me! 😉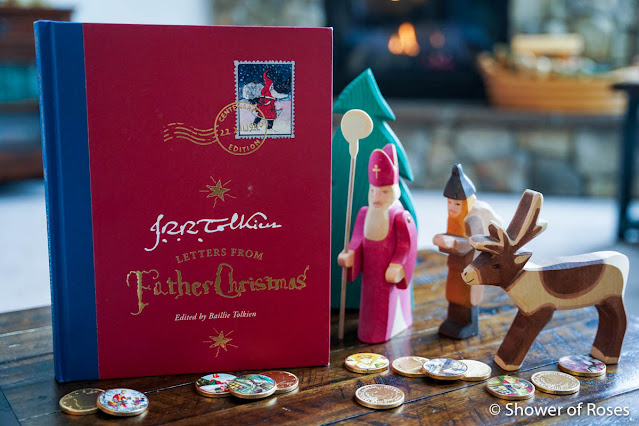 Captain received the
paperback version
of this
back in 2013
, I'm excited to finally buy this beautiful edition for another one of our Tolkien fans. Eventually I'd love to get them each their own copy!
"For fans of J.R.R. Tolkien and lovers of Christmas holidays, Letters from Father Christmas is a gorgeous, festive gift featuring a wealth of letters that Tolkien created for his children, appearing in this format for the first time. Published on the 100th anniversary of the first letter Tolkien sent to his firstborn, John, in 1920, this handsome edition will also include an introduction from daughter-in-law Baillie Tolkien, reflecting on the centenary anniversary of the letters, as well as a personal note by Tolkien himself reproduced for the first time."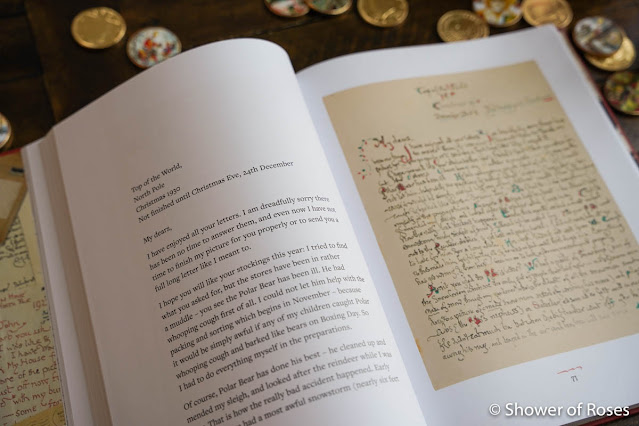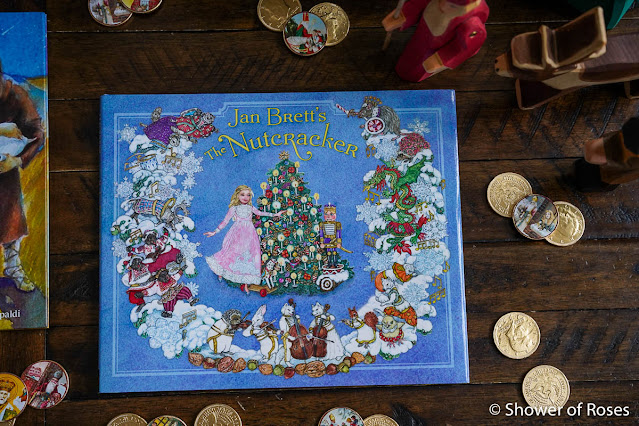 She loves all things Nutcracker and I know she'll love this new addition to her collection.
"Jan Brett makes this classic her own by setting it in snowy Russia and adding whimsical touches to the favorite elements of the traditional ballet. Enjoying this book will be an instant Christmas tradition for families who love the ballet and those new to the story."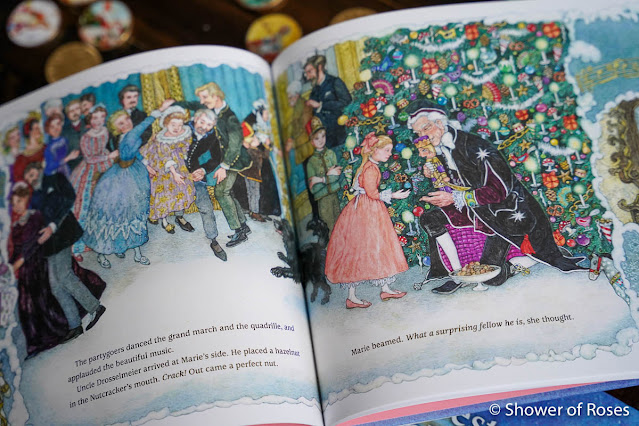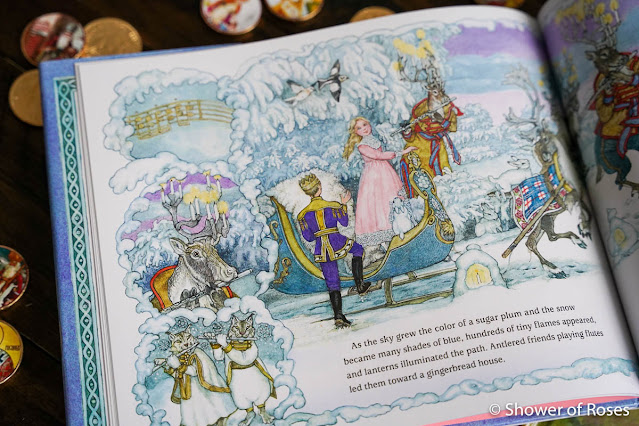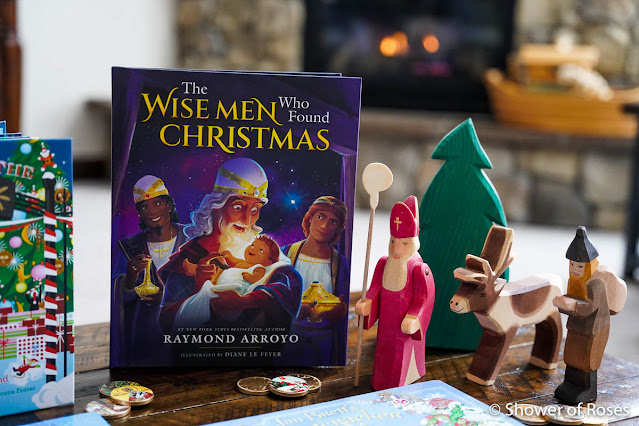 "Finally, the True, Untold Story of the Wise Men… They were not three kings. Nor were they from the Far East, or even Persia. In this thrilling, visual adventure capturing the wonder of the Christmas season, New York Times bestselling author Raymond Arroyo shares the true, hidden story of the mysterious Magi, who risked everything to discover the truth. Based on new historical evidence, The Wise Men Who Found Christmas is the miraculous, untold tale of three seekers who followed a star and found themselves in the middle of the greatest story ever told. Stunningly illustrated by Diane Le Feyer, this enchanting family keepsake is sure to become part of your Christmas tradition – and a reminder that chasing truth is often the greatest adventure of all."
.: For Grace – Age 5 :.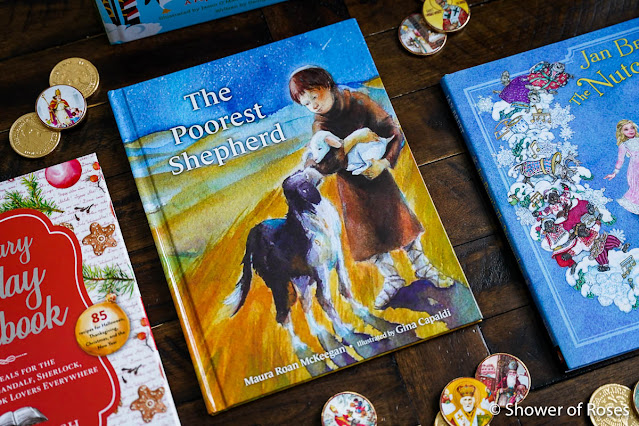 I'm a big fan of author
Maura Roan McKeegan
, especially her
Old and New Series
, so I placed an order for
The Poorest Shepherd
as soon as it showed up on Amazon. My order hasn't arrived yet, but I was pleasantly surprised when a copy showed up in my mailbox from the publisher!
It's such a sweet book and perfect for our little ones!
In quiet fields,
Where stars shone bright,
Five shepherds watched
Their flocks one night …
"Find out what happens in this charming Christmas legend when five young shepherds meet Mary, Joseph, and the Infant Jesus on the most holy of nights. All bring gifts, except the youngest, who has nothing to offer. But in those empty hands, the poorest shepherd receives the greatest gift of all. This heartwarming story will help children and adults alike see that our poverty is precious to Jesus and that the emptier we are, the more we can be filled by his love."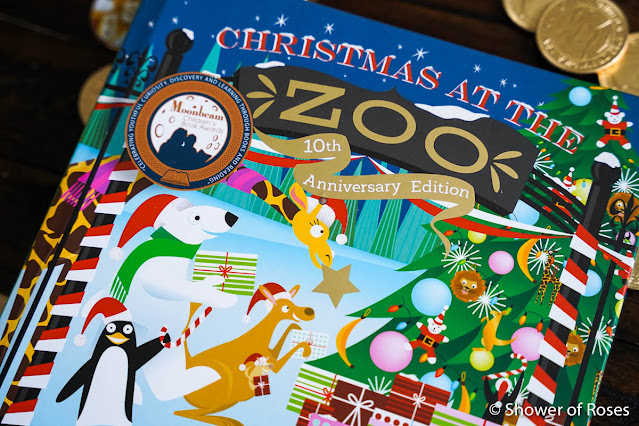 I purchased this on clearance a few years ago and hadn't given it to any of the children yet.
Our little girls will both love it!
"Excitement reigns as the animals at the Zoo decorate their homes in anticipation of an upcoming visit from Santa Claus. The special 10th Anniversary edition of this award-winning book from Jumping Jack Press is a Zoo-rific retelling of the classic Night Before Christmas tale!"
I'm also really looking forward to adding the new books from St. Paul Center
(pictured in the giveaway below)
to our collection this year! I'll most likely be slipping them in as new surprises to this year's
Advent Book Basket
.  They are still on their way and I'll be sharing more about them once they arrive!
Once again this year I will be hosting FOUR big Advent and Christmas themed giveaways here on the blog:  this St. Nicholas Giveaway, another sleigh full of giveaways with my annual Christmas Gift Ideas & Stocking Stuffers post, another Advent Book Basket giveaway and finishing up with another O Antiphon giveaway! 
Here is the first giveaway in preparation for the feast of St. Nicholas. 
Enter for a chance to win one of the four different prizes below:
Prize #1 – Set of Five Cookie Stamps with Recipe Booklet 
Congratulations, Elaine S!
Prize #2 – St. Francis of Assisi Box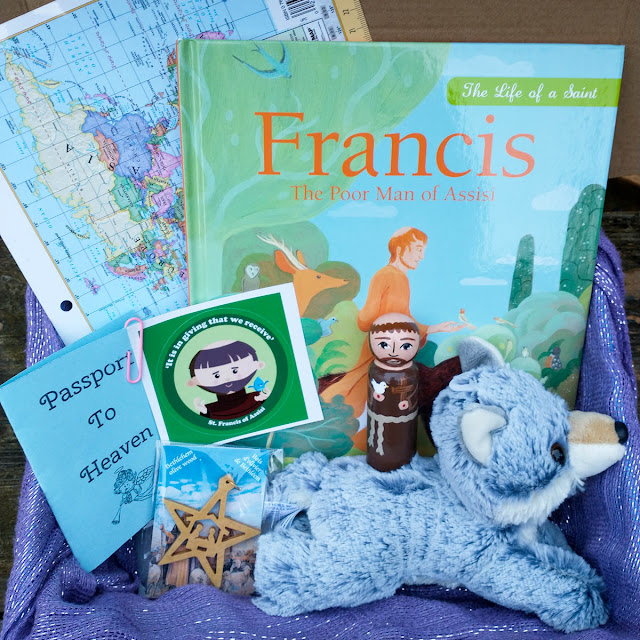 This box will include everything pictured plus a couple surprises too! 
ADVENTROSE10 for a 10% DISCOUNT on 
any boxes sold in the shop
(Expires December 8, 2022)
Congratulations, Patricia S!
Prize #3 – Two BRAND NEW books 
from St. Paul Center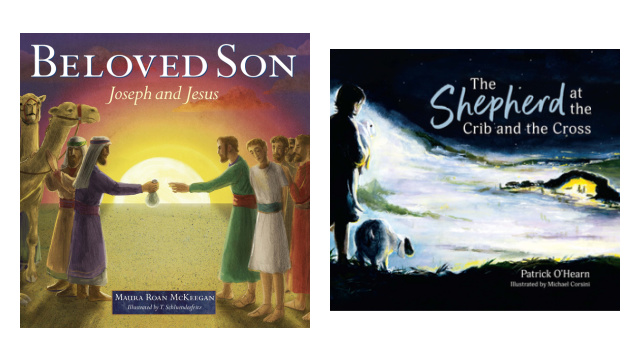 Includes:
Beloved Son: Joseph and Jesus and
I'll share more pictures of these just as soon as they arrive from the publisher! 
Congratulations, Elisse F!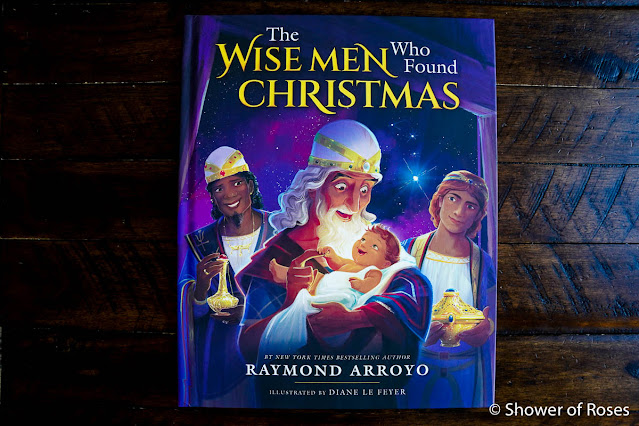 Congratulations, Jenny W!
Please enter the giveaway using the Rafflecopter box below:
Note: If you have any trouble with Rafflecopter just send me an email or message with your name/email address and I can add you manually.
I've been looking for alternatives, but haven't found a free option yet that offers what I need for these annual giveaways that I love hosting for you all!
I also just made an updated printable for this year which I will try and share soon!)
For additional Christmas book suggestions you can find some of our lists in the archives: 

Saint Nicholas & the Nine Gold Coins (Beautiful book!)
A Child's Christmas ABC Book (Another Favorite!)

Christmas Mosaic: A Review & Featured Book List
35 Favorite Christmas Picture Books for Children
Feasts & Seasons :: Advent & Christmas Collection
(I plan to share our 2022 Basket later this month – 2016 Labels will work for 2022!)

New Christmas Books for the Feast of St. Nicholas: 
2009, 2010, 2011, 2012, 2013, 2014, 2015, 2016, 2017, 2018, 2019, 2020, 2021
Stacks of Books on Christmas Morning or Epiphany:
Read about our family traditions here: