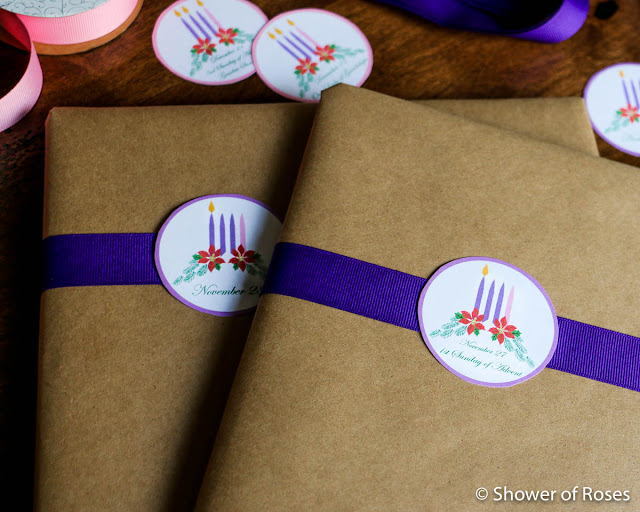 Advent Book Basket
Is it really Advent already? How is that even possible?!? This month (year!) has flown by…
We have had our college kids home all week which has been wonderful! I sure love it when everyone is home and I am already looking forward to having them back for Christmas break in a few weeks. They drove home last weekend and had been planning to drive back to school this weekend, but another couple snow storms are hitting and we decided to book them one-way flights back to school instead of having them risk the long drive over multiple mountain passes… Hopefully they will have safe flights (early Sunday morning) and not end up stuck at their connecting airport! 🙏
It was such a nice Thanksgiving! I've been enjoying lots of family time and staying busy in the kitchen which hasn't left any time for sharing online (or preparing for Advent!)… I snuck away for a little while this afternoon so I could finally decide which books to include in this year's Advent Book Basket. I'll probably wrap them up tomorrow afternoon after Mass and try to round up the rest of our Advent decorations to start setting up while our little girls nap.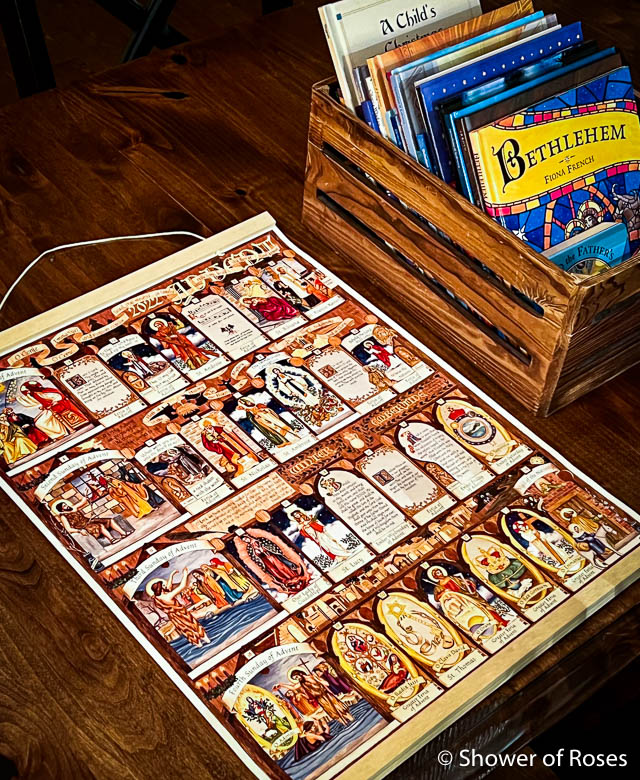 The length of Advent always varies from 22-28 days, beginning with the Sunday nearest to the feast of St. Andrew the Apostle (November 30th) and embracing four Sundays. The first day of Advent can fall as early as November 27th or as late as December 3rd. This year Advent begins on Sunday, November 27th and we get a full four weeks of Advent!
Every Advent our family counts down the days until Christmas with picture books, Advent Calendars, and the Jesse Tree. Years ago, when we didn't have enough Christmas themed picture books to wrap one for each day of Advent, I would check some Christmas books out from the library just before Advent began, using Christmas Mosaic as a guide. We have added many books to our home library since then, giving one Christmas themed book to each of our children on the feast of St. Nicholas, and our collection has definitely grown. (You can find this year's St. Nick books here!)
In the past I have filled our Advent basket with Christmas Mosaic titles and our children's 35 Favorite Christmas Picture Books (or at least what they were back in 2014!). One year I picked twenty-six of my favorites (although I still find new favorites to add to my list each year!) and one year I left the choosing up to my husband and our oldest daughter. You can find even more lists here: 2017, 2018, 2019, 2020 and 2021 or by scrolling through all past Advent Book Basket posts.
This year I decided to focus on our collection of picture books from Catholic publishers. I also included some that tie in to our Jesse Tree readings for various days throughout Advent.
Here's what I'm wrapping up for this year:

2022 ADVENT BOOK BASKET
Note: As an Amazon Associate I earn from qualifying purchases.
November 27 – 1st Sunday of Advent: – The Curious Christmas Trail(NEW) – set up Advent Calendars, Advent Wreath and Jesse Tree
November 28 – The End of the Fiery Sword: Adam & Eve and Jesus & Mary
November 29 – Little Star
November 30 – Feast of St. Andrew: A Child's Christmas ABC Book (or direct from TAN)
December 1: A Child's Christmas Counting Book(or direct from TAN)
December 2 – First Friday: God the Father's Loving Plan
December 3 – First Saturday & Rorate Mass at Dawn: Beloved Son: Joseph and Jesus (NEW)
December 4 – 2nd Sunday of Advent:: Saved by the Lamb: Moses and Jesus
December 5: – The Night the Saints Saved Christmas – write letters to Christ Child/Saint Nicholas, bake Speculaas or St. Nicholas Cookies, and decorate St. Nicholas Chocolate Coins to give to others
December 6 – Feast of St. Nicholas: Santa's Priority: Keeping Christ in Christmas (or direct from TAN)
December 7 – Feast of St. Ambrose: The Miracle of St. Nicholas – Bake a Honeycomb Cake
December 8 – Immaculate Conception: Our Lady's Picture Book – Decorate Christ Candle
December 9 – Feast of St. Juan Diego: Our Lady of Guadalupe and Her Dear Juanito(NEW)
December 10: The Beggar and the Bluebird
December 11- 3rd Sunday of Advent/Gaudete Sunday: Bambinelli Sunday
December 12 – Feast of Our Lady of Guadalupe: Our Lady's Wardrobe – Our Lady of Guadalupe Brunch
December 13 – Feast of St. Lucy: Into the Sea, Out of the Tomb
December 14 – Ember Wednesday: The Grumpy Old Ox
December 15: Guess Who's in the Manger
December 16 – Ember Friday: A Little Camel for Baby Jesus
December 17 – O Sapientia and Ember Saturday: Ishmael: The Shepherd Boy of Bethlehem
December 18 – 4th Sunday of Advent – O Adonai: Spider's Gift: A Christmas Story
December 19 – O Radix Jesse: The Shepherd at the Crib and the Cross (NEW)
December 20 – O Clavis David: A is for Angel: The Alphabet in Sacred Art (or direct from Holy Heroes)
December 21 – O Oriens and Winter Solstice: Joseph's Donkey
December 22 – O Rex Gentium: The Wise Men Who Found Christmas
December 23 – O Emmanuel: The Spider Who Saved Christmas
December 24 – Vigil of Christmas: Bethlehem (Catholic Edition)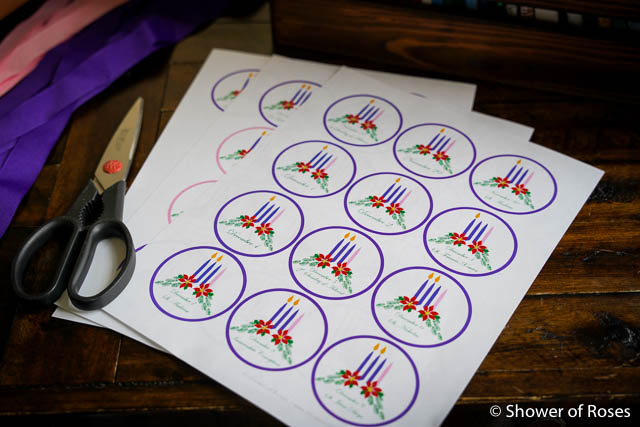 Many years ago I switched from our original purple and pink wrapping paper to brown paper with purple and pink ribbons (I save the ribbons to reuse each year). Sometimes I recycle brown paper bags and sometimes I pick up a roll of brown craft paper from the craft store to use along with our ribbons and homemade labels.
As always, we'll unwrap and read one book each night during Advent, following our family rosary. The rest of our book collection will be placed in additional baskets to read during the seasons of Advent and Christmas.
If you'd like to use my little labels too, you can download my Advent Book Basket Labels for 2022 over at Dropbox.
.: ADVENT BOOK BASKET GIVEAWAY :.
Prize #1: Planner & Calendars from Sophia Institute Press!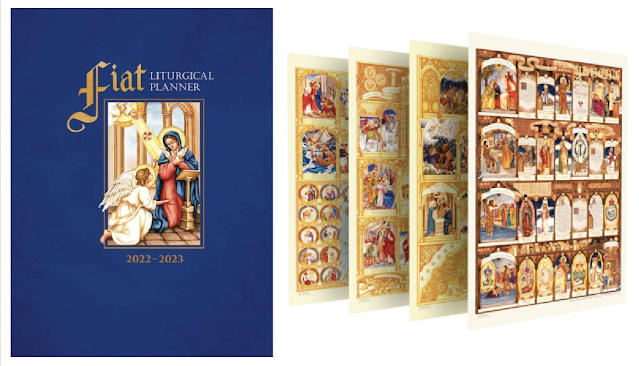 Includes: Fiat: Traditional Catholic Planner and The Illustrated Liturgical Year Calendar Advent, Christmas, and Epiphany 2022 – 2023 (value $67.94)
Congratulations, Anna!
Prize #2: Blindside Series Books & Gifts from Leslea Wahl!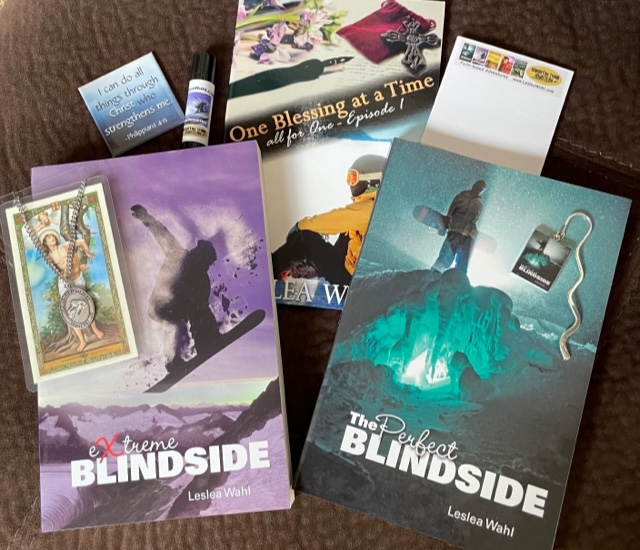 This prize includes a signed copy of the award-winning Catholic teen series by Leslea Wahl along with several related items. (Signed copy of The Perfect Blindside, signed copy of eXtreme Blindside, signed related short story One Blessing at a Time, a St. Sebastian prayer card and medal, a metal bookmark, lip balm, sticky note pad, and an inspirational magnet.) (value $51.00)
Congratulations, Elizabeth!
Prize #3: Set of Three Christmas Books from Ignatius Press!

Includes:
Ishmael: The Shepherd Boy of Bethlehem
24 Christmas Stories to Welcome Jesus
sponsored by Ignatius Press (value $38.97)
Congratulations, Melodee!
Prize #4: Two BRAND NEW books from St. Paul Center!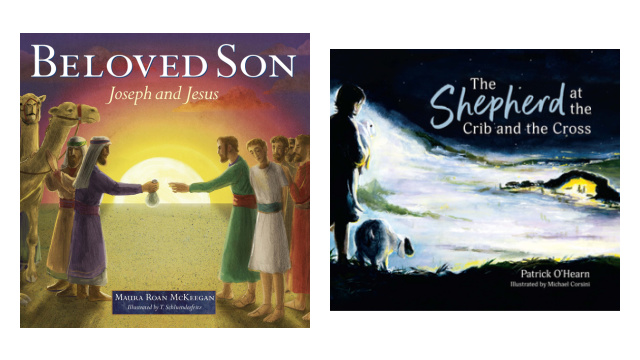 Includes:
Beloved Son: Joseph and Jesus and
The Shepherd at the Crib and the Cross
sponsored by St. Paul Center (value $35.90)
Congratulations, Michelle Fol!
Enter the giveaway using the Rafflecopter box below:
Note: If you have any trouble with Rafflecopter just send me an email or message with your name/email address and I can add you manually. I've been looking for alternatives, but haven't found a free option yet that offers what I need for these annual giveaways that I love hosting for you all! I may not be able to personally respond to every email but I'll be sure to add all the entries before drawing names.
For additional Christmas book suggestions you can find some of our lists in the archives: 
Feasts & Seasons :: Advent & Christmas Collection
Feasts & Seasons :: Our December Book Basket
35 Favorite Christmas Picture Books for Children
Last Year's Advent Book Basket
December :: Month Dedicated to the Divine Infancy
Christmas Mosaic :: A Review & Featured Book List
You can find the rest of our booklists here.
P.S. There is still time to enter the St. Nicholas Giveaway and the huge Christmas Giveaway!