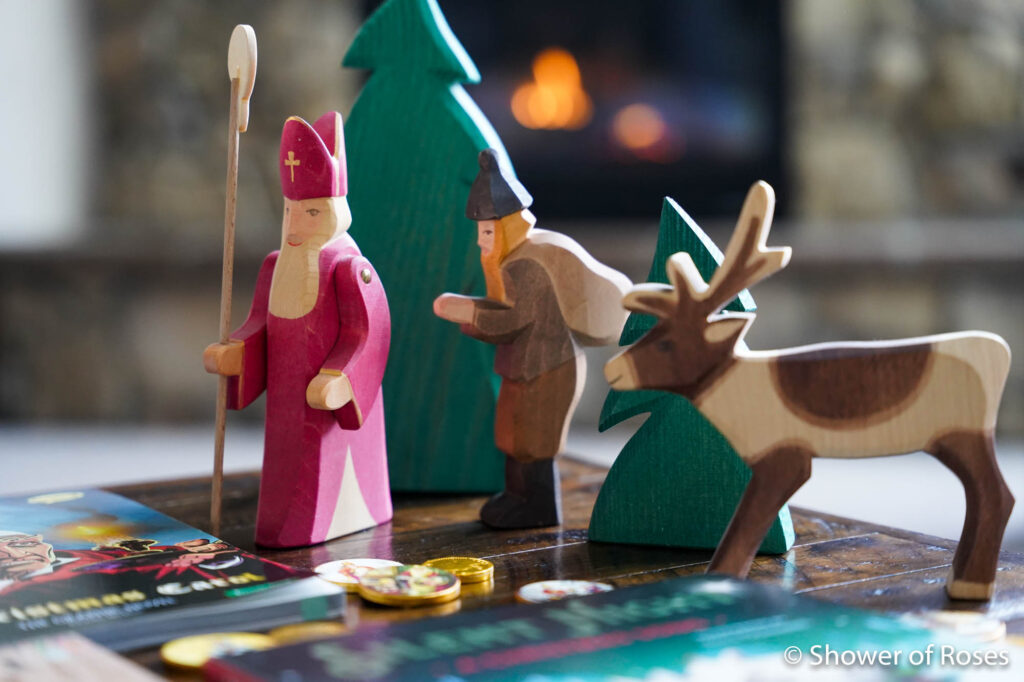 – New Christmas Books for the Feast of St. Nicholas –
As the holiday season approaches, and we bid farewell to All Saints Day and Martinmas, it's time to shift our focus to the upcoming feast of St. Nicholas. Amidst the hustle and bustle of Thanksgiving preparations, I find myself eagerly anticipating our family's annual Advent traditions including celebrating St. Nicholas Day which lies just around the corner!
On the morning of December 6th, our children wake up to discover their heartfelt letters to the Holy Child and St. Nicholas have disappeared, replaced with treats in their slippers. New Christmas Books, sometimes new slipper or shoes (when needed) oranges, chocolate gold coins, candy canes, and a note from St. Nicholas himself.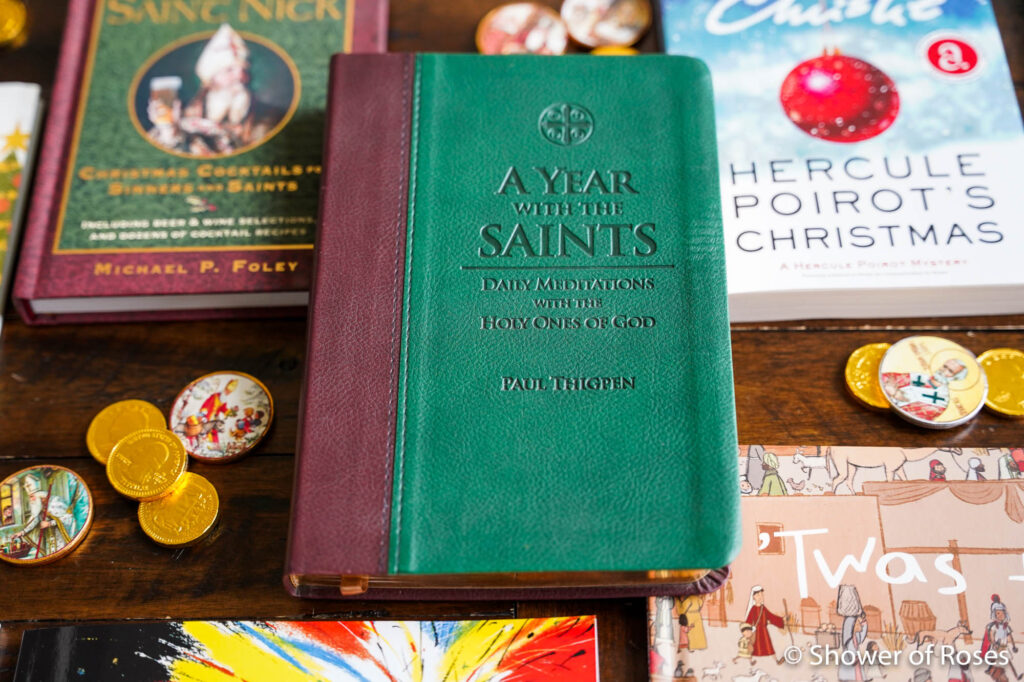 Over the years, our children, who are now mostly teenagers and young adults, have continued to receive a new Christmas book as an integral part of this beloved tradition of ours. This has resulted in a remarkable collection that spans over two decades. I look forward to passing down these treasured Christmas books to them when they start their own families one day.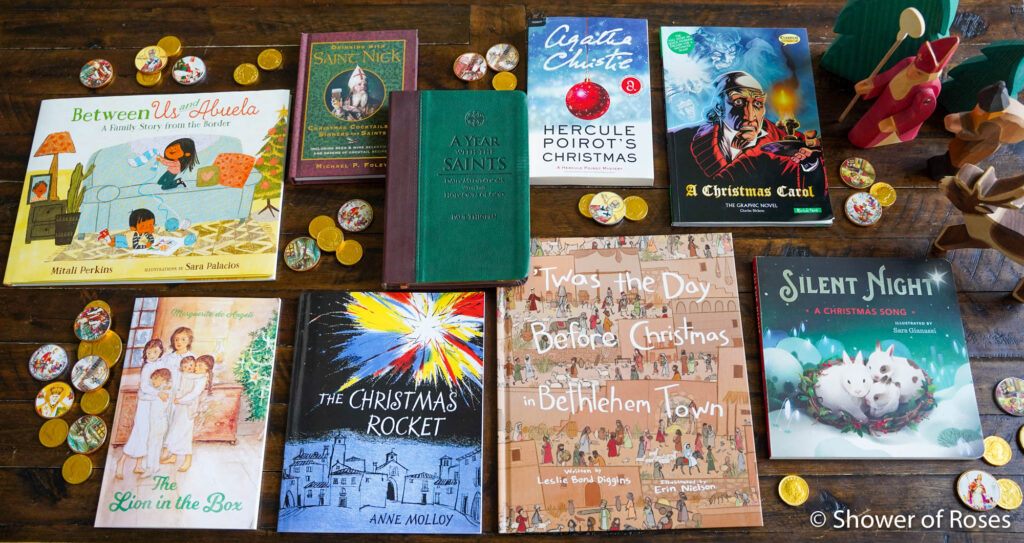 Below you will find the list of books I picked out for this year.
Note: As an Amazon Associate I earn from qualifying purchases. Additional affiliate links included to TAN Books, Ignatius Press and Holy Heroes as well.
Captain – 23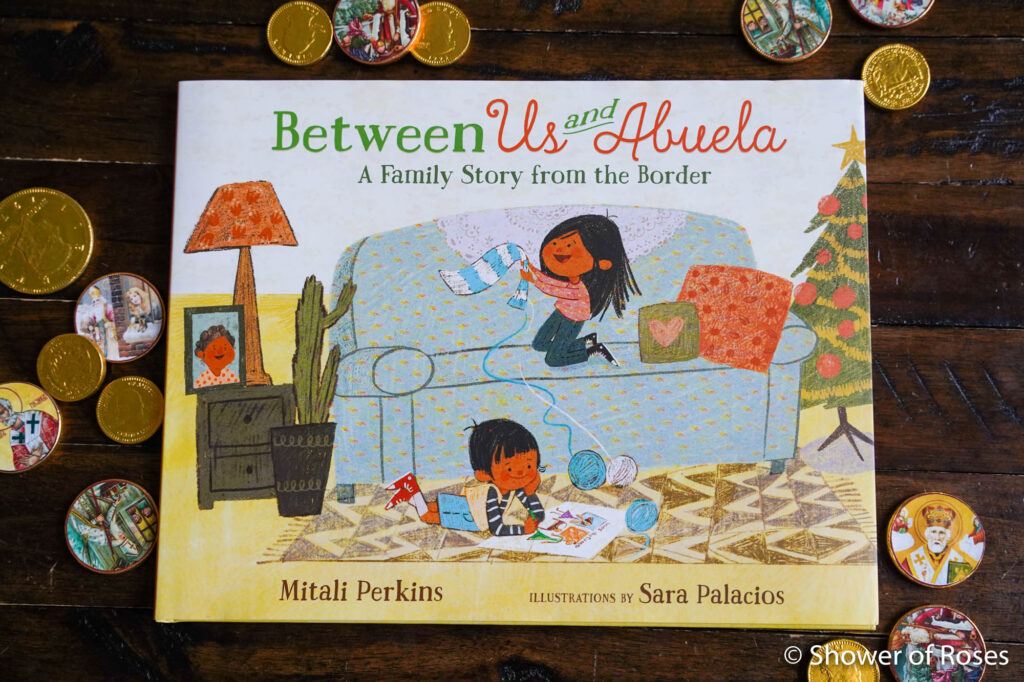 Between Us and Abuela: A Family Story from the Border
You're never too old for picture books! As C.S. Lewis says, "A children's story that can only be enjoyed by children is not a good children's story in the slightest."
This Christmas might be the first he spends away from family, and our first without all of our children home… We've been exploring ways to bring him home for the weekend, but the logistics of getting him to an airport after classes on Friday and then having to fly back on Christmas day to make it back to his classes the next morning are making it increasingly unlikely. Despite the distance, we're determined to send him a few care packages filled with love and homemade goodies to make his Christmas away a bit brighter. In the meantime, I'm eagerly counting the days until his graduation from the academy in February. Secretly, I can't help but hold on to a small hope for a government shutdown over Christmas, which could possibly bring him home, even if just briefly.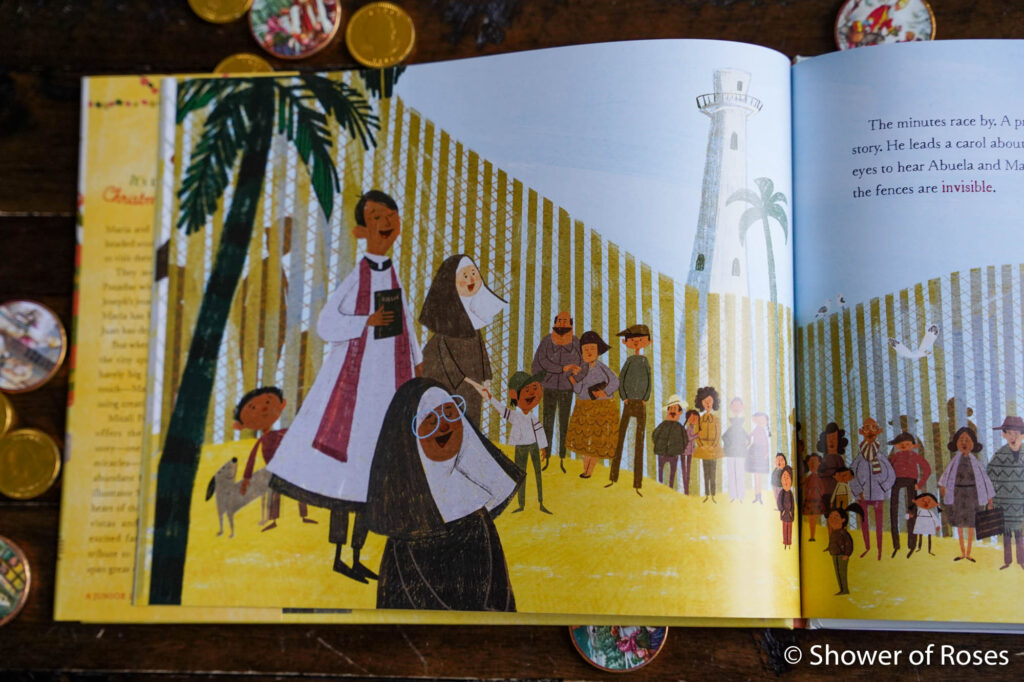 Between Us and Abuela: A Family Story from the Border is a heartwarming picture book that tells the story of a family separated by the U.S.-Mexico border. Through letters and pictures, the book conveys the love, hope, and resilience of the family as they find ways to stay connected and celebrate special moments despite the physical distance that separates them. It's a touching story of family bonds that transcend borders. It also portrays the Border Patrol positively, showing them as individuals who help facilitate connections between families separated by the border. The book highlights the humanity and compassion that can exist even in challenging situations.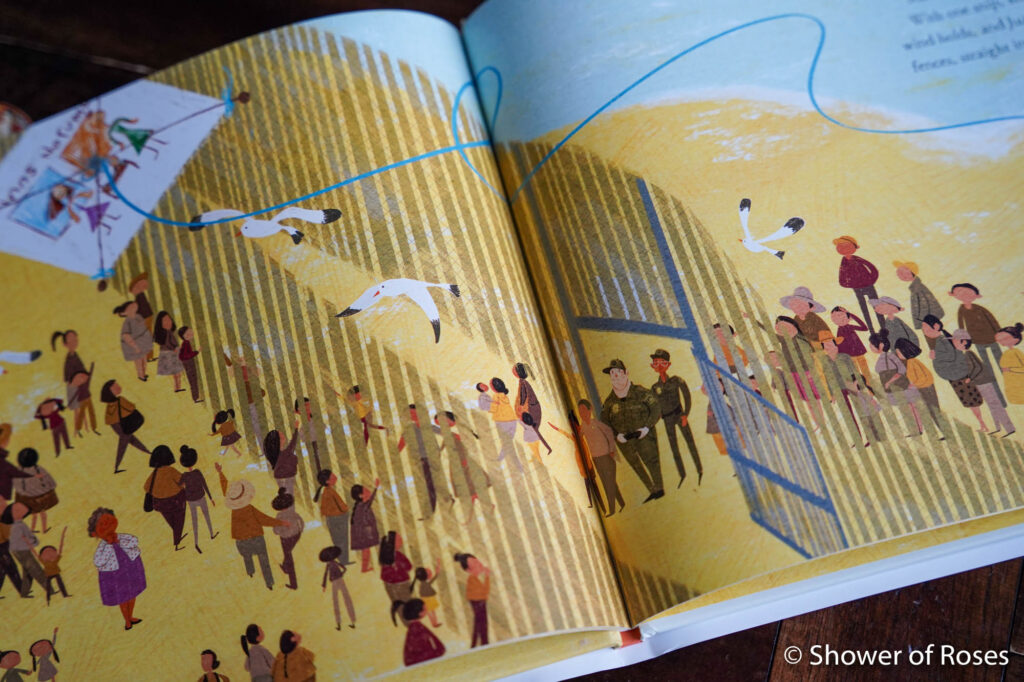 Ranger – 21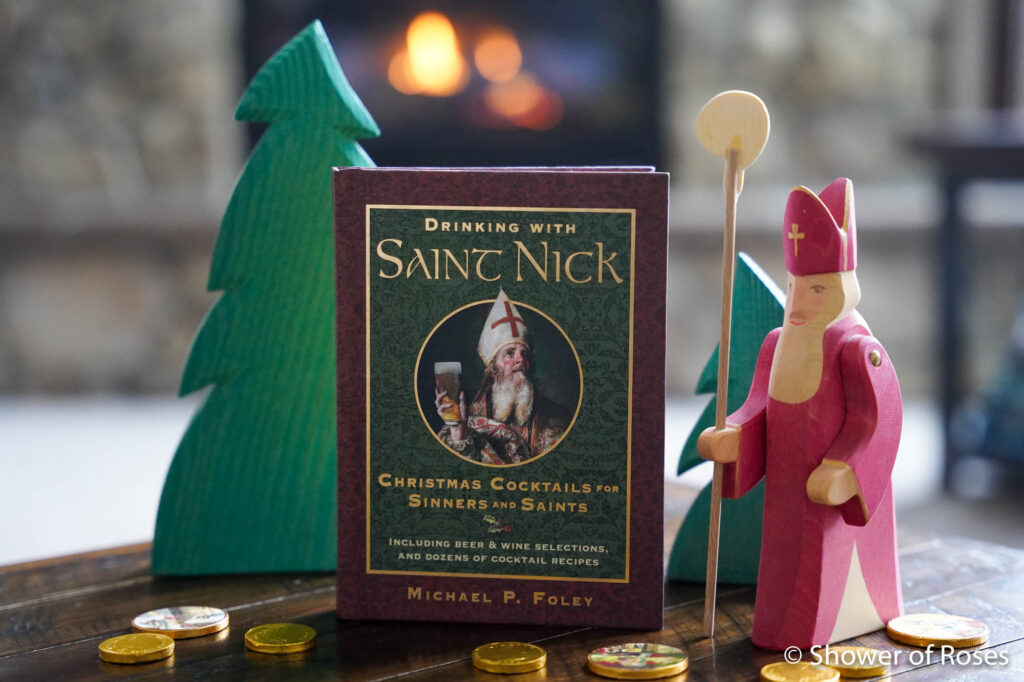 For our 21-year-old, we've chosen to give him his own copy of Drinking with Saint Nick: Christmas Cocktails for Sinners and Saints. This delightful book is not only a festive guide to crafting Christmas cocktails but also weaves in fun anecdotes and stories related to the holiday season, making it an enjoyable read for anyone looking to add a spirited twist to Christmas celebrations. And don't worry, we're not suggesting he needs the cocktails to cope with his older brother's absence (this is the first year those two have been separated) – it's all in good fun! 😉
Also available directly from Ignatius Press.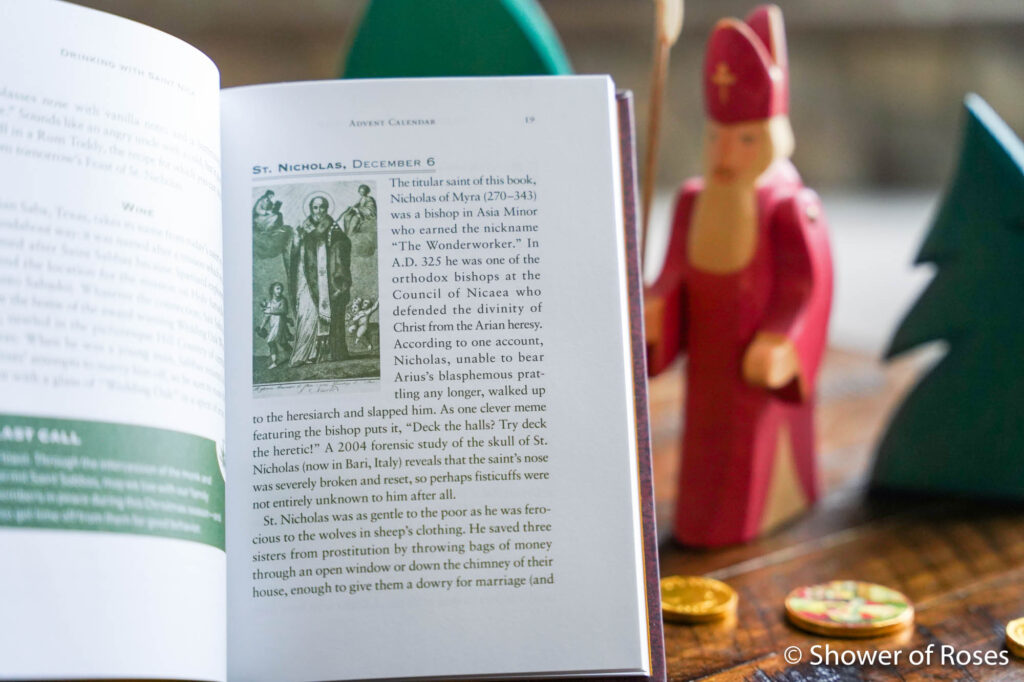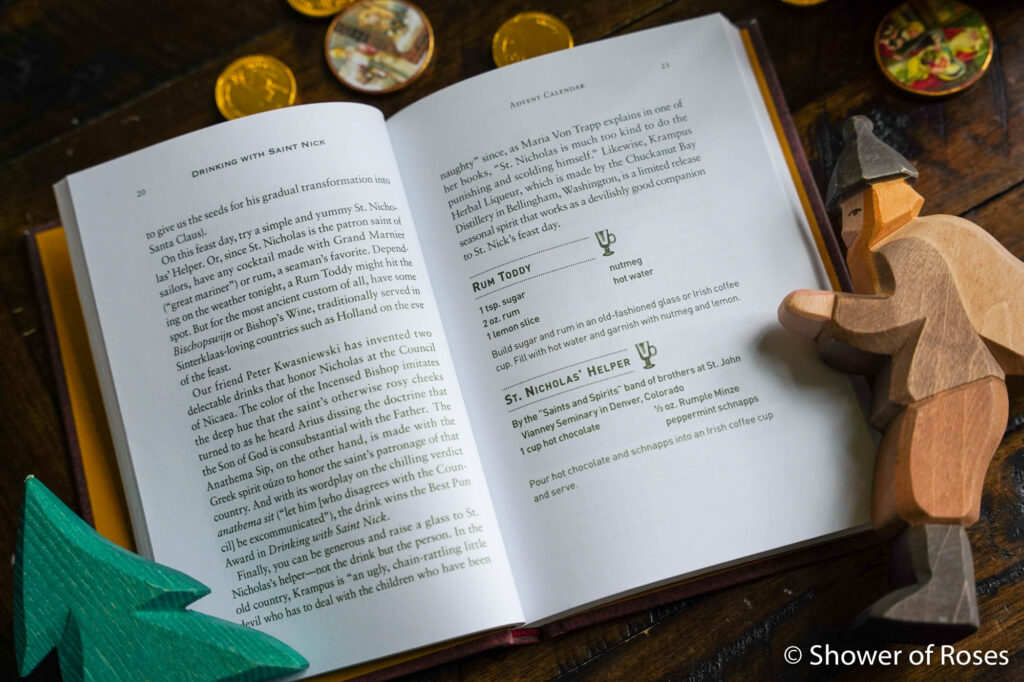 Twinkle Toes – 20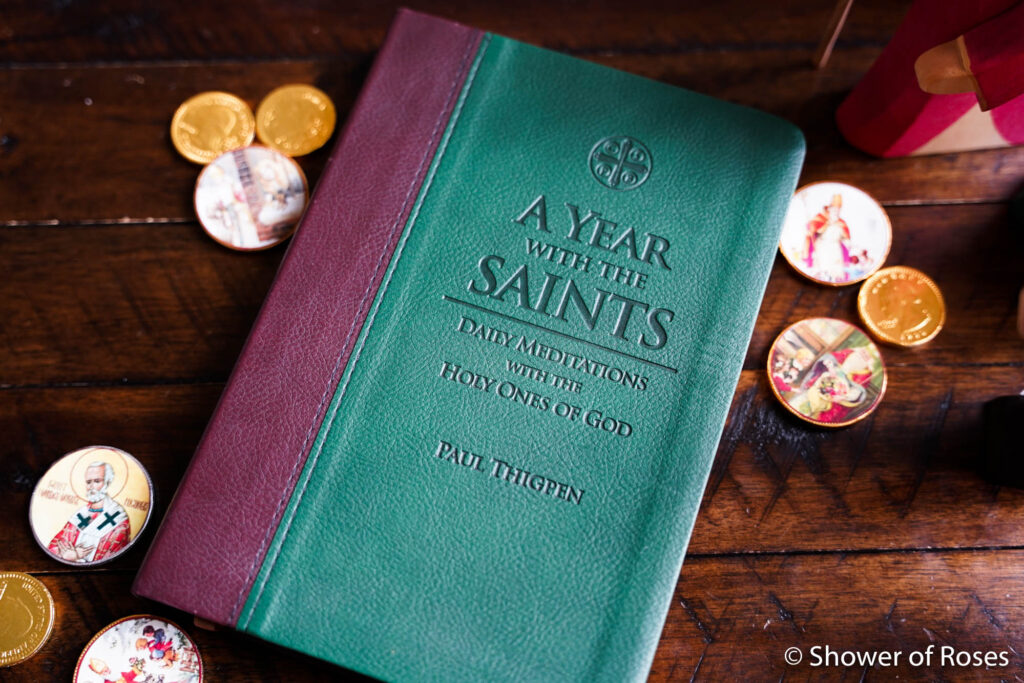 For our daughter, who is now a licensed insurance agent and has taken on the world with her own business, I've chosen a gift that reflects her commitment to growth and self-reflection. A Year with the Saints: Daily Meditations with the Holy Ones of God is such a beautiful Deluxe Leatherette book, offering daily meditations and insights that can provide her with inspiration and guidance in both her personal and professional life.
Plus, it's a fantastic deal right now – you can grab it for just $10 this month at TAN Books, which is nearly 78% off the regular price. A gift that's both meaningful and budget-friendly! (I actually might order three more copies so we can give one to each of our other young adult children in their stack of books for Christmas for them to read in the upcoming new year.)
Update: It looks like the sale over at TAN on A Year with the Saints has ended. You can find the current deals here!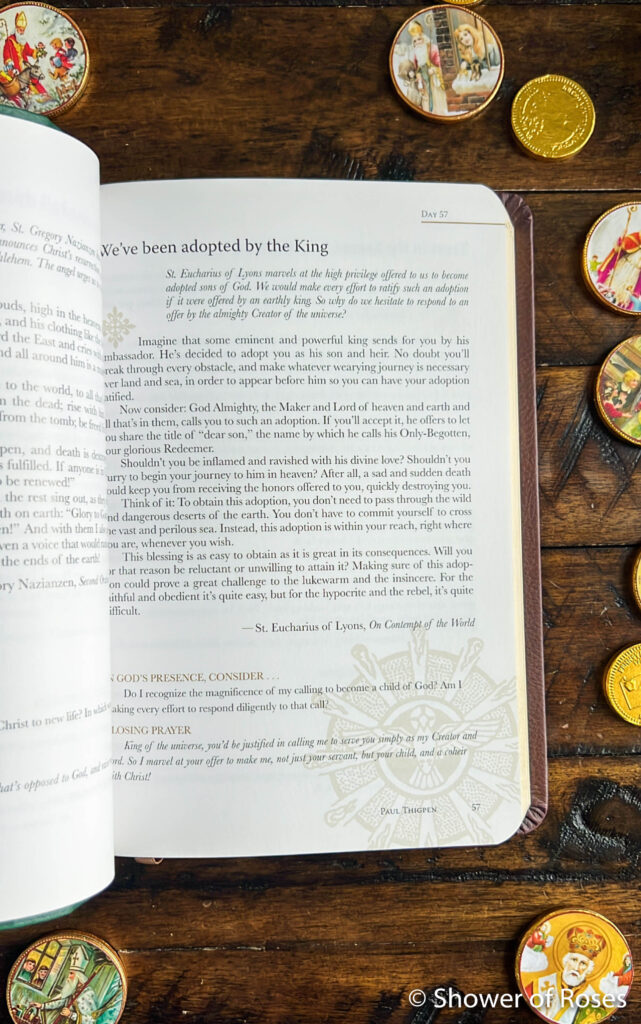 Chiquita – 18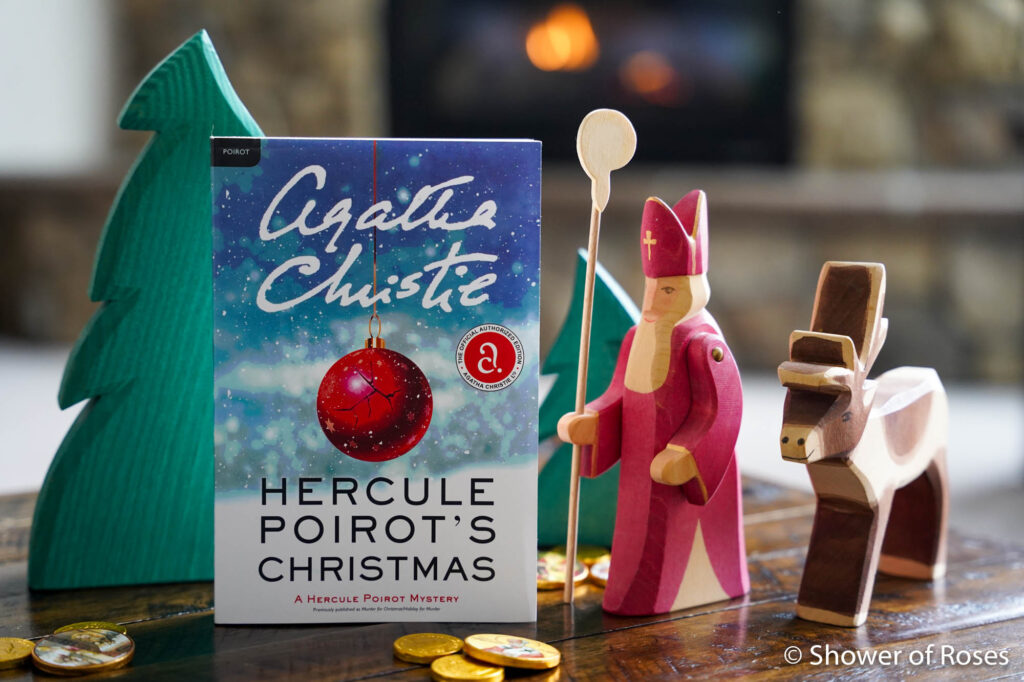 Hercule Poirot's Christmas: A Hercule Poirot Mystery
For our college girl, who loves murder mysteries and will finally have a well-deserved break over Christmas, I've chosen the intriguing book Hercule Poirot's Christmas: A Hercule Poirot Mystery. In this official edition featuring exclusive content from the Queen of Mystery, the holidays take an unexpected turn when a family reunion is marred by murder, and the brilliant Belgian investigator, Hercule Poirot, swiftly takes on the case. This gripping tale is the perfect read to keep her entertained during her holiday break, and we're excited to see her dive into the mystery.
Scout – 16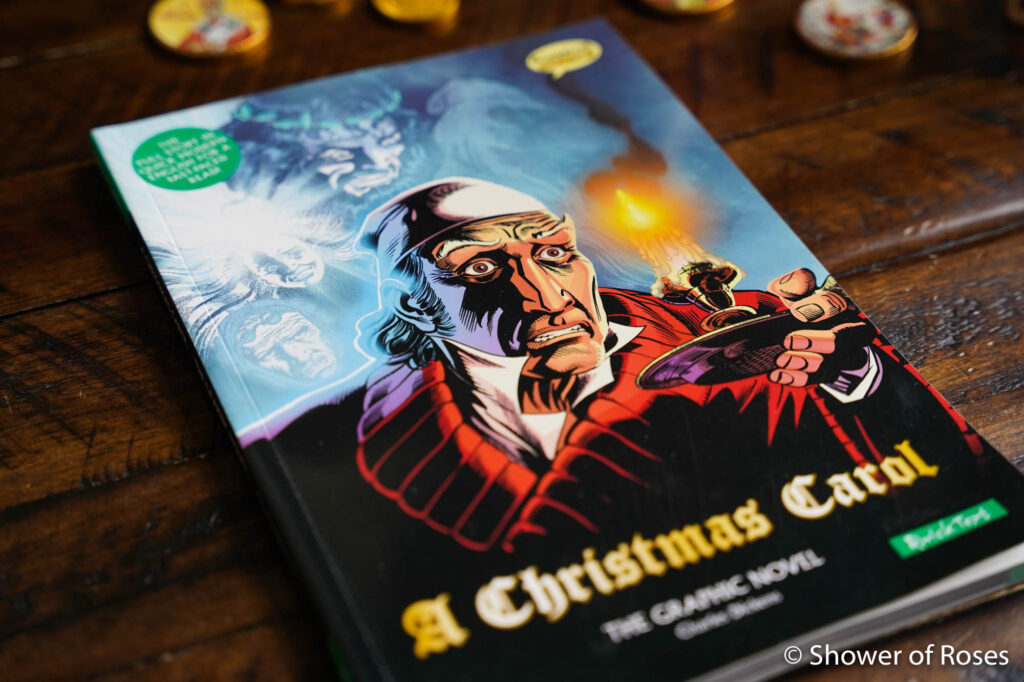 A Christmas Carol: The Graphic Novel
For our sixteen-year-old son, we've chosen A Christmas Carol: The Graphic Novel. It's a visually captivating adaptation of the classic Dickens tale, perfect for a teenager who enjoys graphic novels. This book presents the timeless story in an engaging format with stunning illustrations. He's going to love it!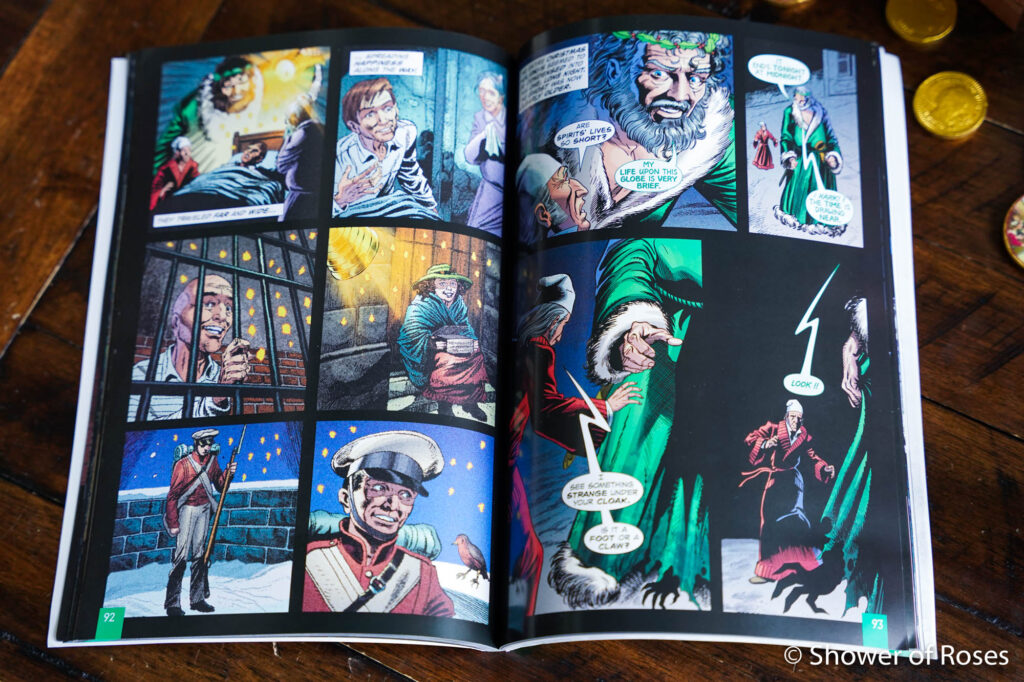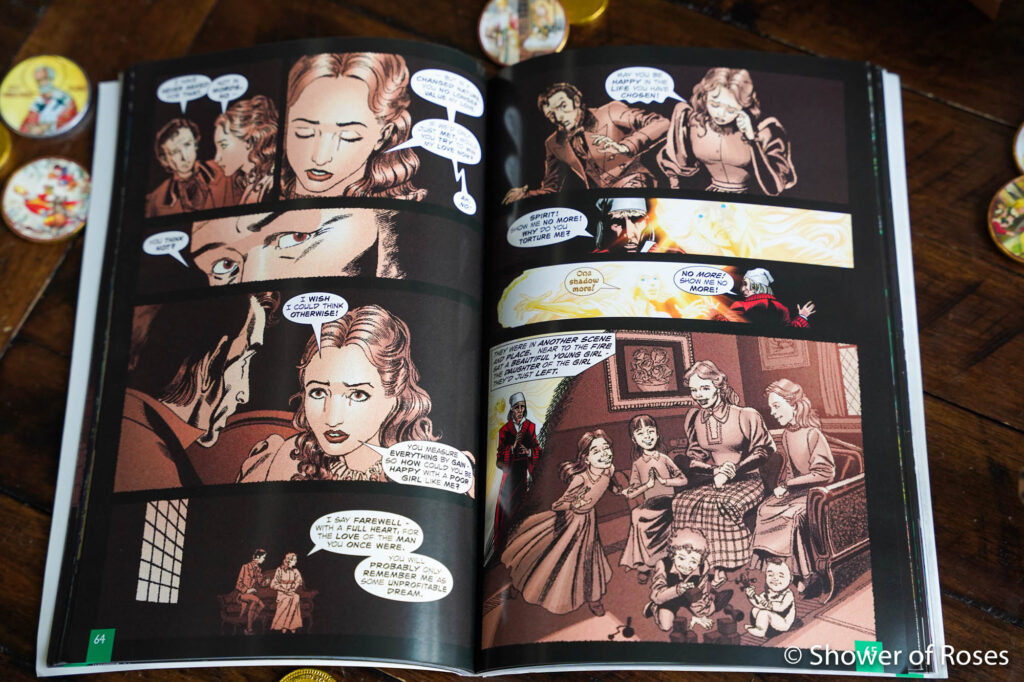 (Thank you, Tiffany G, for suggesting this book and the Agatha Christi book above last year!)
Rose – 13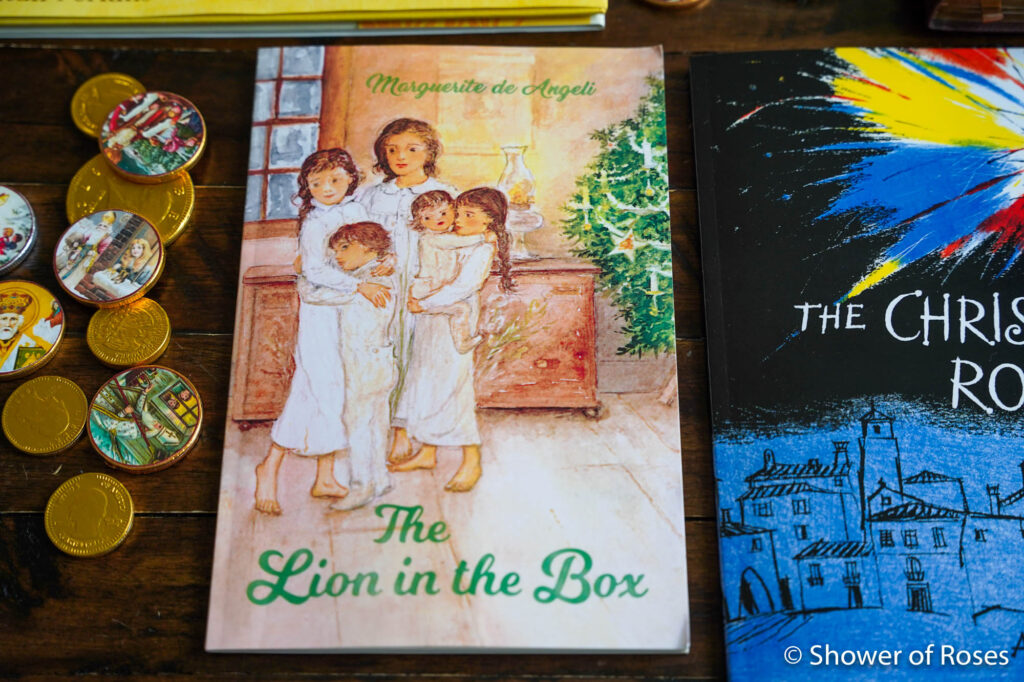 "Recently widowed, Mama would only be able to provide a meager Christmas for her five small children. Even though Mama could only get work occasionally, the family was rich in love and affection. The older girls did housework while Mama was away, and Lili looked after Ben and the baby. On Christmas Eve, the family spent an anxious evening that turned into one of the most extraordinary and memorable Christmases of their lives. This true story is set at the turn of the 20th century in New York City. Highly recommended as a Christmas read-aloud."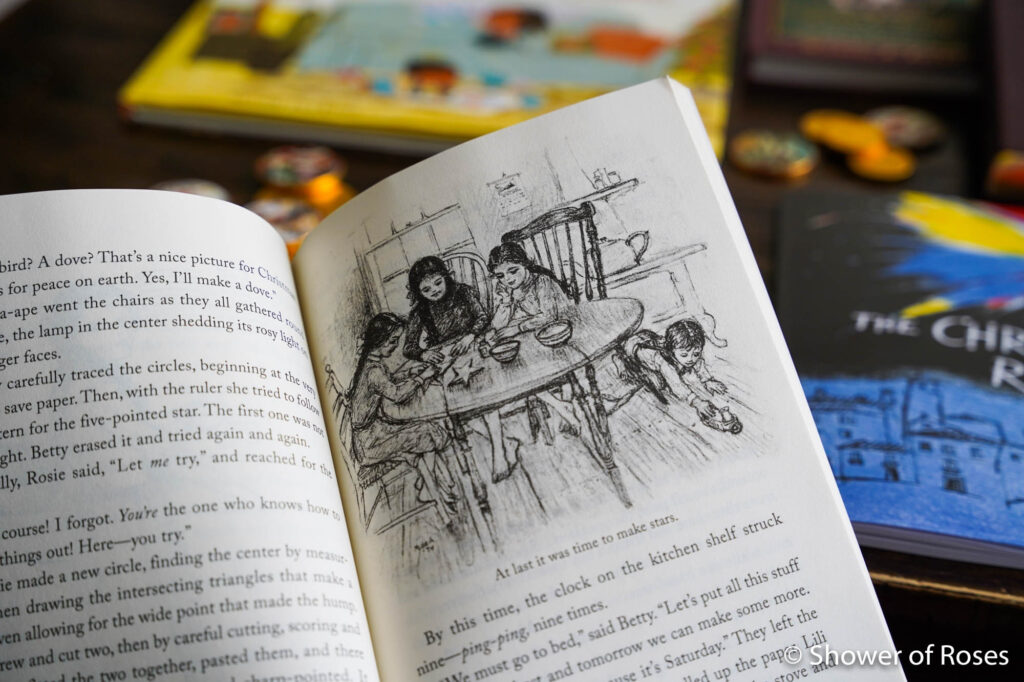 Bud – 11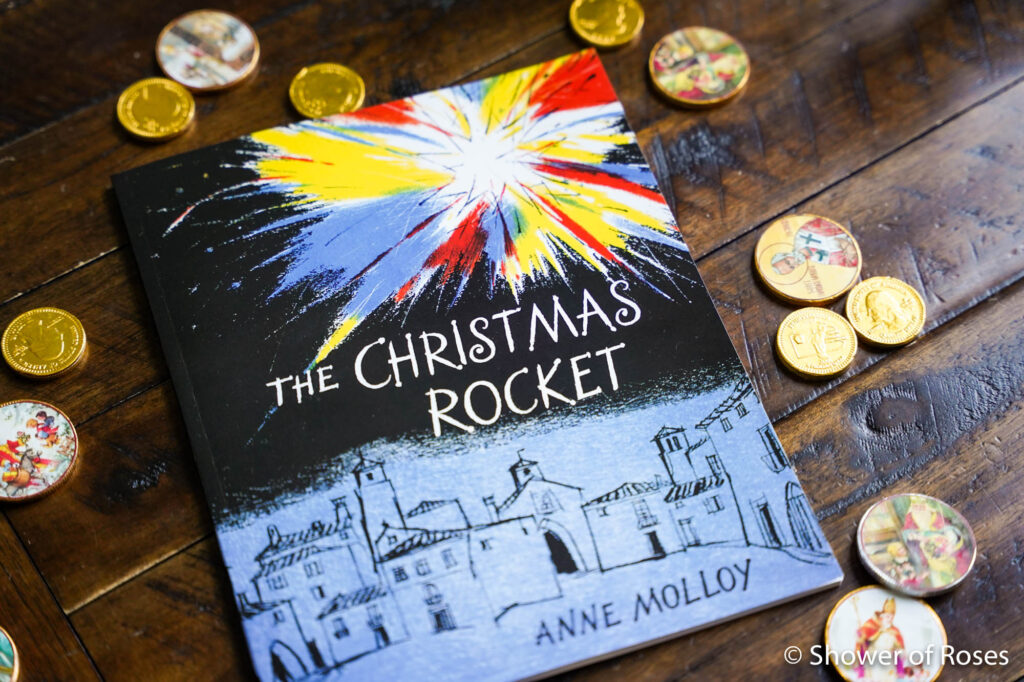 "This beautiful Christmas story, set in Italy during the 1950s, is about a potter's son who goes down the mountain with his father shortly before Christmas to sell pots, vases, and platters. They have high hopes of bringing home enough money for a nice Christmas dinner, perhaps enough for a pair of real shoes for Dino, and even a rocket for him to set off with the other boys on Christmas Eve. The trip does not turn out as planned, it goes from bad to worse until Dino starts home in tears. As he trudges up the mountainside, something happens. Something which lights up Dino's heart and gives us a new view of the Christmas story."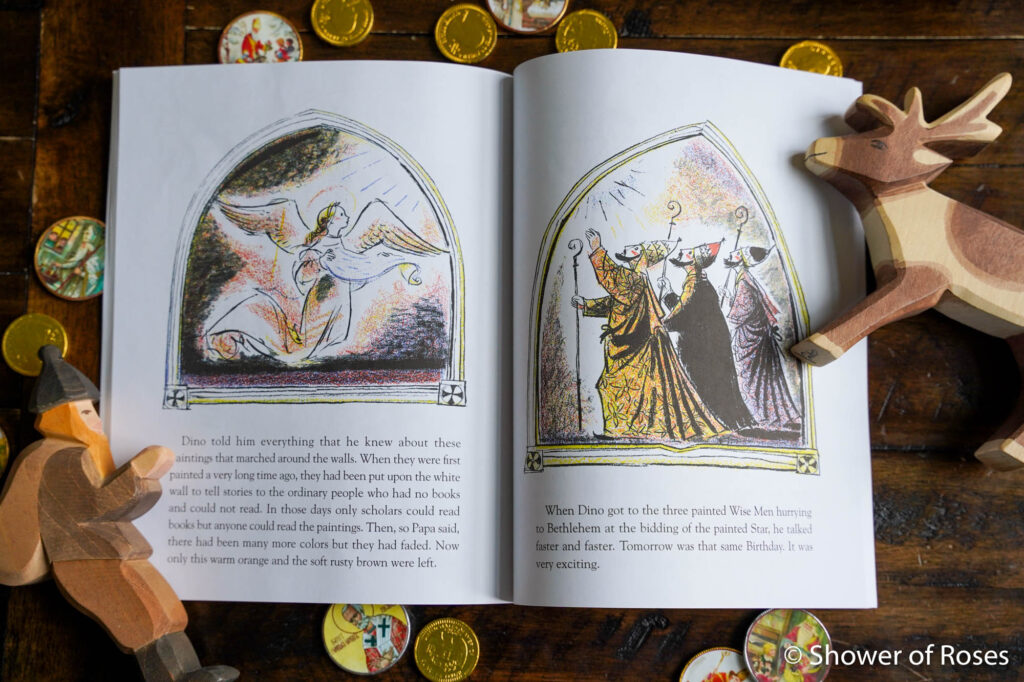 Grace – 6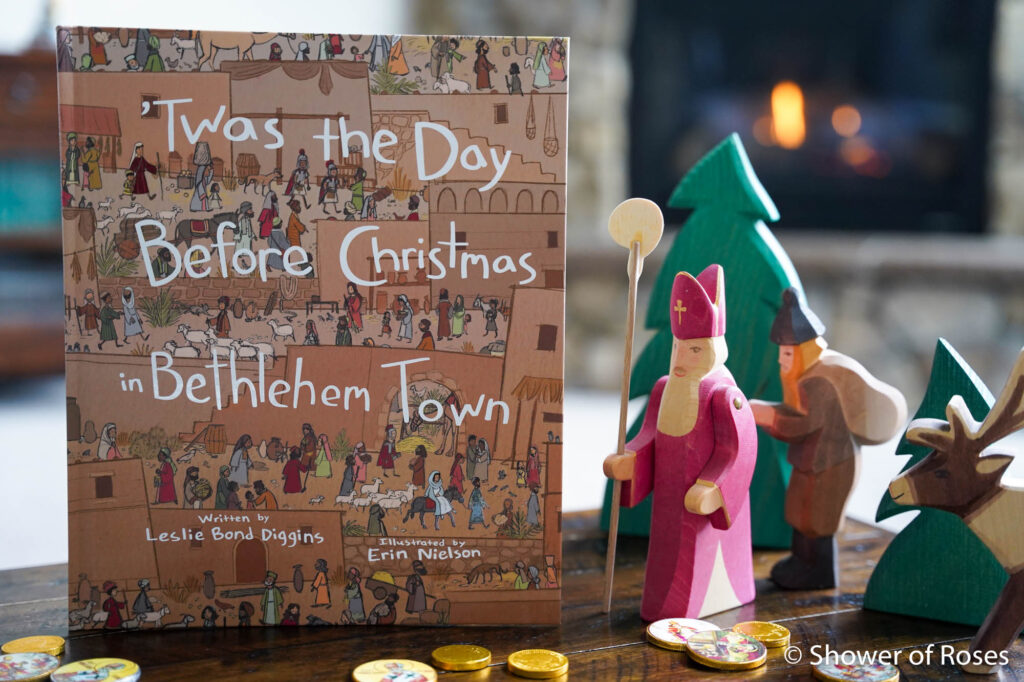 'Twas the Day Before Christmas in Bethlehem Town
For our six-year-old daughter, I've chosen the brand new book 'Twas the Day Before Christmas in Bethlehem Town. This charming book is more than just a retelling of the Christmas story; it's a beautifully illustrated journey that transports readers to the heart of Bethlehem, where the anticipation of the first Christmas Eve unfolds. The book captures the excitement and wonder of that special night and I look forward to reading it with her.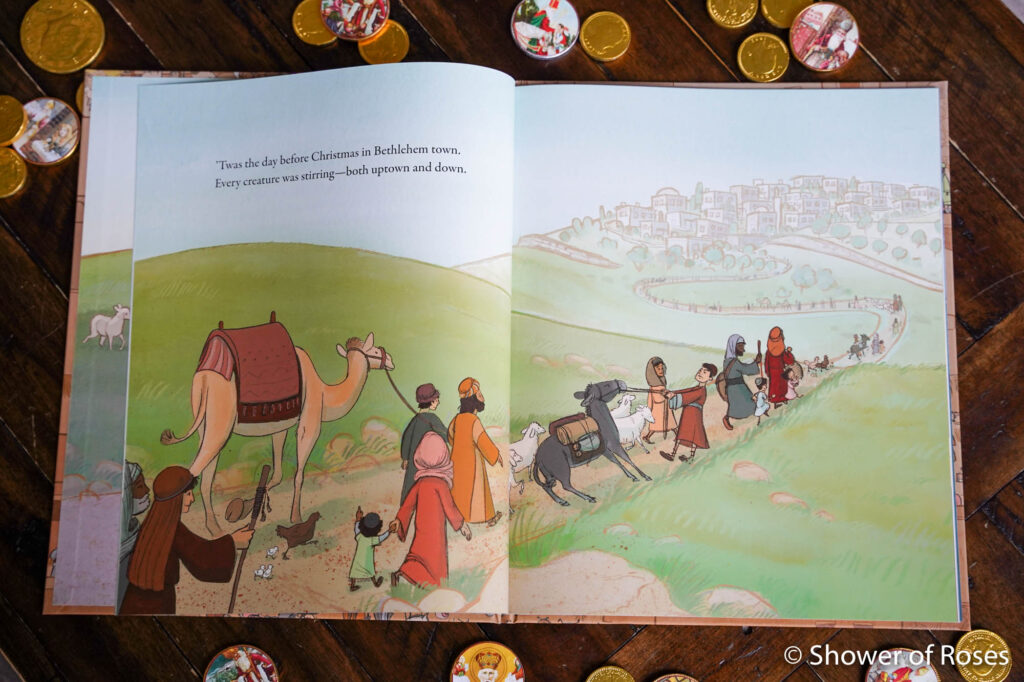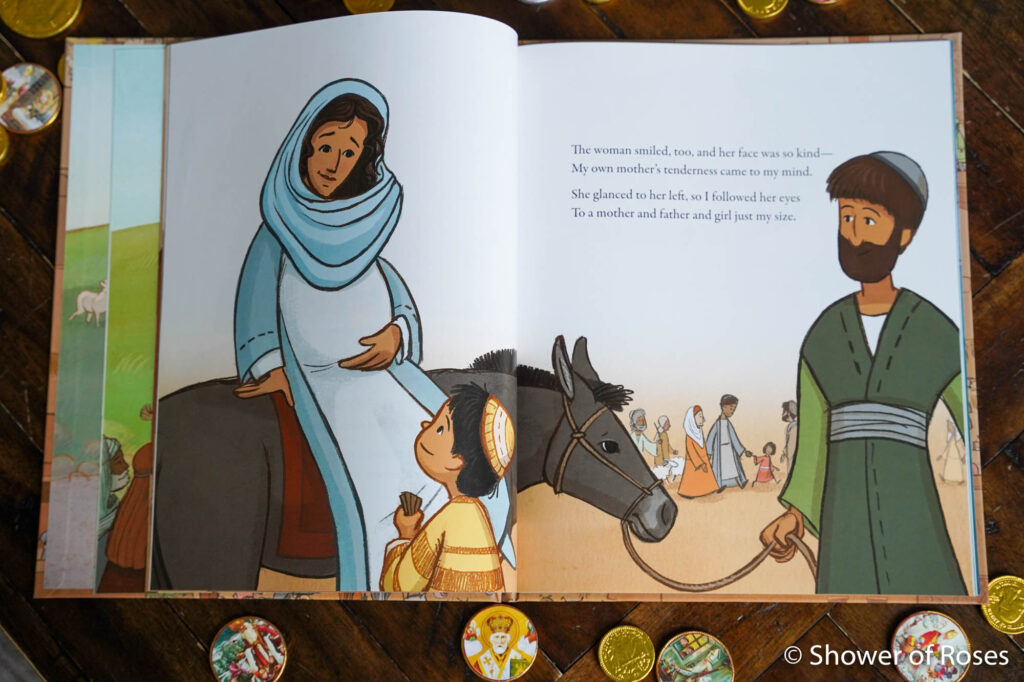 Joy – 4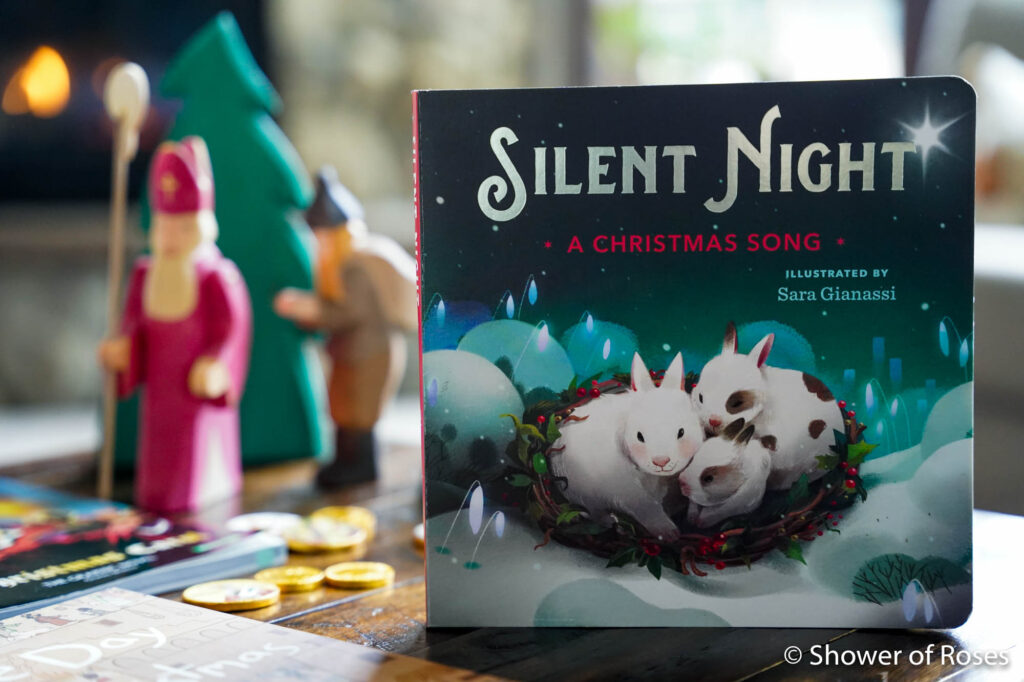 Silent Night: A Christmas Song
I'm taking full advantage of my last opportunities to buy board books for our four-year-old, who still really enjoys them! Our little animal lover will be receiving Silent Night: A Christmas Song this year. With delightful animal illustrations throughout and the lyrics to a favorite Christmas song, it's a great addition to our collection. I also considered A Very Merry Christmas Prayer which is also darling when I was browsing the bookstore this past weekend.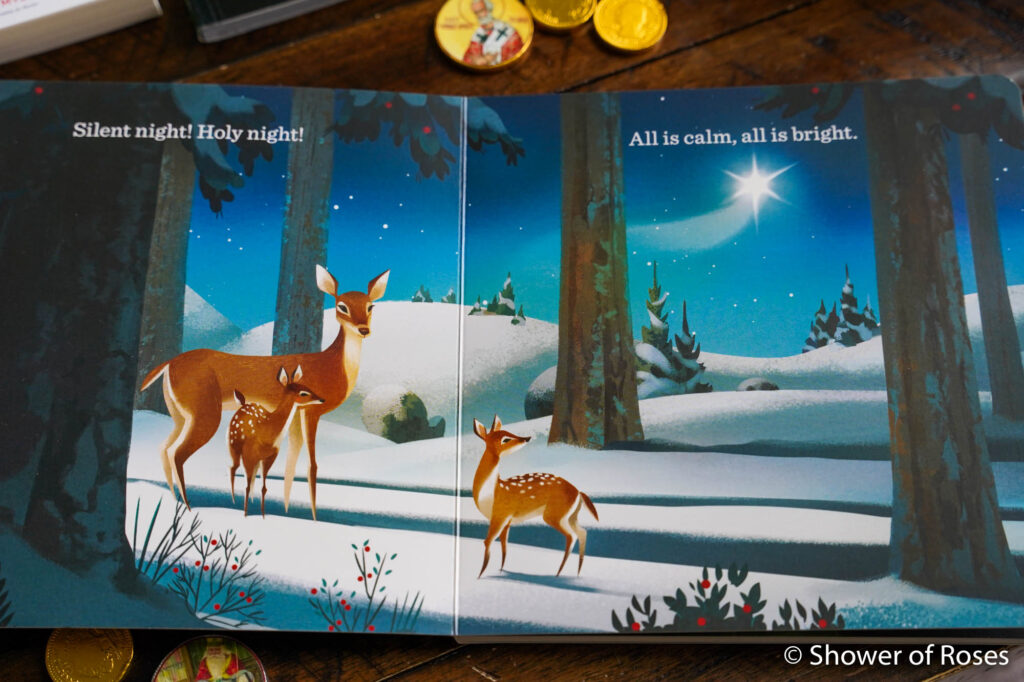 Free Printables
You can download my St. Nicholas labels over at Dropbox with either Black or Green text… And here is the link to my original St. Nicholas Chocolate Coins from 2010 and the updated version in 2019! You can find another option, an adaptation this original idea of mine, over at St. Nicholas Center.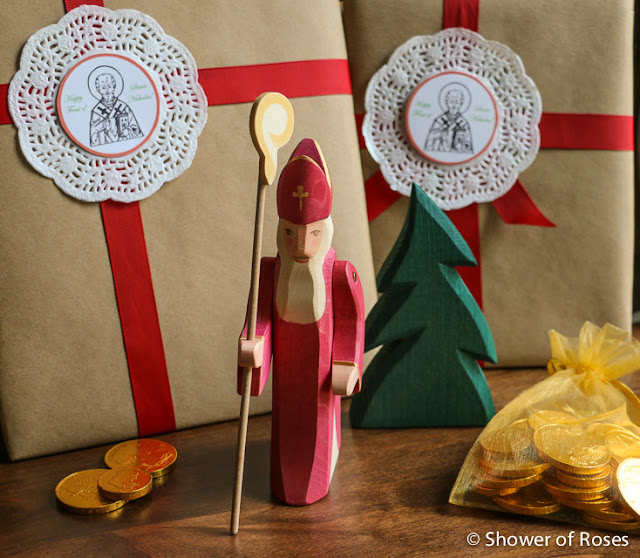 St. Nicholas Giveaway
Once again this year I will be hosting FOUR Advent and Christmas giveaways here on the blog: this St. Nicholas Giveaway, the 2023 Shower of Roses Christmas Gift Guide + Giveaway, another Advent Book Basket giveaway and finishing up with another O Antiphon giveaway! Here is the first giveaway in preparation for the feast of St. Nicholas! Enter for a chance to win one of the following six prizes:
Prize #1 – Books from Author Susan Peek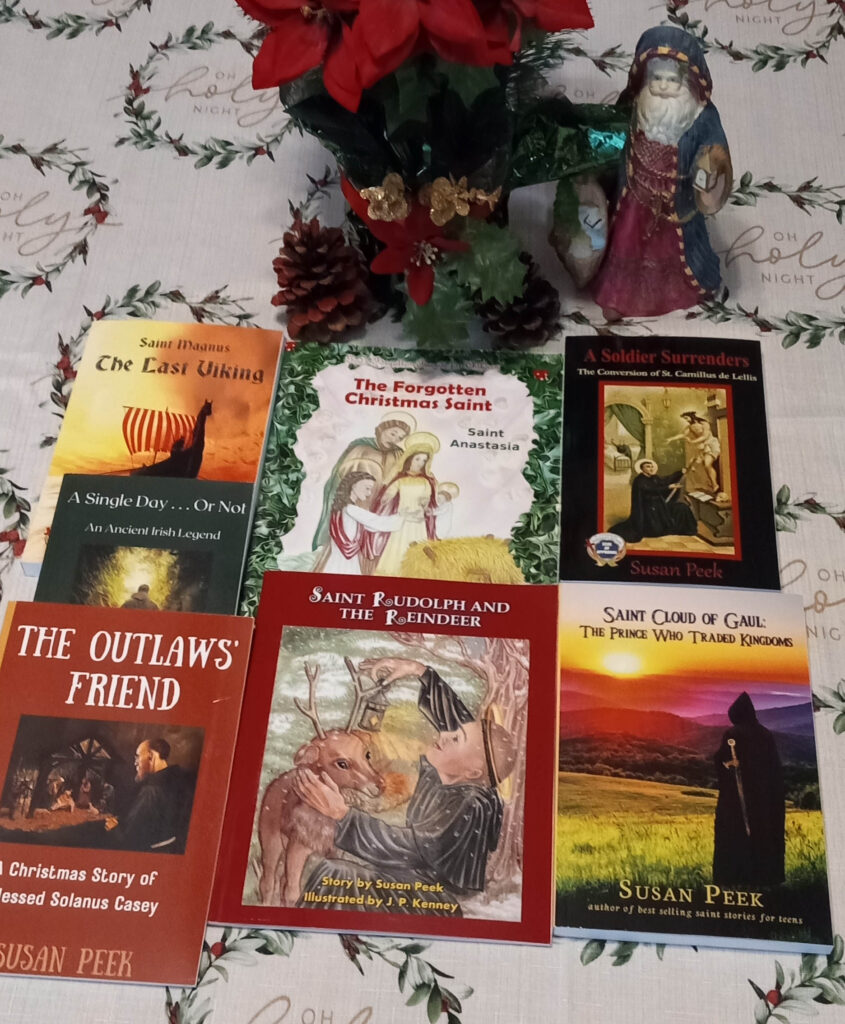 The books included are: Saint Rudolph and the Reindeer, The Forgotten Christmas Saint: St. Anastasia, The Outlaws' Friend: A Christmas Story of Blessed Solanus Casey, Saint Cloud of Gaul: The Prince Who Traded Kingdoms, A Soldier Surrenders: The Conversion of St. Camillus de Lellis , Saint Magnus the Last Viking, A Single Day . . . Or Not: An Ancient Irish Legend sponsored by SusanPeekAuthor.com ($90.00 Value)
Congratulations, Lizette R!
Prize #2 – Set of Five Cookie Stamps with Recipe Booklet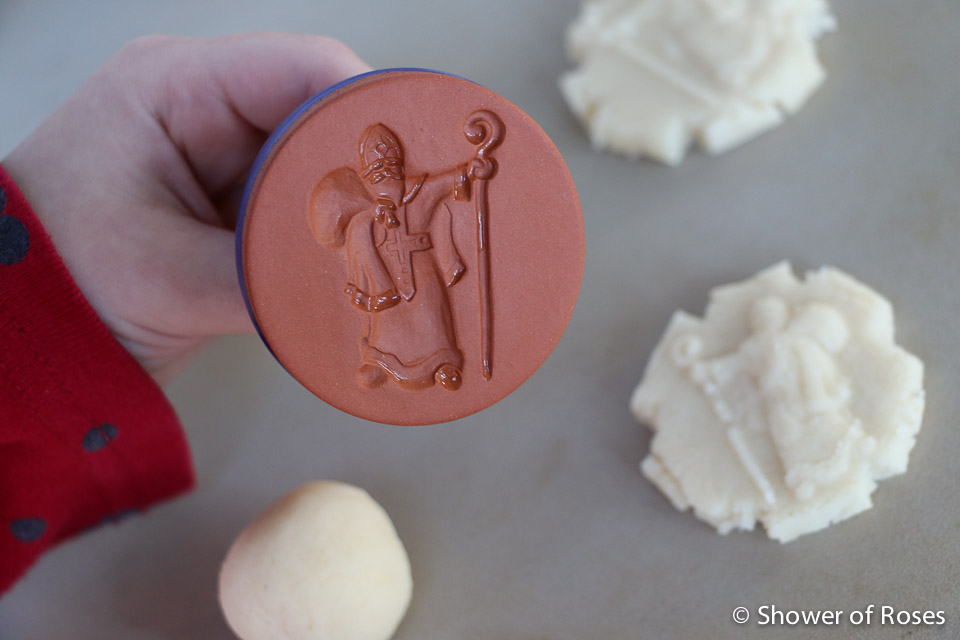 Includes: #001 – Santa Claus, #031- Noel Stocking, #317 – Old St Nick, #357 -Santa on the Rooftop, and #413 – St Nicholas sponsored by Rycraft Cookie Stamps ($64.95 Value)
Congratulations, Sarah V!
Prize #3 – An Advent Hope & Advent Candle Kit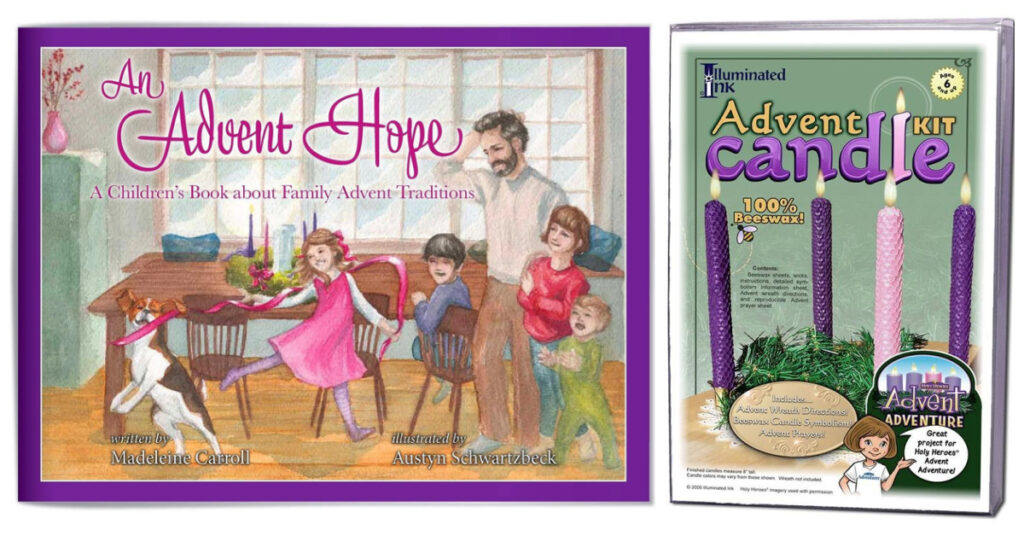 Includes: An Advent Hope: A Children's Book about Family Advent Traditions and the wonderful Advent Candle Kit sponsored by Holy Heroes ($42.90 Value)
Note: I'm excited to add An Advent Hope to our Advent Book Basket this year! We have always loved this candle kit too. Be sure to check out all the great products for Advent over at Holy Heroes!
SAVE 15% with coupon code SHOWER15 through 12/5/23
Congratulations, Katie W!
Prize #4 – Sanctus, Sanctus, Sanctus & My Name is Philomena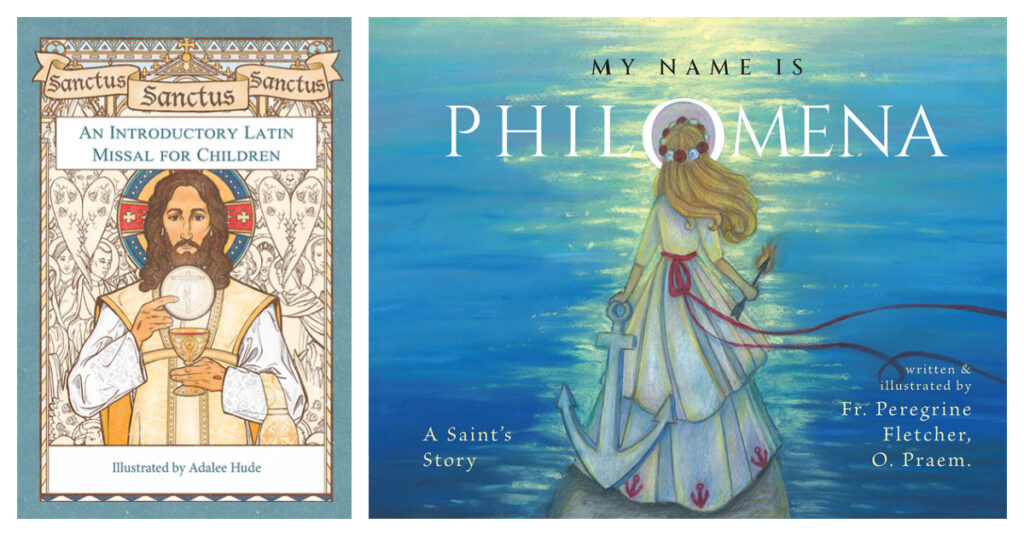 Includes: Sanctus, Sanctus, Sanctus: An Introductory Latin Missal for Children and My Name is Philomena sponsored by TAN Books. ($42.90 Value) Note: Find my review of My Name is Philomena here.
Congratulations, Raquel F!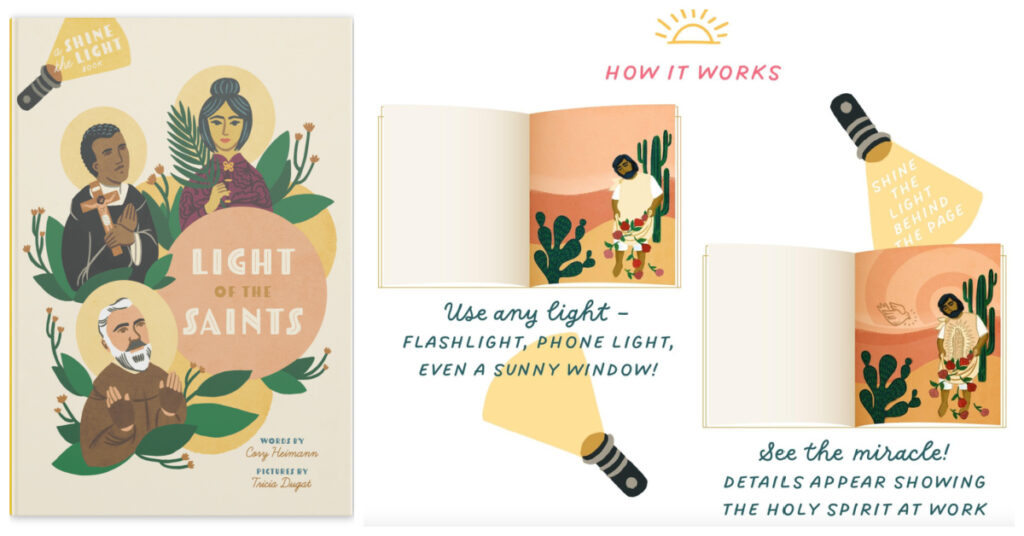 Includes: Light of the Saints is an interactive, light-based children's book that tells the story of 12 saints from around the world. Shine a light behind the page to see hidden images of their miracles and heroic acts. Light of the Saints is the answered prayer for parents who want to teach their kids about the saints. AND it rhymes! All you need in addition to the book is a flashlight or phone light. ($18.95 Value)
Congratulations, Mary K!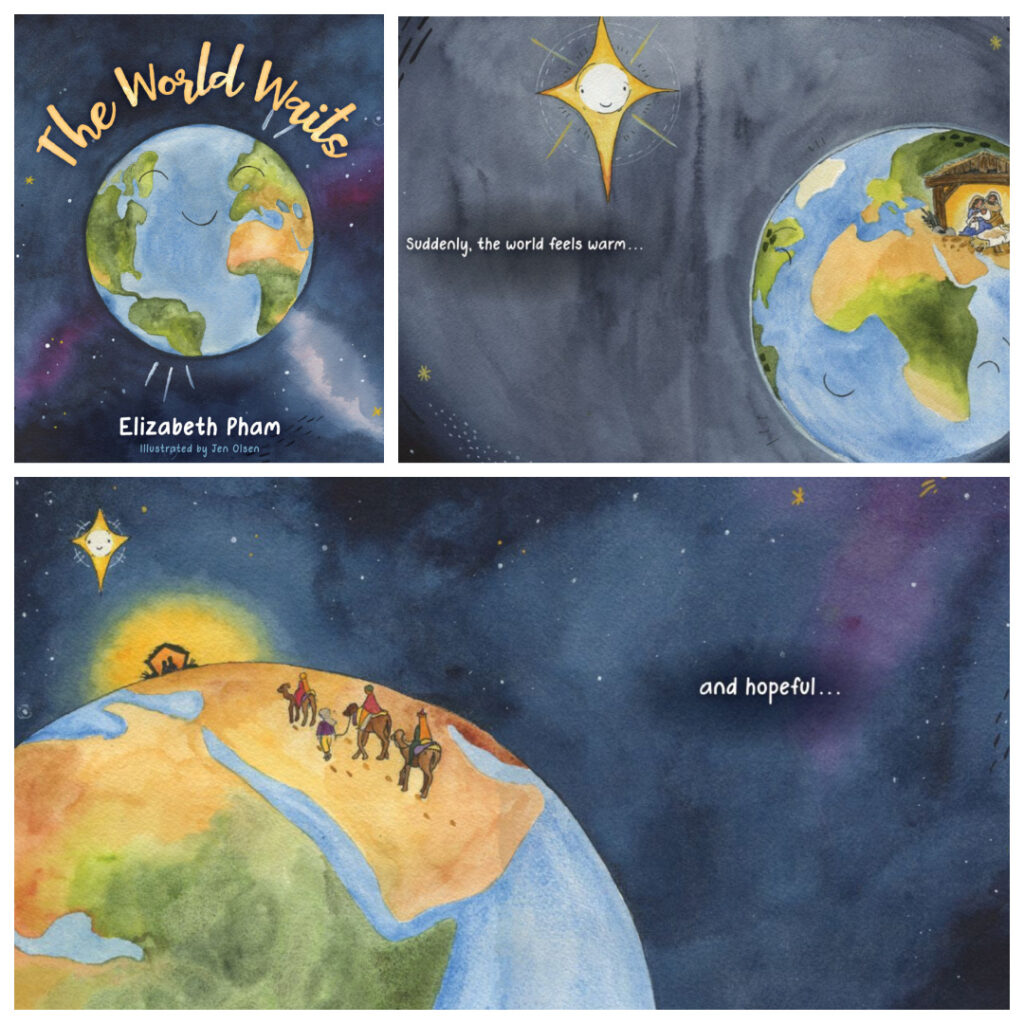 Includes: The World Waits sponsored by Sophia Institute Press ($16.95 Value) (Also available from Amazon here.)
Congratulations,Kelly S!
Please leave a comment on this post and then enter the giveaway using the Rafflecopter box below:
Note: If you have any trouble with Rafflecopter just send me an email or message with your name/email address and I can add you manually. I've been looking for alternatives, but haven't found a free option yet that offers what I need for these annual giveaways that I love hosting for you all!
a Rafflecopter giveaway
More Suggestions From the Archives
Advent Book Basket and Printable Labels: 2015, 2016, 2017, 2018, 2019, 2020, 2021 and 2022
New Christmas Books for the Feast of St. Nicholas: 2009, 2010, 2011, 2012, 2013, 2014, 2015, 2016, 2017, 2018, 2019, 2020, 2021 and 2022
Stacks of Books on Christmas Morning or Epiphany: 2013, 2014, 2015, 2016, 2017
You can find the rest of our booklists here or scroll through all our past St. Nicholas Day Celebrations in the archives.
Even more St. Nicholas themed gifts can be found in these past posts filled with Christmas Gift Ideas & Stocking Stuffers from 2015, 2016, 2017, 2018, 2019, 2020, 2021 and 2022
Read about our family traditions: The Advent Season in Our Catholic Home
Scroll through past posts featuring the Feast of St. Nicholas here.