Today was the Solemnity feast of our beloved Saint Joseph, patron of the Universal Church, fathers, and families, to name just a few! To celebrate, the children and I created our first real (we've made the Cut-and-Color Altar a couple times now) St. Joseph Altar! The boys worked on shifting the furniture around to make room and finding/setting up the tables, while the girls shaped symbols out of bread dough. I made spaghetti for dinner, which we topped with sawdust (breadcrumbs), and two of my sisters stopped by to join us as well!

It was so much fun and a great way to learn a little more about our heritage. (Though they are mostly Irish (with a little Spanish), our children do have a dash of Italian left in them from my Great Grandfather!)
Be sure to head over to The Virtual St. Joseph Altar's Blog Fest to see how other families honored St. Joseph this year.
Our St. Joseph Altar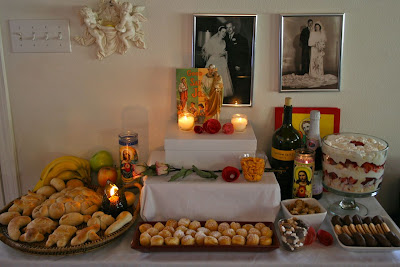 The three tiers represent the Trinity, as well as the three members of the Holy Family.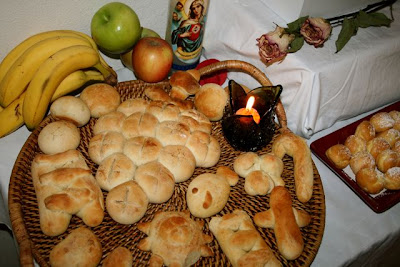 Symbolic Breads • Fresh Fruit
St. Joseph's Cream Puffs
Fish (Goldfish and Goldfish S'mores)
Sawdust (Bread Crumbs)