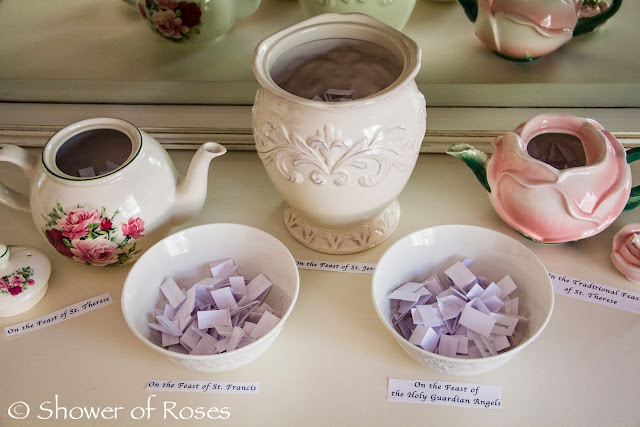 With all those fun giveaways last week, I had quite a few entry slips to cut and fold today! It was actually just what I needed to help stop the tears and keep my mind off missing my babies…
Before the furlough, Sean was scheduled to take his vacation leave beginning today and had planned to take some of our children to visit his parents. (It has been 3 years since our last visit and they haven't met our youngest yet… We would have loved to all go, but we can't all fit in our mini-van – especially for this long of a drive – since we are one seat short, which is why it's been so long since our last visit.) We went back and forth over canceling the trip, but decided to not put the visit off any longer, especially with winter (hazardous driving conditions) coming. He ended up taking the five youngest (he is a crazy brave man!) and I am home with just the older boys (it is so quiet here). Could you please remember them in your prayers?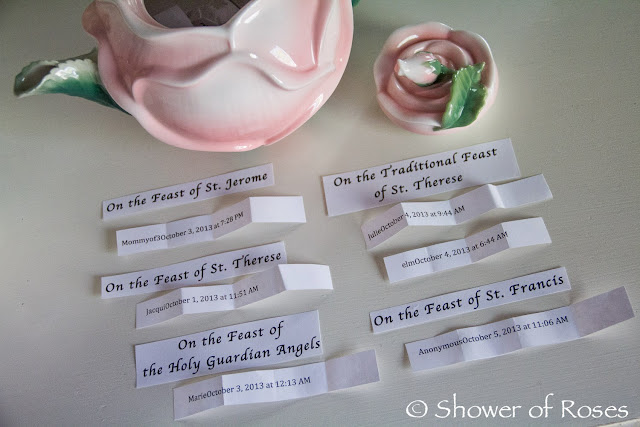 Anyways, on to the winners of the giveaways, before I start crying again…
Mommyof3 is the winner of the Catholic Mosaic giveaway, sponsored by Krista, and offered on the feast of St. Jerome!

Jacqui is the winner of the St. Therese the Little Flower Daily Journal offered on the feast of St. Therese!

Marie is the winner of Angel in the Waters and Catholic Treasure Box Book 1 offered on the feast of the Holy Guardian Angels!
Julie is the winner of

The Greatest of These is Love, sponsored by author Megan Therese Schuelke, and offered on the traditional feast of St. Therese!

Elm is the winner of Mama's Notebooks sponsored by Heather Wood, and also offered on the traditional feast of St. Therese!

Heather Wilson is the winner of Can you find Followers of Jesus? Introducing Your Child to Disciples, also sponsored by Krista, and offered on the Feast of St. Francis!



Congratulations to you all and I will be contacting you soon for your mailing addresses!
(or if you see this first just email them to me at jessica.showerofroses(at)gmail(dot)com)
And thank you to Krista, Megan, and Heather for sponsoring some of the giveaways!
I wish I could send each and every one of you a gift! Your comments are always such a joy to read. Thank you all for your kind words, prayers, and support! I will offer up an extra rosary, on this beautiful feast of Our Lady of the Rosary, for all of you and your families!