Outside my window…
the fog has cleared and the sun is shining! I'm hoping to get outside this afternoon and go for a walk… perhaps down by the river!
I am thinking…
about our current curriculum as the second quarter of our school year comes to an end this week… For the most part it is going well, but there are a few things I haven't been able to fit into our schedule and I plan to make a few little changes for the second half of our year.
I am thankful…
that the Carson 5 Shelf Espresso Bookcases at Target are finally on sale! The current sale price + $5 off $50 coupon code + 5% Target card discount + 2.5% Ebates Rebate = YAY!!!! I am finally going to have somewhere to put all those books that are currently stacked in my closet!
Learning all the time…
I'm so excited about
this new book recently published by Magnificat/Ignatius
! I love it!!! I have been considering saving it to put in someone's Easter basket this year, but I don't know if I can wait that long before sharing it with the children. It is a perfect addition to
our Papal Unit Study
– which we ended way too quickly following the election of Pope Francis and the arrival of Easter last spring. With the
upcoming canonizations
of Pope John XXIII and Pope John Paul II on April 27th, I think I'm going to pick up where we left off and continue our Papal Unit Study with this great book!
(It's also perfect for the upcoming feast of The Chair of St. Peter on February 22nd!)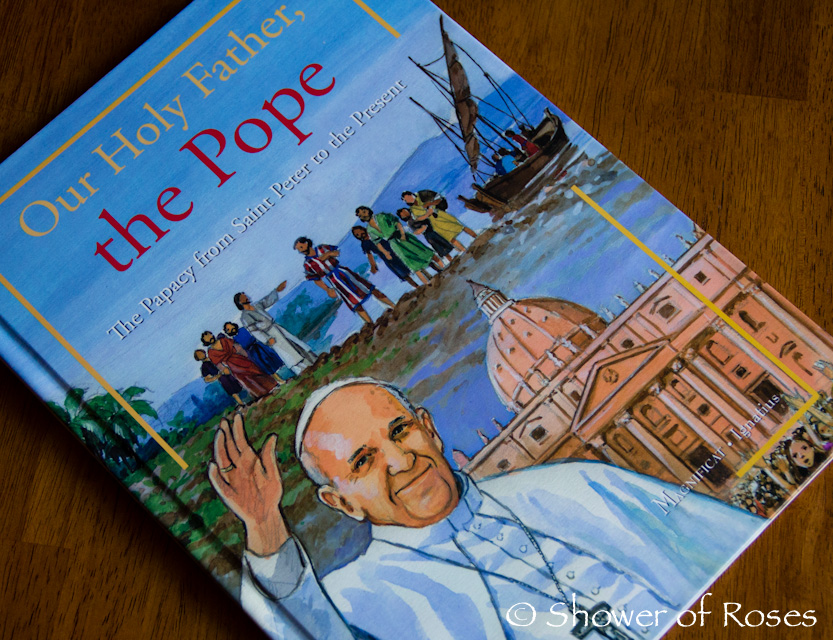 From the Archives: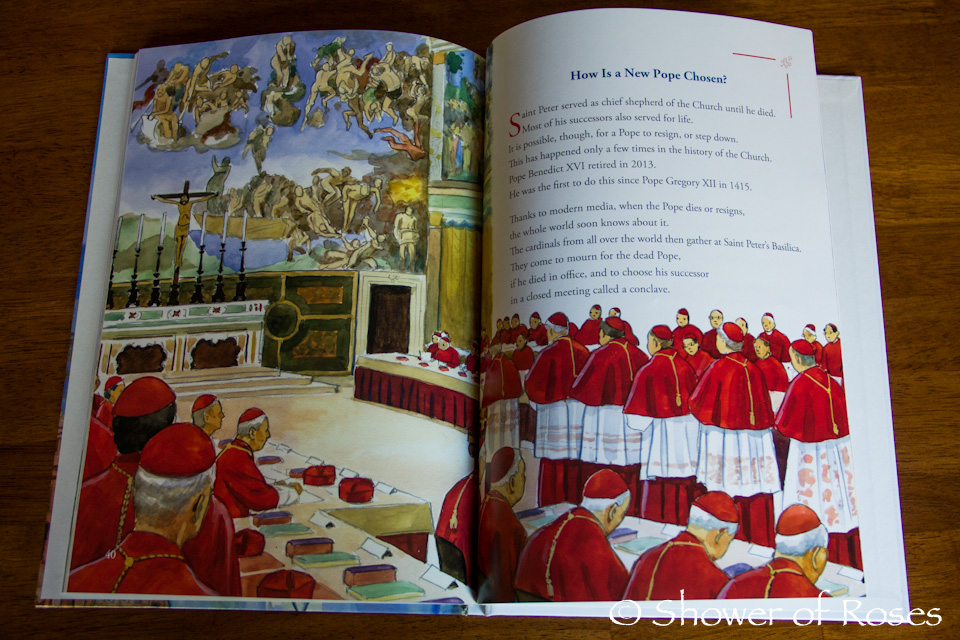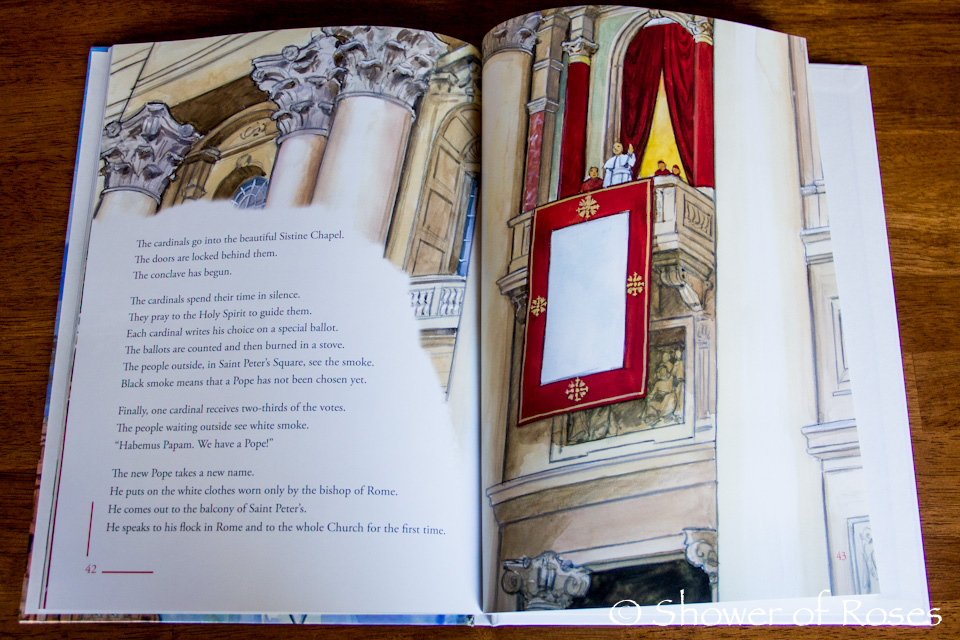 Celebrating the liturgical year…
tomorrow is the feast of St. Agnes and Our Lady of Altagracia! After lunch I will read a story about her life while the children color a picture (or illustrate their own to add to their timelines) and then enjoy a little snack. Charlotte has a lovely coloring page for St. Agnes and Catholic Playground has a couple beautiful options.
From the kitchen…
Over the weekend we enjoyed homemade BBQ Chicken Pizza! Olive Oil Pizza Dough (made with the recipe in my copy of The New Artisan Bread in Five Minutes a Day) topped BBQ Sauce, BBQ Chicken (I cooked Chicken Thighs in the crock pot with BBQ sauce), bacon, red onion, and mozzarella, transferred to the baking stone in the 500 degree oven with my super peel and baked in just 5 minutes. Yummmmmmmm!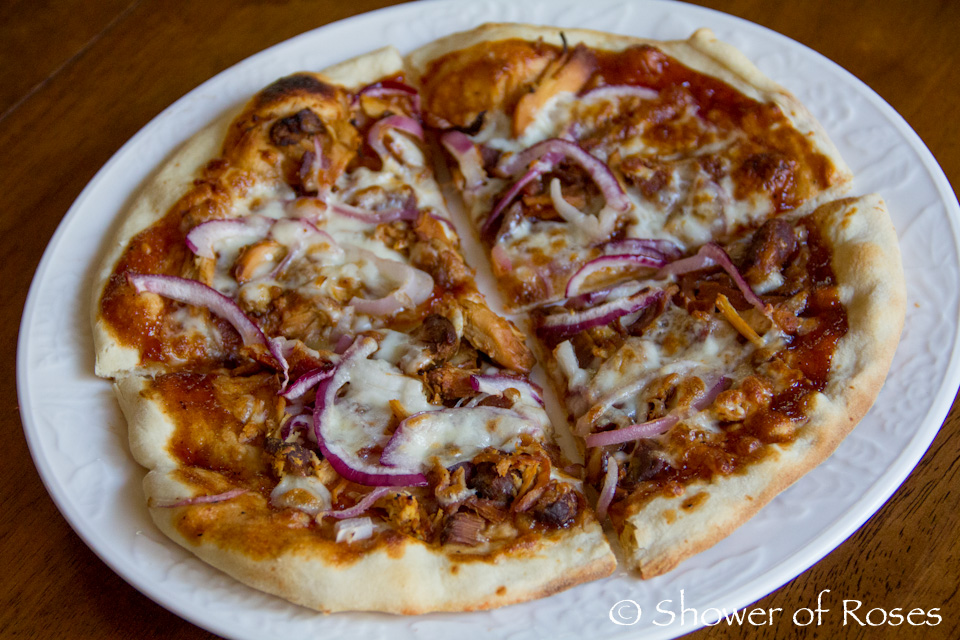 I am working on…
renewing ads and scheduling some giveaways for the next quarter – February through April. I'm so grateful for the support of my new sponsors and all my wonderful visitors here at Shower of Roses!
I am creating…
a meal plan for this week. I haven't grocery shopped (other than having my husband pick up some milk and fresh produce) since before Christmas! At first it was out of necessity, since I was so sick the first two weeks of January, but now I'm wondering how long I can continue to come up with meals with what has been hiding in the back of the pantry and freezer. 😉 I just used up the last of our ground beef and still have a number of packages of steak and roasts to use up before the next 1/2 of grass-fed beef (which I ordered during the summer) arrives at the end of this month. I wonder if Sean would be willing to grill them on Wednesday or Thursday…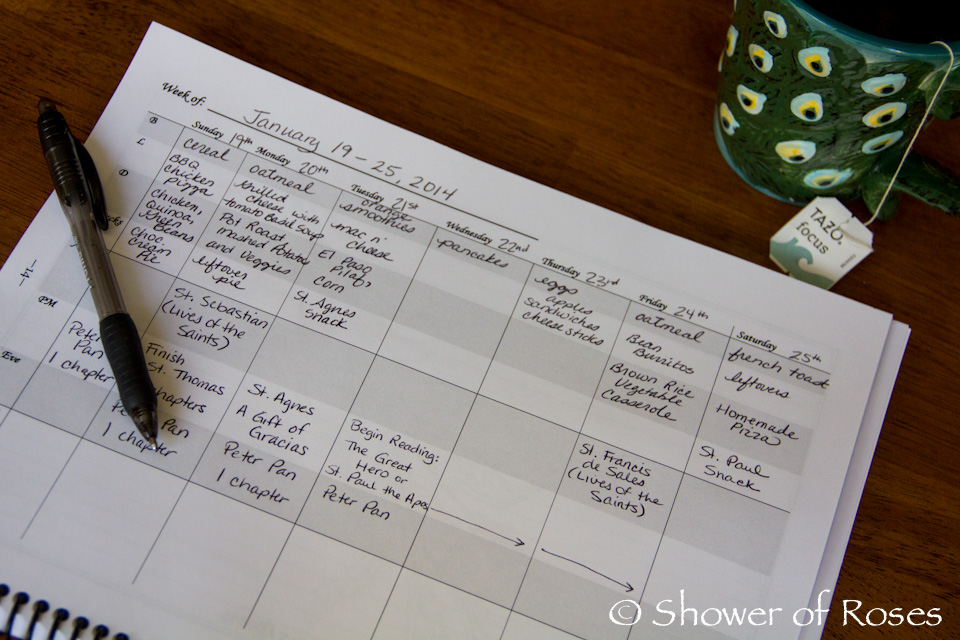 I've been loving my Mama's Notebook for jotting down meal plans and the books we've been reading aloud each week.
I am going…
to be staying home as much as possible this month! There are just way too many viruses going around in our area at the moment and I'd love to avoid a repeat of the beginning of this month. I'm actually really enjoying the quite days at home, afternoon read-alouds with the kids, and the return to our weekly routine.
I am hoping…
to add the finishing touches to my Catholic Digest submission for April. It's due today. You can subscribe to the Quiet Moments here if you don't already subscribe to the magazine. As inspiring as it is reading through the bible, prayer books, and saint quotes, choosing a quote for every day of the year on an ongoing basis is getting to be quite the challenge. I sure enjoy it though!
I am praying…
for Charlotte's sister-in-law, Kari, and for my college friend Shalon who delivered baby #7 three weeks ago and is currently recovering from a heart attack she suffered a couple days ago, most likely from post-partum complications. Will you please offer a prayer for these young women too?
I am reading…
The Catholic Girls Guide by Father Lasance! I have been wanting a copy ever since I started the Little Flowers group for my girls. I was so excited when a dear woman from church stopped by last week with some Catholic art, dvd's and more for our family which included the 1946 edition of this book!
Pondering these words…
and remembering all priests in our prayers.
The Priest Our Lord doth send
To teach to us His love;
To be our kind and trusted friend,
Our guide to heaven above.
I am listening…
to Bud singing "ALLL-lu-YAHHHHHH!" (like he did in this video) and he ended it with a quick version of his "giggle, giggle." Love this little boy so much!
Around the house…
the boys and I turned on Christmas music and spent some time taking down the tree on Saturday afternoon and packing up all the ornaments until next December! It was surprisingly light (aka: way too dry!) and it was nice to be able to take care of this "chore" so my husband wouldn't have to do it after work. He has been working the last two Saturdays – long days with lots of overtime!
From Instagram: Our family ornaments from Christmas 2002 & 2004
One of my favorite things…
The
Aroma Cordless Water Kettle
, one of the gifts my husband gave me for my birthday, immediately became a new favorite of mine! LOVE LOVE LOVE!!! Now I won't burn our house down
(or ruin any more pots)
after forgetting that I turned water on to boil. . . and it is so FAST!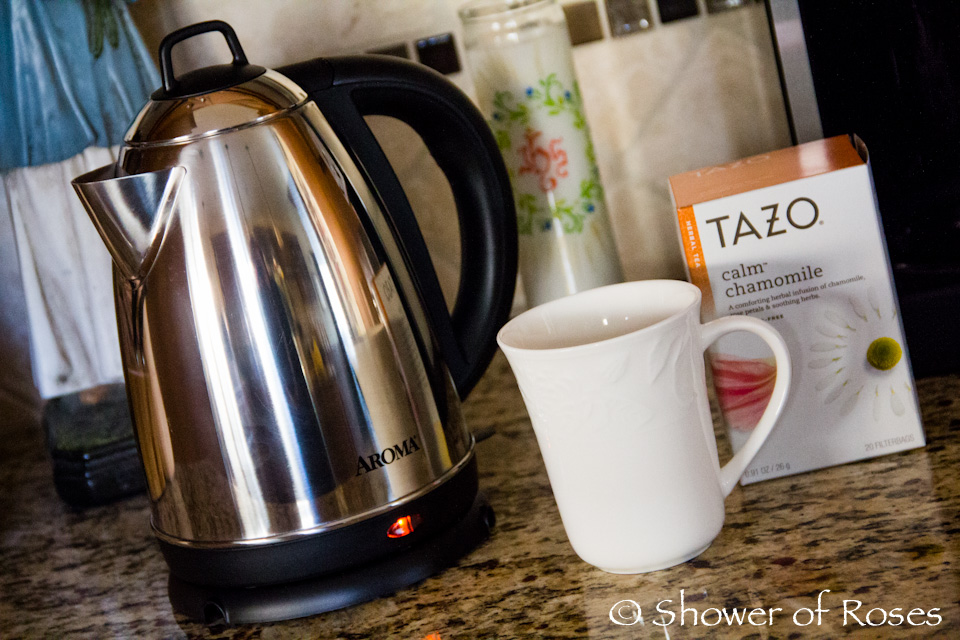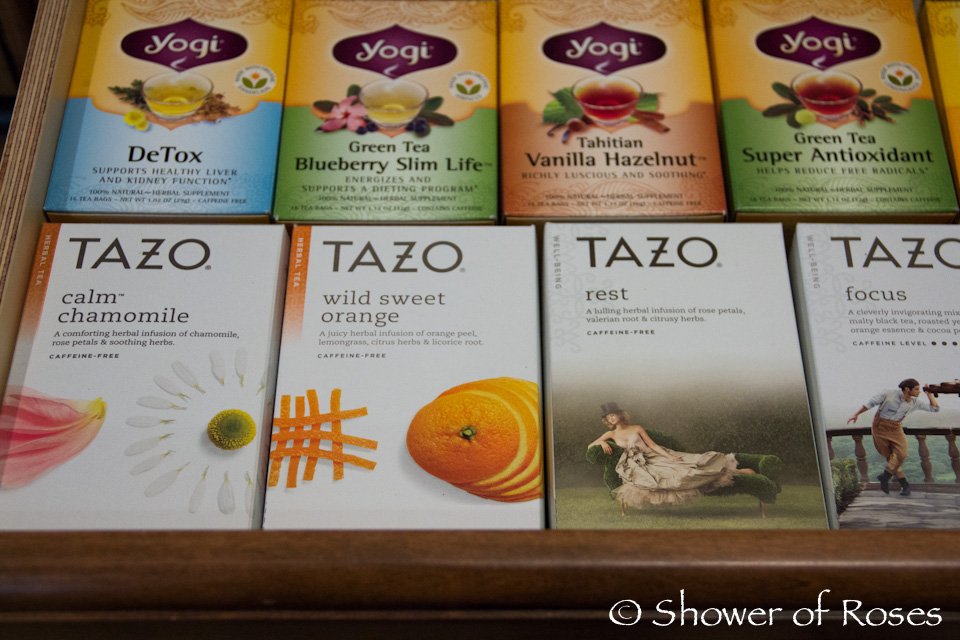 This week's plans…
Math Tutors (at home) on Tuesday and Thursday
Orthodontist Appointment on Wednesday
A little peek at my day…
If you follow me on Instagram you might have already seen most of these pictures from last night. Snuggles fell asleep on the couch just before dinner:
Photos 1 and 2: Someone told him to come eat dinner and he made it from one end of the couch to the other! Photos 3 and 4: That "someone" keeps trying to wake him up but finally gave up and started mimicking him instead!