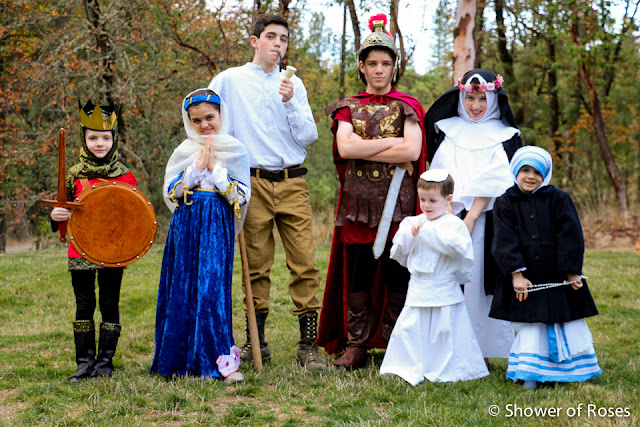 Blessed Pier Giorgio Frassati, St. Maurice, St. Rose of Lima, St. Louis IX and Blessed Isabella of France, St. John Paul II and Blessed Teresa of Calcutta – All Saints in Heaven, Pray for us!
Here are some pictures and all the details on this year's saints costumes:
.: Blessed Pier Giorgio Frassati :.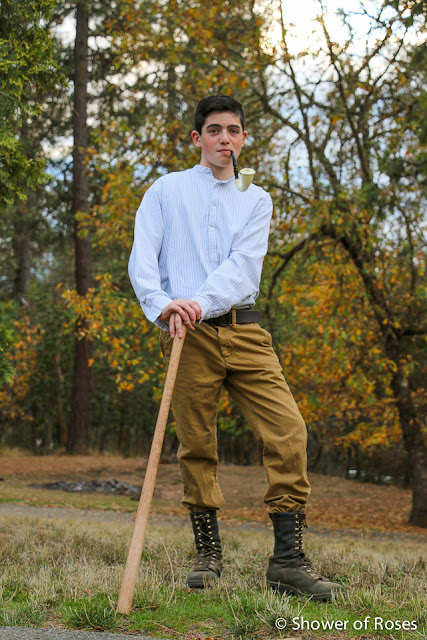 Captain (age 15) dressed as Blessed Pier Georgio Frassati
Every other month, as long as my husband is able to find a priest willing to travel to our area, we have an Extraordinary Form Mass at our local parish. After our last Latin Mass, back in September, the priest gave each of our children the name of a saint he wanted them to try and learn more about. Our oldest two decided to dress as the saints he assigned to each of them for our All Hallows' Eve/All Saints' Party this year!
"Pier Giorgio Frassati was born in 1901 in Turin, Italy. A role model for modern youth, Frassati was a dynamic and faithful activist. He strived to apply Catholic teachings to social policy and led fellow students and young people to do the same. He was known as an outdoorsman and is often depicted picking and skiing. He died at the young age of 24 and is now a patron for youth." – Description from the back of his Blessed Pier Tiny Saint package.
Costume: New pants (he is growing SO fast!), belt, Dad's shirt and old work boots, walking stick, and pipe from costume box.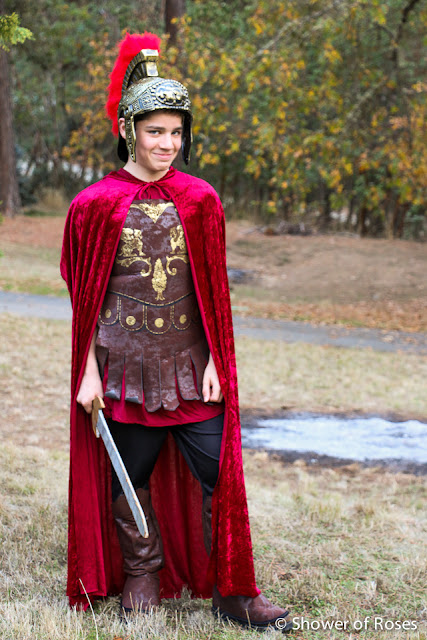 Ranger (age 13) dressed as St. Maurice
"Officer in a legion of Christian soldiers from Upper Egypt during the reign of Emperor Maximian Herculeus. His legion, as many as 6600 men, was massacred en masse by their own side when they refused to participate in pagan sacrifices prior to battle. One of the Martyrs of the Theban Legion." – (source)
Costume: I ended up ordering this costume (in a size large) and Roman Soldier Helmet last week, which he paired with a red cape from our costume box and one of the boys' old wooden Blue Knights swords.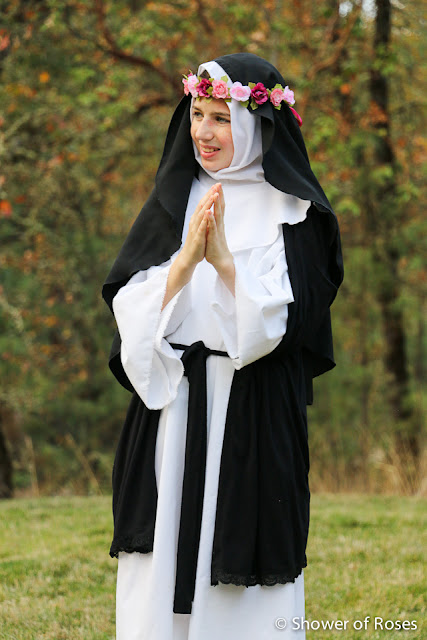 Twinkle Toes (age 12) dressed as St. Rose
Costume: White gown from my childhood St. Elizabeth of Hungary costume, the detached white collar, wimple and veil from our St. Clare costume, my black robe draped over her shoulders (sleeves tucked in) and tied around her waist, and this beautiful Rose Garland Halo.
.: Blessed Isabella of France :.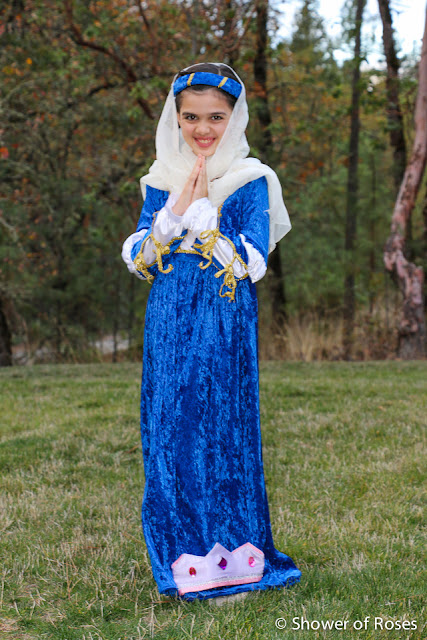 Chiquita (age 10) dressed as Blessed Isabella
Originally Chiquita was planning to dress as St. Philomena, but ended up deciding to dress as the "Blessed" sister of the saint her younger brother chose to dress up as this year. She really enjoyed reading what we could find about St. Isabella and wrote a great paper over the last couple weeks to read to everyone at our party.
Costume: I originally ordered this Blue Renaissance Princess Costume in a size large, but it was way too big (it fit me!), so we sent it back to exchange for the medium. Blessed Isabella is depicted with a crown at her feet, so Chiquita pinned the girls' Reversible Silk Crown to the bottom of her dress. We braided her hair and wrapped her head with a sheer scarf from the dress up bin.
.: St. Louis IX, King of France :.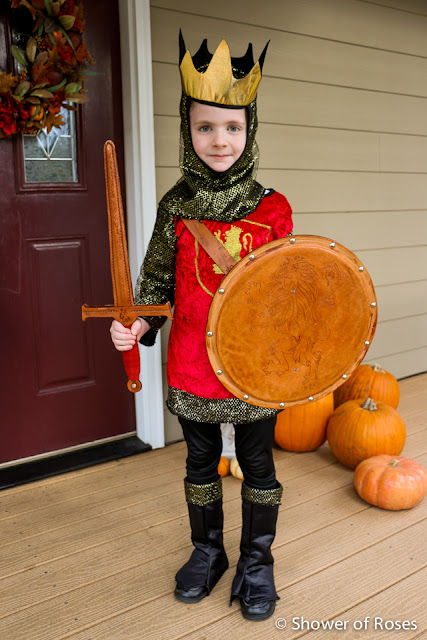 Snuggles (age 8) dressed as St. Louis IX
Costume: I first saw this costume on Melody's blog and ended up ordering it to give to our little guy for Christmas last year! You can find the King Child Costume in small here. The totally amazing Shield and Sword was from Made by Alejandro.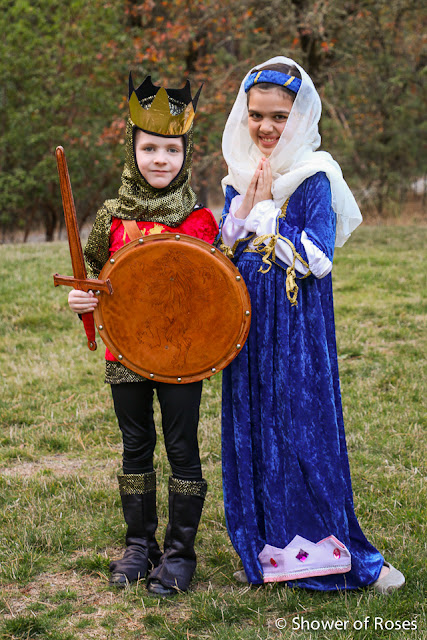 .: Blessed Teresa of Calcutta :.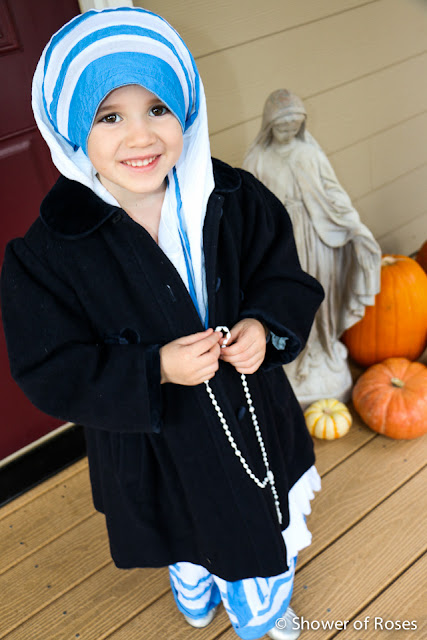 Rose (age 5) dressed as Blessed Mother Teresa
Costume: Her older sisters Mother Teresa costume (you can see Twinkle Toes wearing it here in 2010 and Chiquita wearing it here in 2012), with a black jacket and white rosary.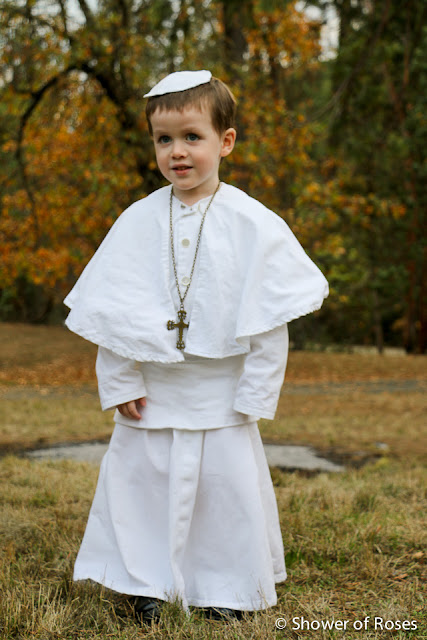 Bud (age 3) dressed as St. John Paul II
Costume: Bud was so excited to dress up as "THE POPE!" Inspired by a picture we have, he ended up dressing up as St. John Paul II wearing the pope costume my Mother-in-Law made for our oldest son back in 2006!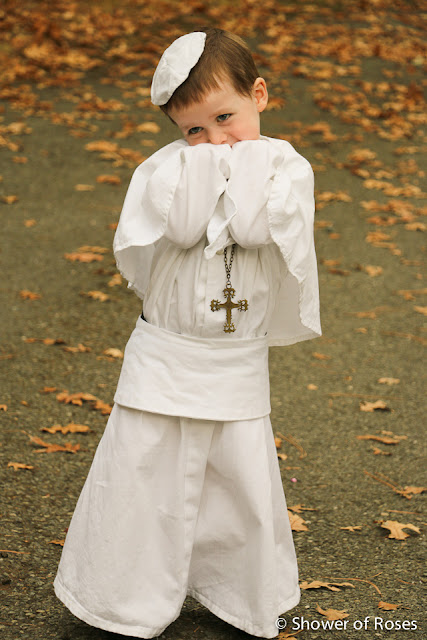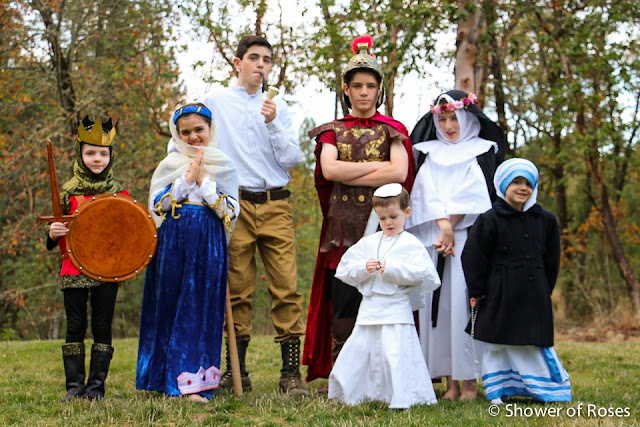 Happy Feast of All Saints!