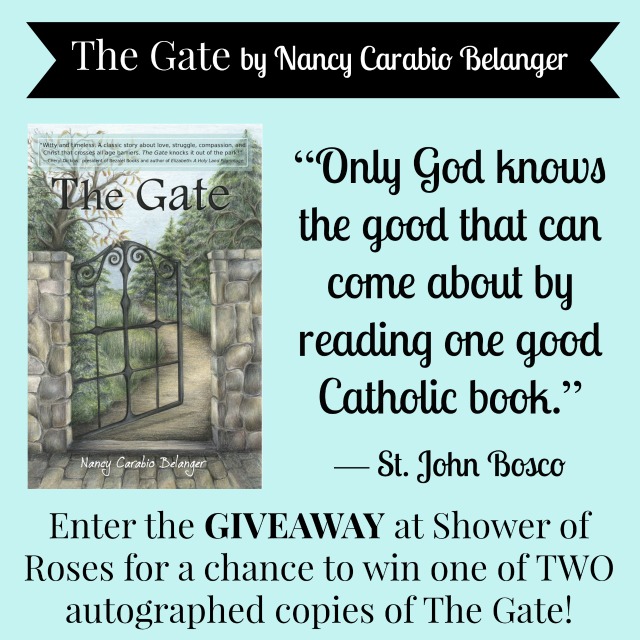 Do you want to become saints?
Here is the secret: confession is the lock; confidence in your confessor is the key. This is how you open heaven's gates.
~ St. John Bosco
In honor of today's feast of St. John Bosco, one of author Nancy Carabio Belangers favorite saints, Harvey House Publishing has offered to send TWO of my visitors here at Shower of Roses an autographed copy of The Gate!
The Gate
is the third novel for Young Adults written by Nancy Carabio Belanger, sharing a message on the dignity of the Catholic priesthood and God's calling for each of us. In addition to receiving the Catholic Writers Guild Seal of Approval,
The Gate
was awarded first-place winner for Best Catholic Novel in the 2014 Catholic Press Association Book Awards! Our oldest son received a copy of
The Gate
in his Easter Basket last year
.
The Gate
For smart-aleck Josh, being a Christian in the eighth grade is completely irrelevant, especially with the temptations that middle school can bring. For him, life is all about playing video games, getting money, and causing trouble. He doesn't need anybody and he makes his own rules. When his teacher assigns a pen-pal project, Josh meets Pie, a spunky senior citizen with a love of his Catholic faith, Saint John Bosco, and the New York Yankees. But much to Josh's surprise, Pie creates his own project for Josh, and Josh realizes that God has a plan—even for him.
In this inspiring novel that radiates the dignity of the priesthood and the discovery of God's calling for each of us, Josh is shocked to find himself fighting hard on a spiritual battlefield, but often for the wrong side. As the friendship with his new mentor deepens, Josh learns that God has more in store for him than he could have ever imagined.
I've included the Amazon link above so you can read additional reviews, but The Gate can be ordered directly from Harvey House Publishing with optional inscriptions from the author at no additional charge and FREE standard shipping. Click here to place an order!
Please enter the giveaway using the Rafflecopter box below:
(Due to the high cost of international shipping, this giveaway is open to US residents only.)
Trust all things to Jesus in the Blessed Sacrament and to Mary, Help of Christians and you will see what miracles are.
~ St. John Bosco