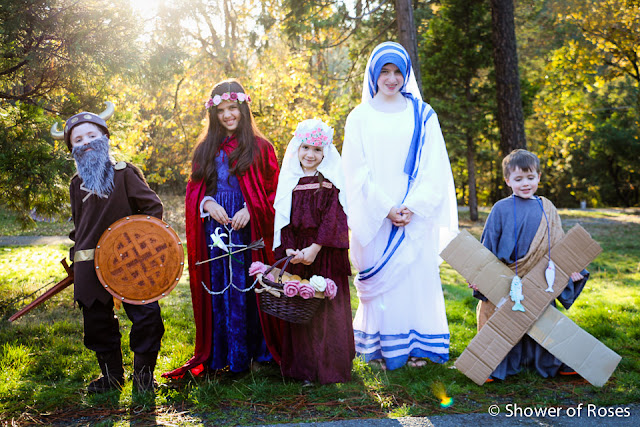 St. Olaf, St. Philomena, St. Elizabeth of Hungary, St. Teresa of Calcutta, and St. Andrew the Apostle
All Saints in Heaven, Pray for us!
I took these pictures on our way to our parish's Trunk-or-Treat and Carnival last Friday night and our children will be wearing them again this evening when we head out to my parents home for the evening. This is the first year in many years that I won't be hosting our annual All Hallows' Eve party… I'm really sad that I had to cancel it, but I've between working on my health and working so many extra hours, I just don't have the energy this year. Our kids all understand and are very excited to go out to Grandpa and Grandma's. I just got off the phone with my mom and she is busy in the kitchen making Soup, Chili, Spice Cake, Rice Krispies Treats, and even Caramel Apples! I'll be bringing along a few games including Saints Bingo and some new All Saints Guessing Jars.
Other than ordering a new St. Teresa costume for our oldest daughter, following the canonization of Mother Teresa, we hadn't put any thought or energy into this year's costumes… Friday afternoon we finally pulled out our two costume boxes and threw together costumes before heading to the church. This is one of those years when I've been very grateful to have a nice collection to choose from!
Considering how little time we spent on the costumes, I thought they all came together beautifully!
Our high schoolers didn't dress up, but they are wearing the "saintly" t-shirts that they received in their Easter Baskets earlier this year! Ranger (14) is wearing his St. Peter (and all the popes) t-Shirt and Captain (16) is wearing his St. Benedict t-shirt.