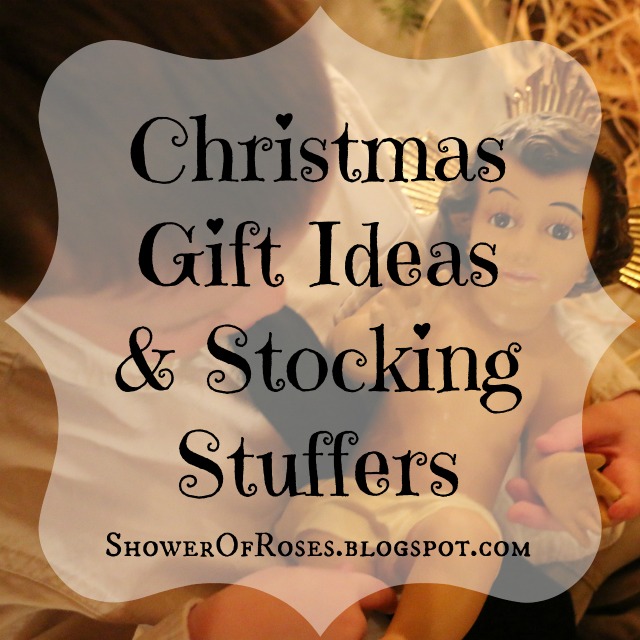 It's time for this year's list of "Christmas Gift Ideas" and another "Sleighful of Giveaways" from my amazing sponsors! (You can find last year's list here, as well as even more Catholic gift ideas listed in my past Easter posts as well: 100+ Easter Basket Stuffers & Catholic Gift Ideas and Easter Symbols: Catholic Gift Ideas.)
Before I get started, I have another little favor to ask this year… Could you please offer a prayer for the newest addition to our family? We had quite the surprise at the end of October! In fact, it wasn't until our oldest son asked, "Are you sure you aren't pregnant? This isn't your usual sick… this is how sick you get when you are pregnant!" that I finally took a test… He knows me well and has seen me pregnant a few times! 😉 I truly thought I was just having another one of my long cycles, I was sick because my hormones have been so off for so long, and that our soon-to-be-five-year-old "baby" was going to be the last! (We even got rid of most of the baby stuff just last summer…) But, he was right! My husband and I were so excited to see our little baby's tiny heart beating during a dating ultrasound on the morning of the elections (we never did see heartbeats with our miscarried babies) and then I got another little peek at the baby during my first appointment with my new doctor last Monday afternoon. So far everything looks perfect! I wasn't going to say anything yet, but I have such a hard time keeping secrets… I'll be going in a week from Monday for some more blood tests and another ultrasound and would really appreciate prayers. Thank you!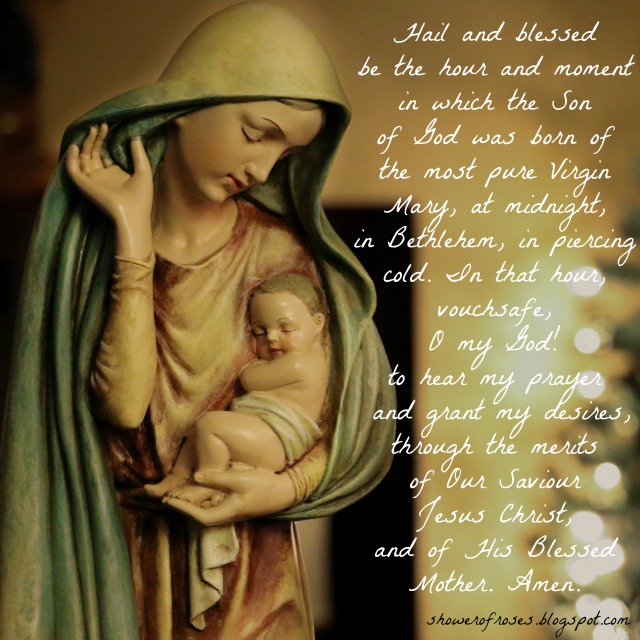 When I started coordinating all the weekly giveaways leading up to Advent this year, I knew it might be overly ambitious, especially considering I'm homeschooling all seven on top of my work schedule this year, but I had no idea just how challenging it was going to be to get out of bed each day! pull off… It's all coming together though and has been a lot of fun! I plan to host one last giveaway for you all next weekend focusing on the O Antiphons.
Be sure to scroll all the way to the bottom to enter this GIVEAWAY for a chance to win one of 27 PRIZES with a combined value of over $1,500.00!
Note: As an Amazon Associate I earn from qualifying purchases. Links to Amazon, St. Augustine Academy Press, Etsy, Holy Heroes, ChewsLife and SocksReligoius are affiliate links.
.: Fun Finds for Advent & Christmas 2016 :.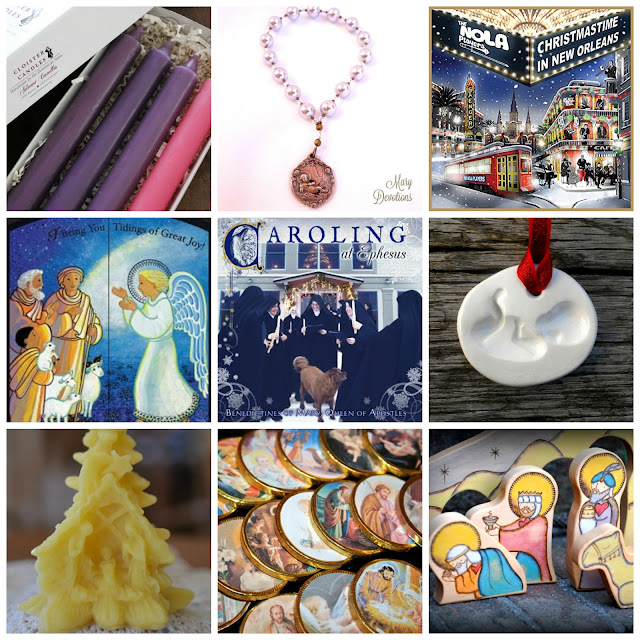 *We'll be adding one of these to our Christmas Tree this year, I just haven't decided exactly how to word the custom text… It will be something along the lines of:
Prize #1 – $50 Gift Certificate for Custom Missal & Breviary Covers, Nativity Finger Puppet Set, and Catholic Cuisine Apron sponsored by MissalCovers.com (value $110.00)
+ + +
Prize #2 – The Illuminated Rosary Complete Set (Hardcover Edition) sponsored by Peanut Butter & Grace (value $100.00)
+ + +
Prize #3 – The Virgin Mary Around the World! A Pilgrimage of Faith and Winner's Choice of Six Marian Shining Light Dolls sponsored by Shining Light Dolls (value $87.93)
+ + +
Prize #4 – Nativity Set and Baby's First Christmas Ornament from Blessings from Heaven (value $79.95)
+ + +
Prize #6 – Set of two To Know the Savior Prayer Guide & Journal books, Give Him 5 Coffee Mug, Prayer Bag and Bracelet sponsored by Give Him 5 (value $63.00) SAVE 10% off all orders with coupon code: Roses
+ + +
Prize #7 – CLSP Pro-Life Tote Bag filled with Educational Materials sponsored by Culture of Life Studies (value $60.00)
+ + +
Prize #8 – Wooden Mass Kit sponsored by Almond Rod Toys (value $56.00) Until Dec 18th, if you say a Hail Mary for the conversion of sinners and type in FOUNT OF MERCY in the comments section of check out you will receive an extra patron saint block of your choice with your order.
+ + +
Prize #9 – Set of Four Books by Rev. Henry S. Spalding, S.J. sponsored by St. Augustine Academy Press (value $55.80)
+ + +
Prize #10 – Heroes of Grace, Compendium Primary Edition and In Depth Edition sponsored by Sacred Heart Books and Gifts (value $53.90) FREE SHIPPING for orders over $40 now until December 10th with promo code JMJFS. They also have almost 200 items on special from 5-30% off.
+ + +
Prize #11 – Set of Three Pendant Necklaces sponsored by Art Angel Gallery (Includes: The Immaculate Heart pendant, Madonna and Child pendant, and double-sided Sts. Therese/Zelie/Louis pendant. value $52.00) SAVE 10% off any purchase with coupon code: SAVE10


+ + +
Prize #12 – $50 Gift Certificate sponsored by Catholic Folk Toys (value $50.00)
+ + +
Prize #13 and Prize #14 – $50 Gift Certificate sponsored by Regina Martyrum Productions (two winners, value $50.00 each)
Prize #15 – Therese's Sunday Best Outfit, "I am Therese" Book, and "She is Joan of Arc" Book sponsored by Dolls From Heaven (value $48.00, Doll not included.)
Prize #16 – Mary's White Dress with Blue Cape & Lace Veil and Blue Rose Wreath sponsored by The Little Habit (value $46.00)
+ + +
Prize #17 – Precious Blood Bracelet sponsored by Gail's Designs (value $45.00) FREE SHIPPING on all orders with coupon code: Christmas16
+ + +
Prize #18 – Red Carnelian Rosary Bracelet with Miraculous Medal sponsored by Et Corde Rosaries (value $44.95) Until Christmas you can save 15% off with coupon code: ROSES15
+ + +
Prize #19 – Two copies of Christmastime in New Orleans (CD) & one copy of Christmastime in New Orleans (DVD) sponsored by AimHigher Recordings (value $44.93)
+ + +

Prize #20 – A Trio of Marian Pillowcases from Prayer Pillowcases (value $44.85) FREE PERSONALIZATION on Prayer Pillowcases through November 2016 with coupon code: Name4Free
+ + +
Prize #21 – Jesse Tree Ornaments (or apply towards custom set of your choice) sponsored by Jesse Tree Treasures (value $42.95)
+ + +
Prize #22 – Christmas puzzles for young and old & some merry background music sponsored by Catholic Child (Includes: value $42.85) SAVE 15% through November with coupon code: CmasRoses (one time use)
+ + +
Prize #23 – Soft Peach Convertible Covering and Girl's White Veil with Ties sponsored by Robin Nest Lane (combined value – $42.70) SAVE 20% off your order with coupon code: ADORATION2016
Prize #24 – Complete Set of Gospel Trekkers sponsored by Pauline Books & Media (value $41.70) You can find my review of these books here.
+ + +
Prizes #25 – Set of Three Books by Msgr. Raymond O'Brien sponsored by St. Augustine Academy Press (value $40.85)
+ + +
Prize #26 – $40 Gift Certificate sponsored by Naturally Catholic (value $40.00)
+ + +
Prize #27 – Christmas Gift Package from Shower of Roses (value $40.00+) Contents still to be determined… It will be a surprise!
+ + +