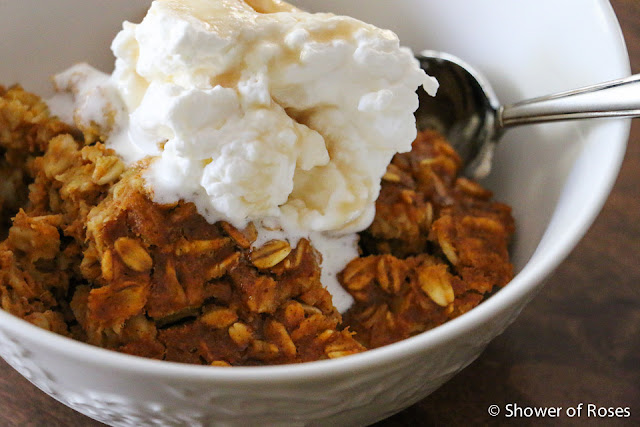 "That was some of the best oatmeal I've ever had!"
"Just eat it! It's worse if you take small bites."
There were mixed reviews on this morning's breakfast, but for the most part it was a hit!
Baked Pumpkin Pie Oatmeal
Served with Whipped Cream and Maple Syrup
Ingredients:
1 29 oz. can pumpkin purée (or 2 – 15 oz cans of organic pumpkin)
3/4 cup brown sugar
4 large eggs
1 Tbsp pumpkin pie spice
1 tsp salt
1 1/2 tsp baking powder
1 tsp vanilla extract
3 cups almond milk (can substitute with milk of choice)
5 cups old fashioned oats (I used gluten free)
Instructions:
Preheat the oven to 375 degrees. In a large bowl, whisk together the pumpkin purée, brown sugar, eggs, vanilla, pumpkin pie spice, salt, and baking powder until smooth. Whisk in the milk.
Mix the old-fashioned oats into the pumpkin mixture. Coat an 9×13 baking dish with coconut oil or butter. Pour in the pumpkin oatmeal mixture. Bake in the preheated oven for 50 minutes, or until the center no longer looks wet and the edges are lightly golden brown.
Serve hot or refrigerate until ready to serve. Top with homemade whipped cream and maple syrup. Milk, yogurt, nuts, would all make great toppings too.