Catholic Child has always been one of my favorite places to find beautiful treasures for our family. I still remember poring over their catalogs when our oldest was a baby. One of the very first things I purchased was our Advent Calendar which is still a family favorite. Our Baby Jesus was also purchased from Catholic Child and has been a beautiful addition to our Advent and Christmas celebrations. Other favorites (which are still currently available) include the pewter crib medals, sculpted Baptismal Candles, games and craft kits, and puzzles. Catholic Child is a great place to find gifts for all occasions!
With the feasts of St. Joan of Arc coming up on May 30th,
Catholic Child
has offered to give a
St. Joan of Arc PAL Set
to one of my visitors here at Shower Roses!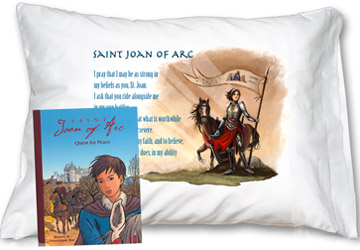 Here is the description from Catholic Child:
Our PAL (Pillowcase And Literature) Sets double the faith and learning fun! We started with a fascinating historical novel on the life of Joan of Arc, and then added our Joan of Arc Prayer Pillowcase to set your youngster up for a cozy, inspiring read.
You can purchase these items separately, but you save $4 when you buy our PAL Set.
The Pillowcase: Imagine an unschooled, teenaged girl standing victorious amongst seasoned warriors on the battlefield. Incredible. But, through the hand of God, true! Our compelling portrait of Joan of Arc, the "Maid," captures the essence of that miracle. Her strong spirit and enduring faith radiate from this vibrant composition, and are reiterated through the companion prayer, which reminds us to put our complete trust and faith in God. Our one-of-a-kind inspirational pillowcase is designed and printed in the USA, is always soft to the touch, and is ready to endure repeated washings. The poly/cotton pillowcase measures 20″ x 31″ and fits both standard and queen sized pillows.
And
The Literature: Momentous and miraculous recorded events of young Joan's calling are brought to life, comic book style, in this masterfully illustrated novel, Joan of Arc, Quest for Peace. There's nothing comic about what she endured for her Faith, however, and Joan's life story is one to inspire and encourage today's youth, particularly our daughters. The appealingly timeless comic book style narrative shares all in a reverent way: good and evil, conspiracy and intrigue, mystery and miracle, and best of all, sound theology throughout! Includes a Glossary and a special "What happened to Them?" section for readers eager to learn more. Paperback, 54 pages, 8″ x 10″. Ages 8-12.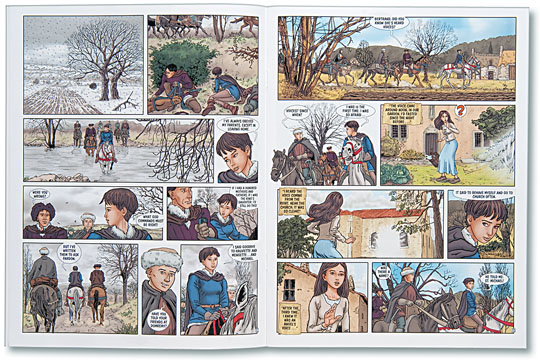 I pray that I may be as strong in my beliefs as you, St. Joan. I ask that you ride alongside me in my own battles. Help me remember that what is worthwhile can be won when I persevere. Help me hold firm in my faith, and to believe, as my Heavenly Father does, in my ability to act well and wisely. Amen
Please enter the giveaway using the Rafflecopter box below: