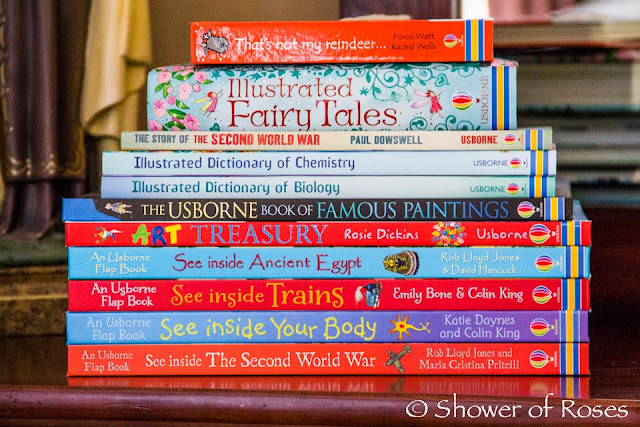 Are you familiar with Usborne Books & More?
Marie, an Independent Usborne Consultant from Joy Beyond the Cross, offered to let me choose some books to share here at Shower of Roses! We have always had Usborne books on our shelves and they are often some of the children's favorites. Years ago I actually signed up as a consultant (mainly for the discount), but stopped selling/purchasing the books from Usborne when I realized that the books were cheaper on Amazon than I could buy them as a consultant. This was the first concern I brought up to Marie, but she let me know that a couple years ago Usborne stopped selling the books through Amazon (some new/used copies are still available through Amazon marketplace) and they have since made it really easy for moms to be consultants (no monthly requirements anymore)! I was so glad to hear that, and really enjoyed putting together my order! 🙂
I will share some of our favorites below, but also want to point out real quick that, as is the case with every secular book store, not all of the books that Usborne sells are books that I want on our bookshelves. We have always loved the books in the See Inside series, but I recently returned the copies of See Inside Planet Earth and See Inside Space since they had some definite agendas they were pushing… I've also taken a marker to a couple of the History books adding a little more coverings (e.g. "Roman Bathtime") and some of the Art books we own include lots of anatomy as well (e.g. Sistine Chapel paintings).
For this post I thought it would be fun to ask each of my children to pick a favortie for me to share with you all. The links in this post will take you directly to Marie's Usborne Store. I've also included Amazon Affiliate links so you can read additional reviews for each book if you are interested.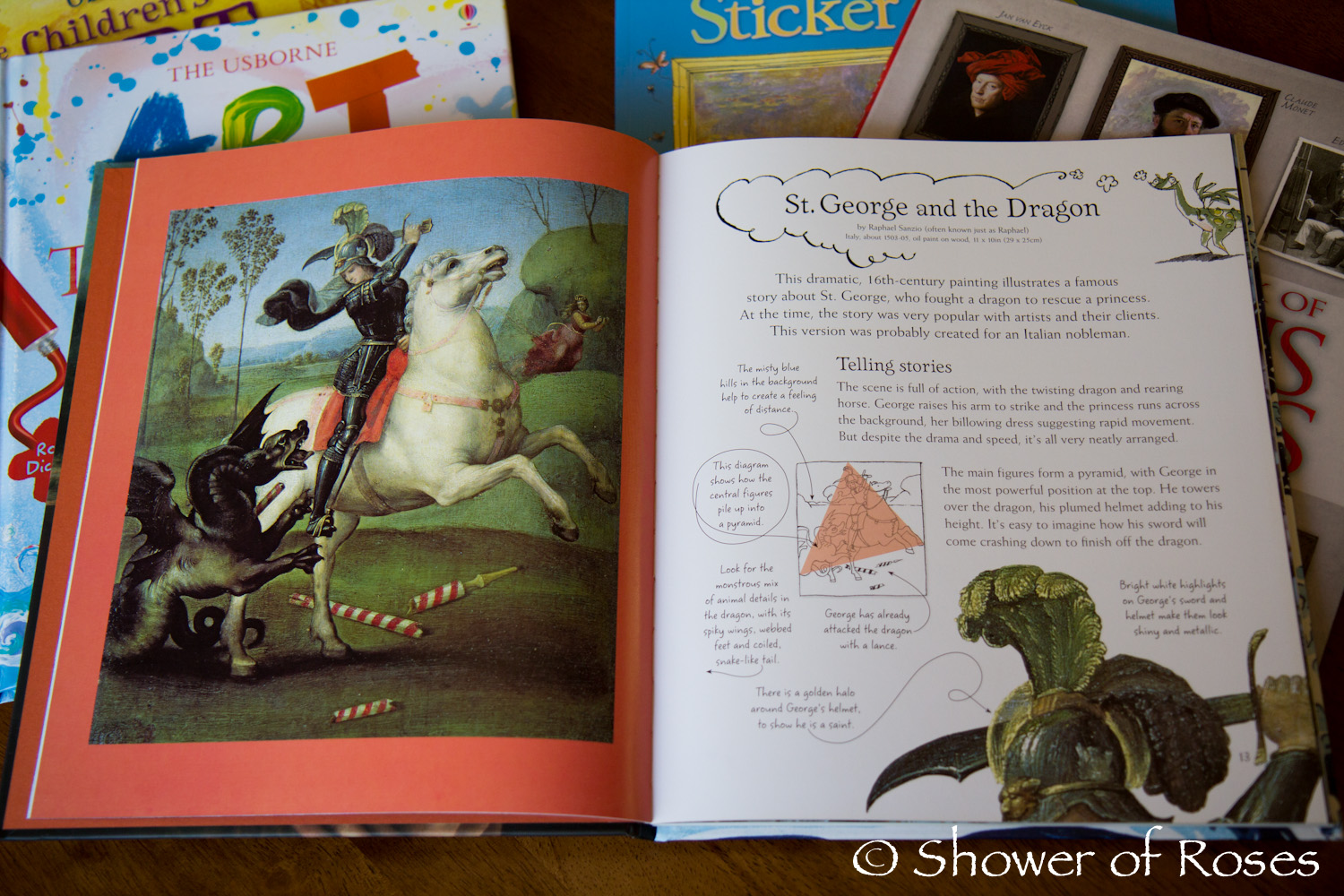 This year we have been studying art using Meet the Masters (I'll be posting another art project soon!) and the Usborne Art books have been an excellent addition to our collection! The Usborne Book of Famous Paintings (Amazon reviews) is pictured above with Art Treasury (Amazon reviews), The Children's Book of Art (Amazon reviews), Famous Artists, and the Impressionist Sticker Book.
Time Traveler, Ancient World (Amazon Reviews) and The Usborne Encyclopedia of the Ancient World (Amazon Reviews) are incorporated into RC History's curriculum and they are always greatly enjoyed, especially by my boys.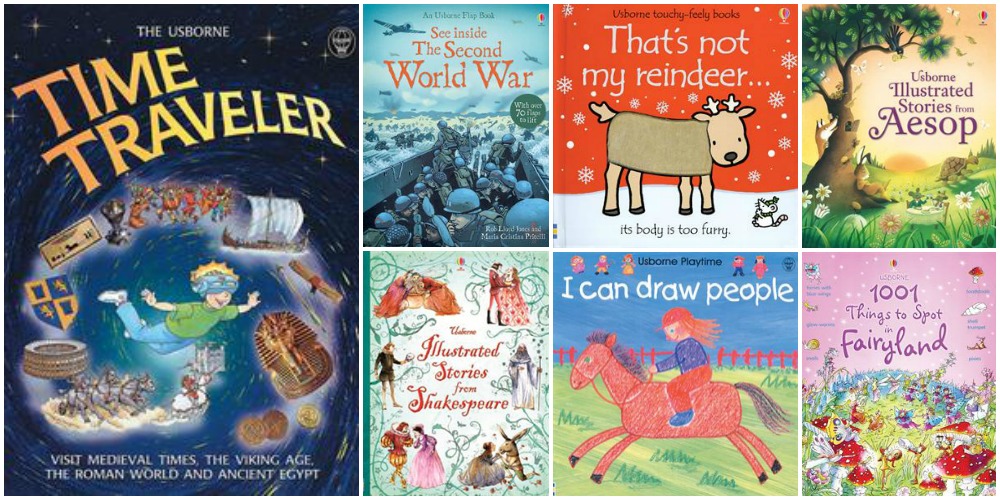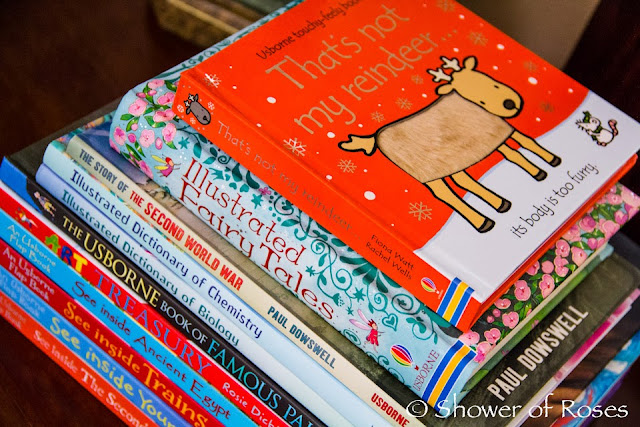 A little more about Marie and a couple specials for you:
My name is Marie Bauman and I am a Catholic, SAHM married to Greg (aka Mr. B) and have a 2 year-old daughter named Elizabeth. I blog at Joy Beyond the Cross. We live in the great state of Minnesota, also known as the frozen tundra. We are currently expecting another little Baby B in August 2014. Mr. B and I love to read anything and everything and enjoy sharing this passion with Elizabeth, our little bookworm.

I originally became a consultant with Usborne as a way to get discounts on the books (hey, honesty is the best policy!). However, I realized quickly how truly great the books were and I started branching out to my friends and family as I knew they would love the books just as much as we did. There are books on a large variety of topics and many of the books are great for homeschooling curriculums.

Being an Usborne consultant has been a perfect fit for me because it is 100% flexible and there are no sales quotas or high pressured sales tactics involved. Which is a good thing, because I absolutely detest selling anything and I vowed I never would sell anything again after a traumatic experience at age 10. True story!

I love being able to put this side business down and pick it up when I want to. Right now, I am picking it back up to help fund "Baby B's HCG and Progesterone Supplementation Fund" or aka "The poke Marie in the hip multiple times per week fundraising effort". I am offering a couple of Winter 2014 incentives including the following:
Note: The offers can be combined. Since I am offering them directly, I will refund you the amounts via paypal or check immediately after your order is placed. Offer #2 excludes taxes. Usborne offers a lifetime guarantee on all books. Go forth and read a good book!
(Retail Value $19.99)
(Retail Value $10.99)
Please enter the giveaway using the Rafflecopter box below: