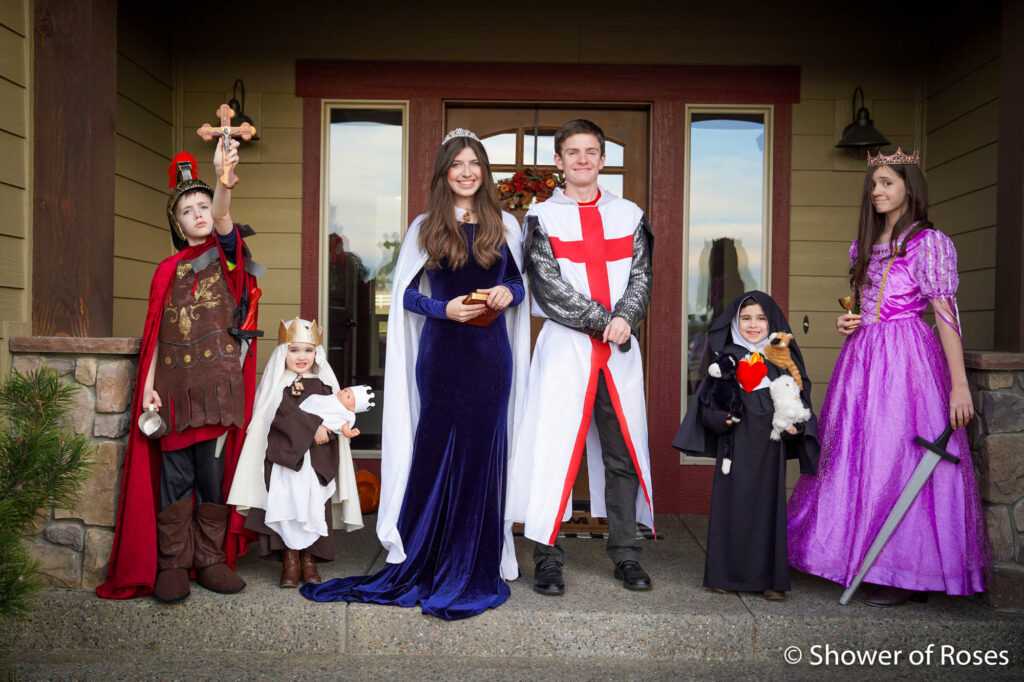 This year's saint costumes: St. Florian, Our Lady of Mount Carmel, St, Margaret of Scotland, Crusader/Knight Templar, St. Gertrude of Nivelles and St. Barbara.
Our annual All Hallows' Eve party has always been a favorite family tradition, especially for our kids who eagerly await the opportunity to dress up as beloved saints each year. You can see many of their saints costumes from over the years here.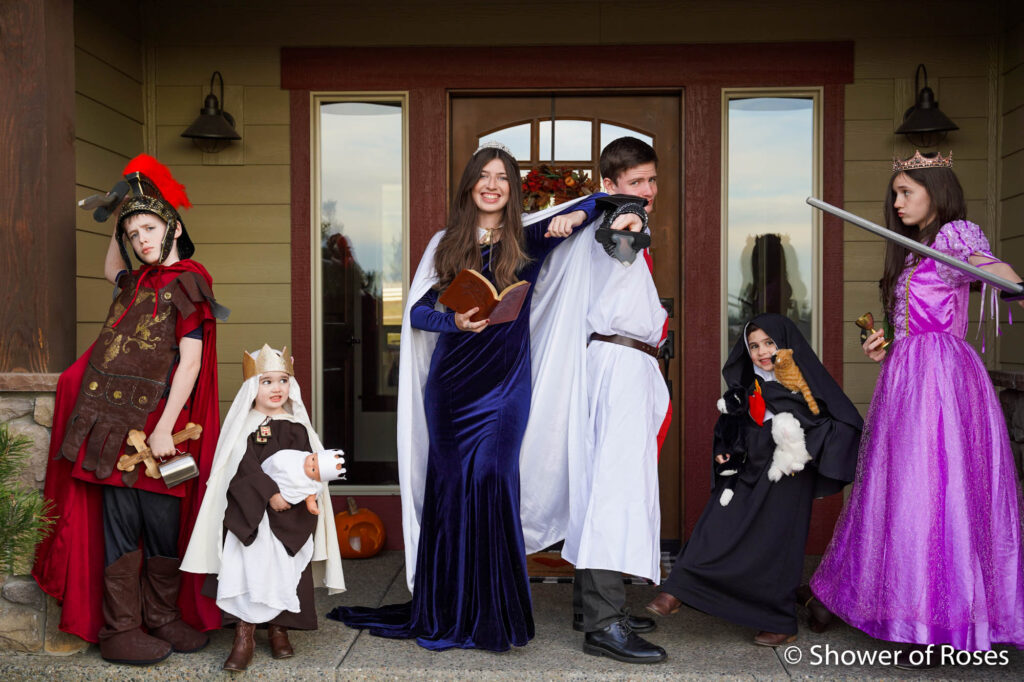 St. Margaret of Scotland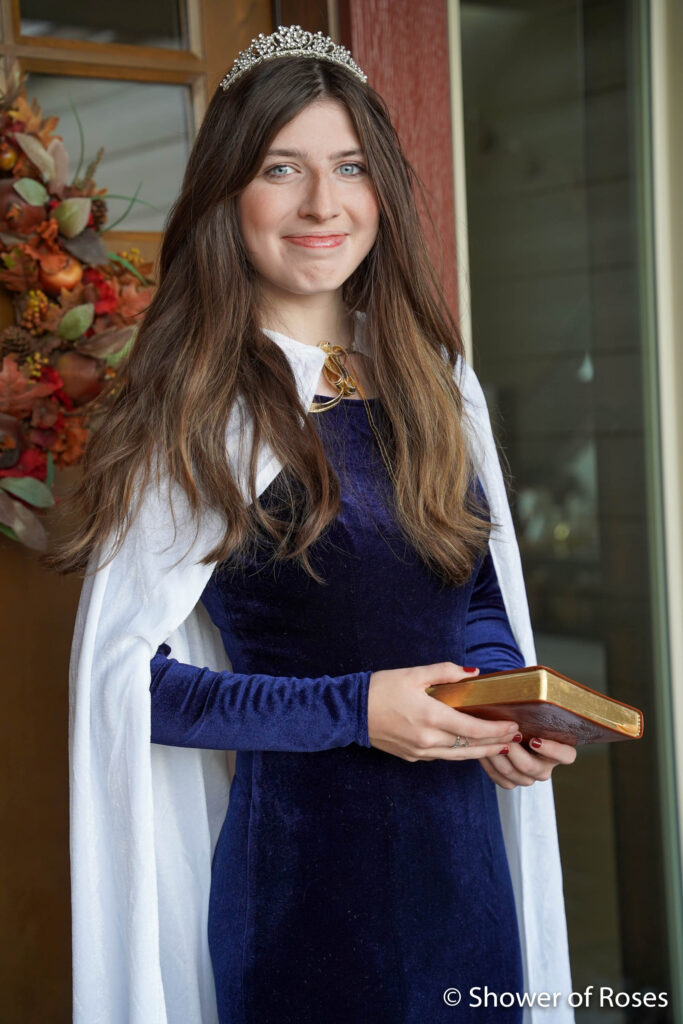 St. Margaret of Scotland, also known as Queen Margaret, was a 12th-century Scottish queen and a devout Christian. She is celebrated for her piety, charity, and contributions to the Church, as well as her efforts to promote education and social welfare. Margaret's life is a testament to her strong faith and her commitment to making a positive impact on the world.
Our daughter wore a gorgeous Velvet Dress which she was given by a local friend and previously used for one of our Murder Mystery parties last winter! She added a tiara and a white cape as well as her Deluxe Leatherette copy of My Daily Bread from TAN.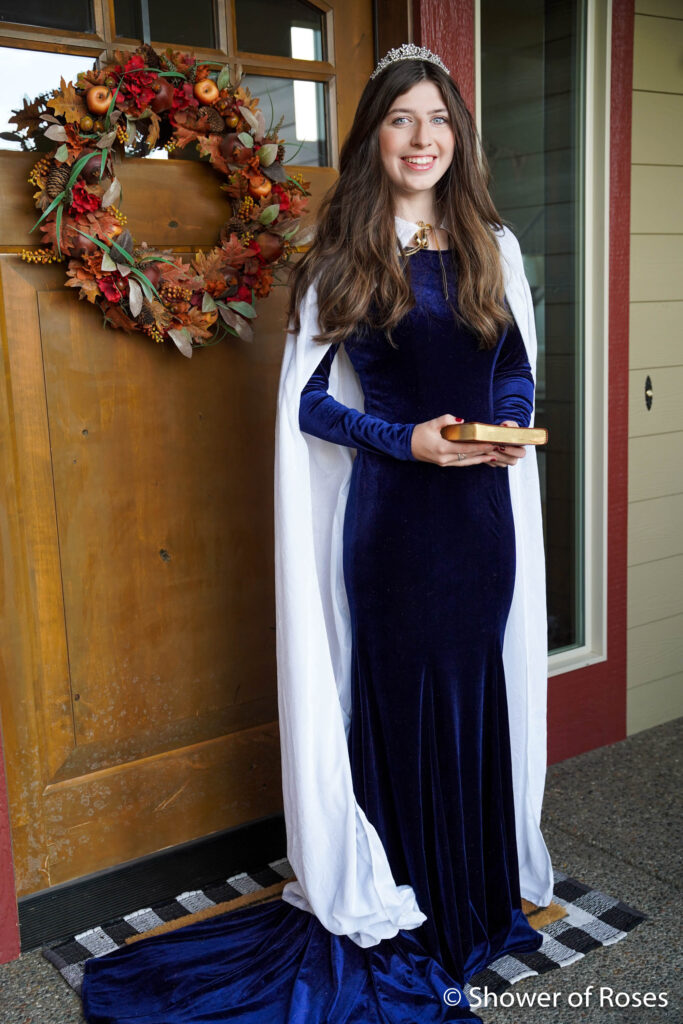 Crusader / Knight Templar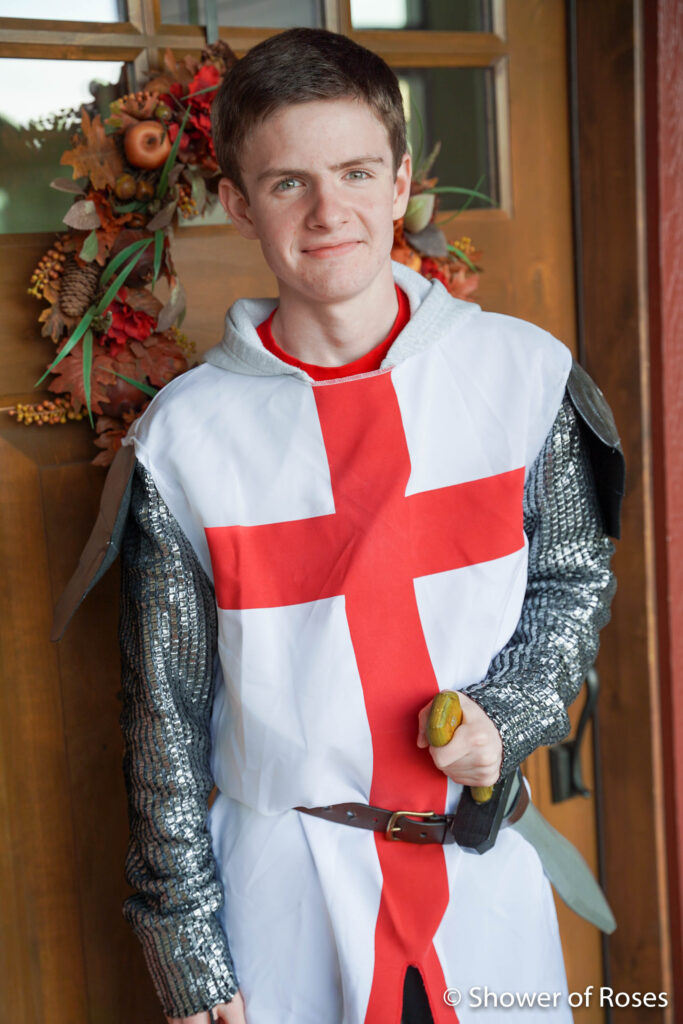 A Knight Templar was a member of the medieval Christian military order called the Knights Templar. These knights were known for their role in the Crusades, dedicated to protecting Christian pilgrims in the Holy Land. They wore distinctive white mantles with a red cross and played a significant part in medieval history.
The Crusader costume was an impulse purchase at Party City a couple years ago, but it was too large for him at the time. I purchased the sword from an Etsy shop for one of our past Hobbit parties!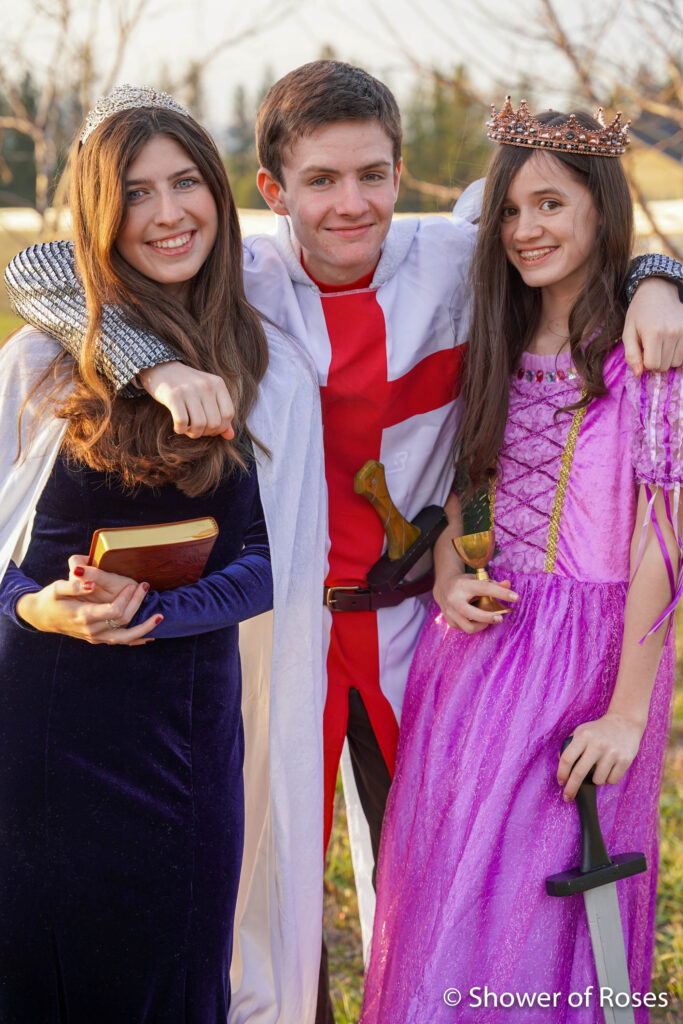 St. Barbara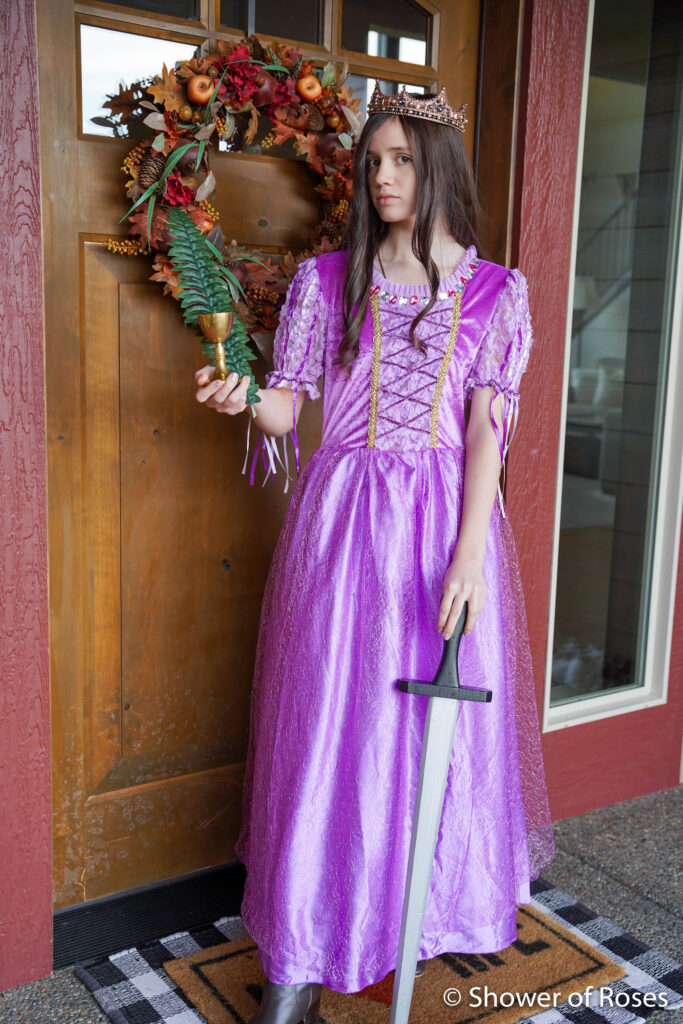 St. Barbara is known for her strong faith and steadfast devotion. According to tradition, she lived during the 3rd century and defied her pagan father to embrace Christianity. Her commitment to her Christian beliefs led to her martyrdom. St. Barbara is often depicted with a tower or a sword, representing her faith and courage. St. Barbara is usually pictured with blond hair, a palm branch, and often a crown. The Chalice is a symbol of the Blessed Sacrament and often associated with Saint Barbara in reference to her final wish for the grace of Sacrament. She is the patron saint of those in need of protection against sudden death.
Princess Gown and Crown are from Trish Scully, Sword was an Etsy purchase one year. The chalice is from her younger brother's Mass kit.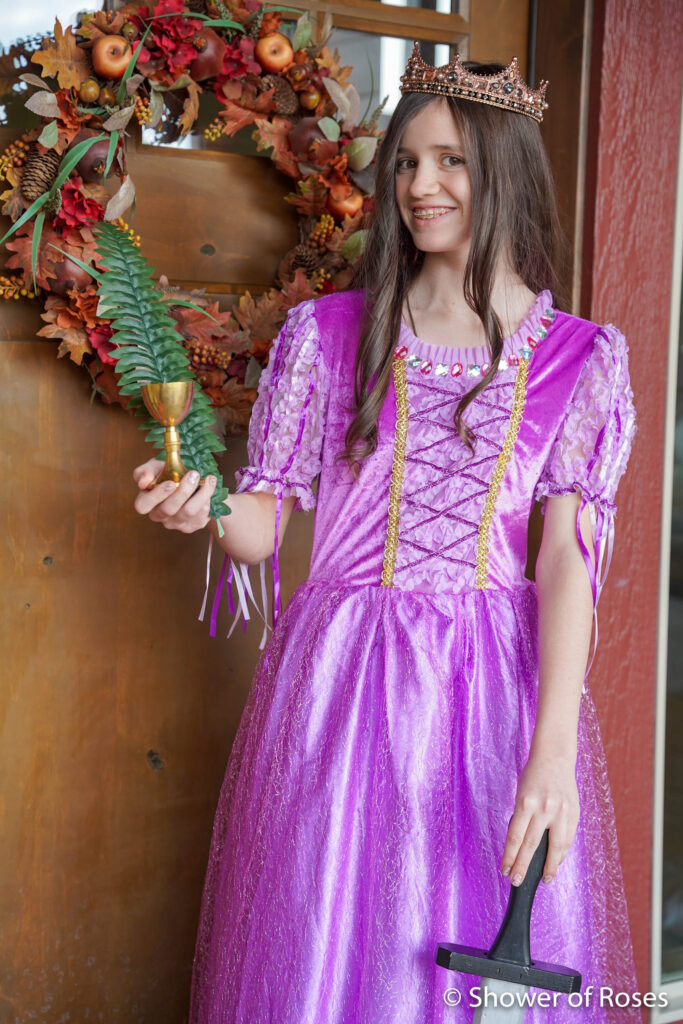 St. Florian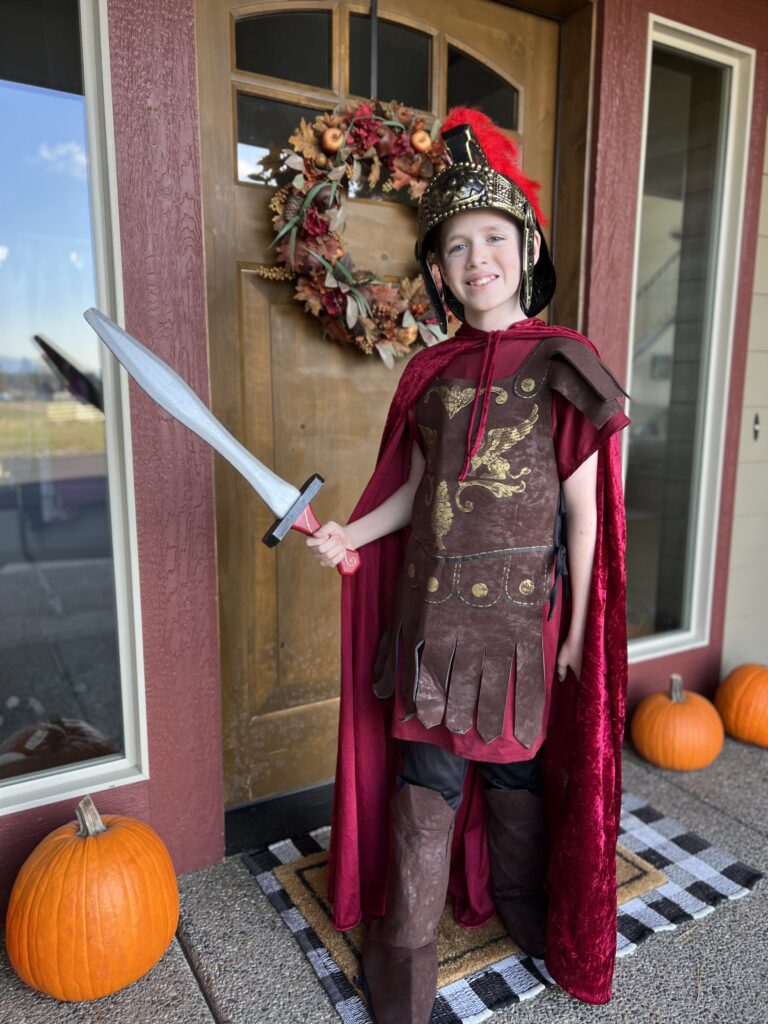 Saint Florian is considered the patron saint of firefighters due to a legendary story where he saved a town from a fire.
His older brothers handed down this costume from years past. Ranger wore it in 2015 for St. Maurice. Scout (Snuggles lol) wore it as St. Martin in 2021. You can find the costume here and helmet here.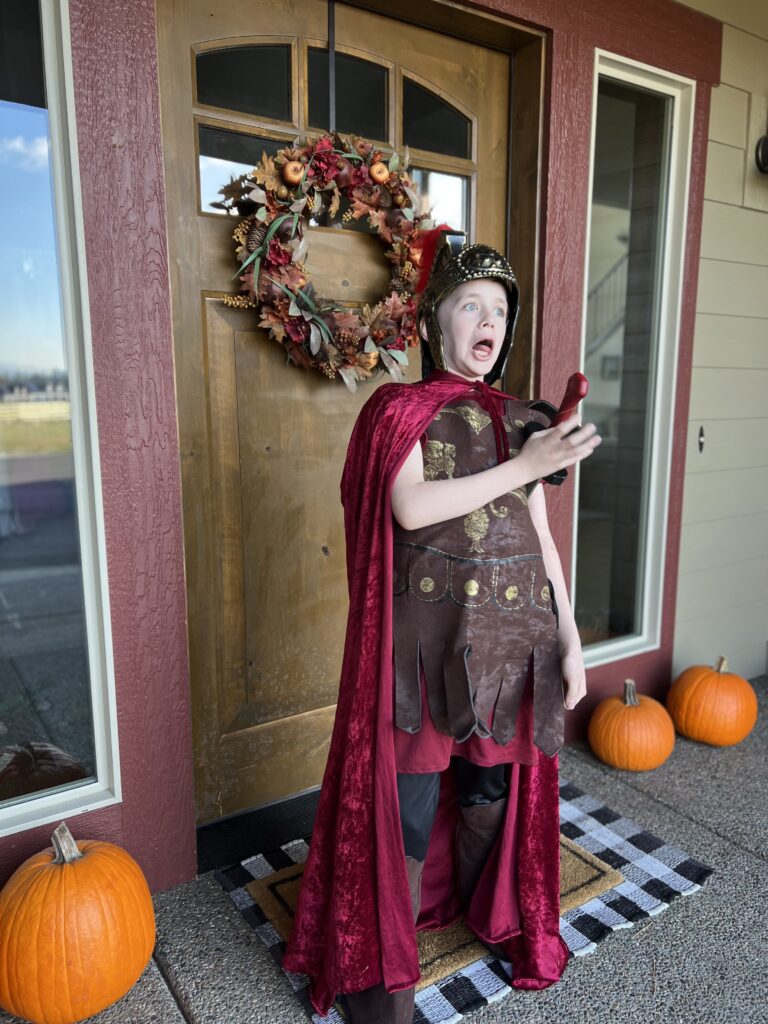 St. Gertrude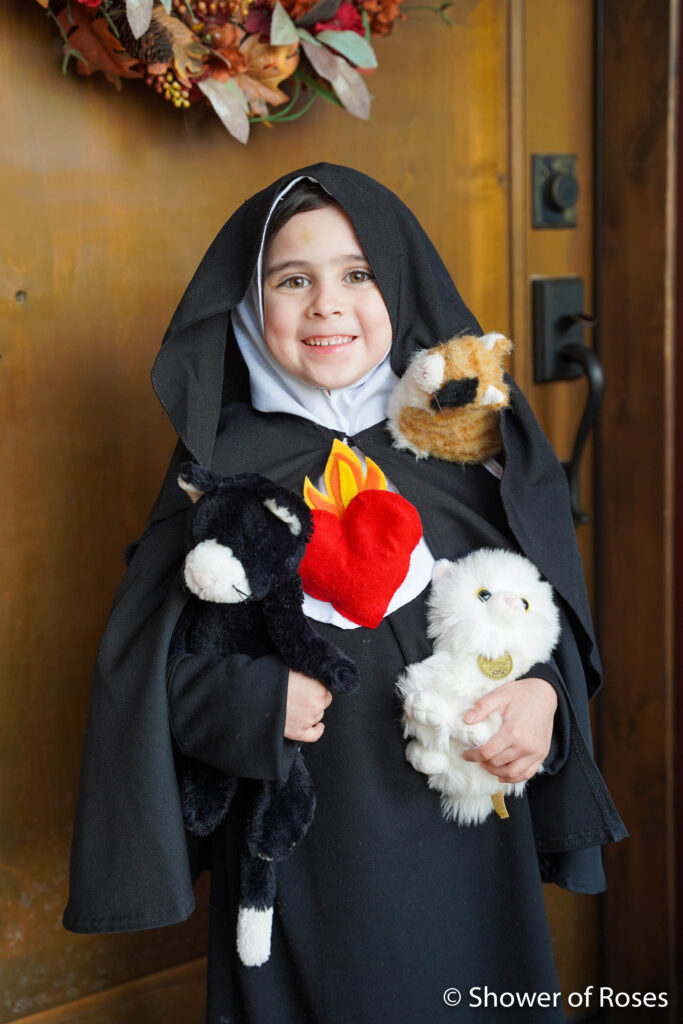 St. Gertrude of Nivelles, a 7th-century Christian saint, was the abbess of an abbey in Nivelles, Belgium. She was known for her compassion and care for the sick. Saint Gertrude of Nivelles is often associated with being the patron saint of cats, not because she loved cats, but on account of her ability to expel mice. The Catholic Encyclopedia explains, "She is also patron of travelers, and is invoked against fever, rats, and mice, particularly field-mice."
I think some of the images the kids were looking at may have been combining two different Saint Gertrudes… St. Gertrude the Great, a 13th-century Benedictine nun, is often associated with the devotion to the Sacred Heart of Jesus. She had mystical experiences and visions that contributed to the development of the Sacred Heart devotion. St. Gertrude the Great's writings and experiences played a significant role in promoting this particular devotion within the Catholic Church. We pray her prayer for the Holy Souls all of November!
Anyway, for her costume we used an old knee length Size Small Gap Dress of mine for her habit with a black cape and veil from our costume collection. We pinned on a few of her favorite cats (this one and this one) and modified the heart that one of the girls made for last year's costume. She was so excited about her kitties and the cat pumpkin she helped carve too!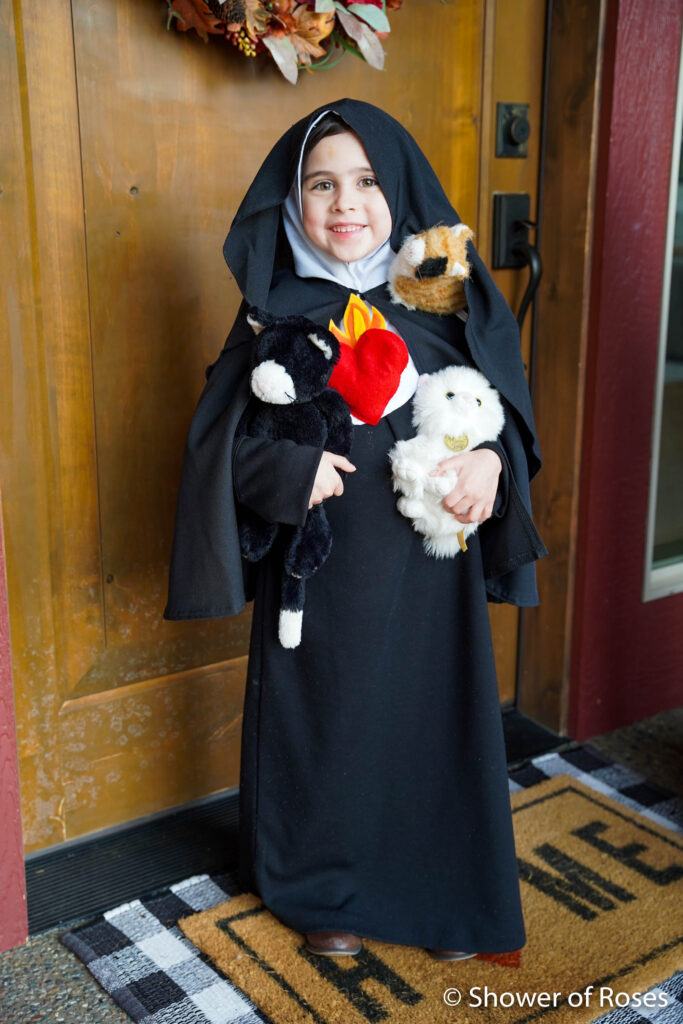 Our Lady of Mount Carmel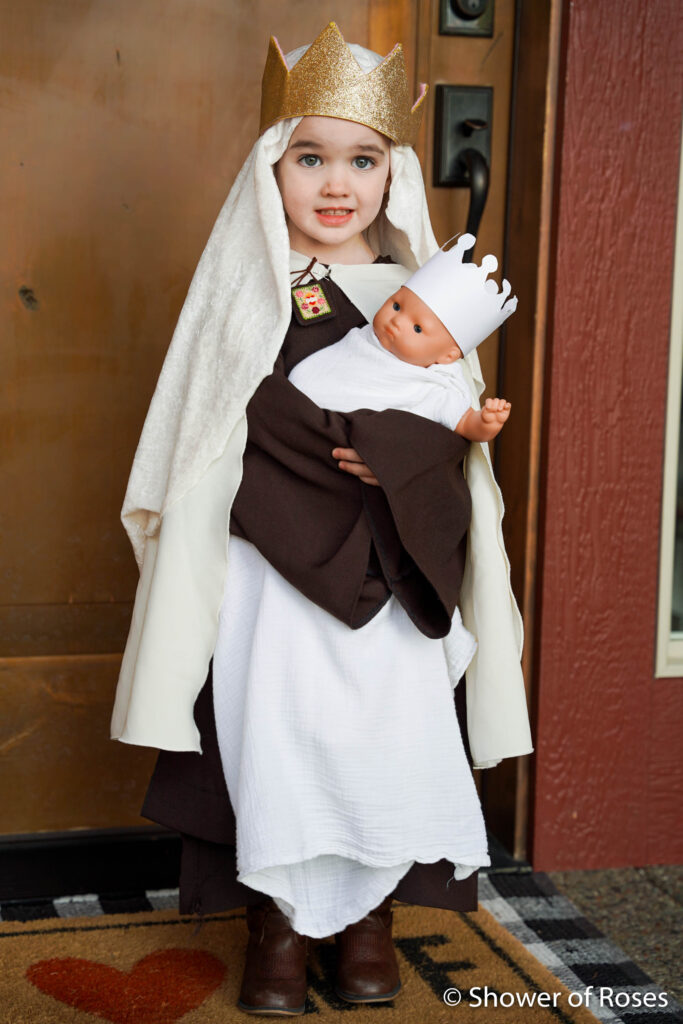 Our Lady of Mount Carmel is a title given to the Blessed Virgin Mary. It is particularly associated with the Carmelite religious order. She is venerated as the patroness of the Carmelites and is depicted holding the Child Jesus.
We used one of her older sister's Carmelite habits with a cream veil. I believe I bought her gold glitter crown from Hanna Andersson one year. We pinned on one of my favorite scapulars from Stella Marigold Art. For Baby Jesus we wrapped one of her favorite dolls in a white muslin baby blanket and made a white paper crown.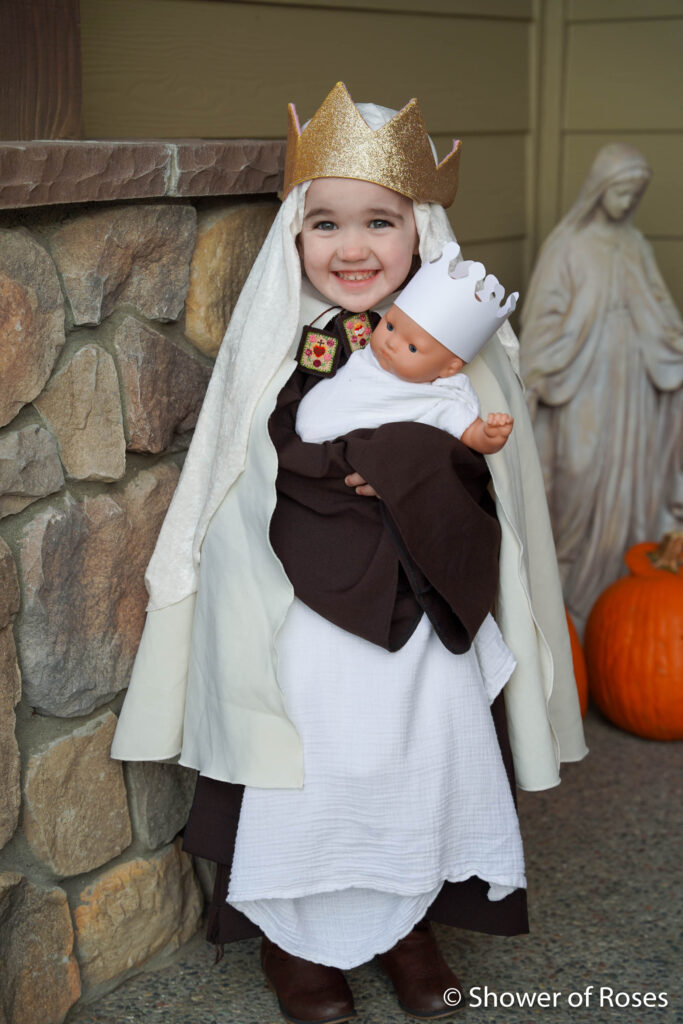 All Saints in Heaven, pray for us!